Resigning from a job is not the most pleasant activity. However, it is also inevitable for most employees. In fact, according to the U.S. Bureau of Labor Statistics, almost 4.5 million Americans resigned from their jobs in November 2021 alone.
To quit your job, you will need to send a resignation letter or a resignation email. And this is what we are looking into today: how to write a resignation email that will help you leave on good terms.
Learn how to write a resignation letter.
What to do before handing in your resignation?
There are several things you may consider doing before handing in your resignation
First, if you are still on the fence about leaving the company, you may want to talk to your boss and team first. This way, you may have the chance to resolve some of the issues that are making you consider resigning.
If you've made up your mind and are ready to leave, make sure you know exactly what you are leaving behind. Check your contract and see where you stand regarding your 401K, health insurance, stock options and more. This may help you decide on the best time for handing in your resignation.
You should also look into what your contract says about resignation. You need to know when you should hand in your resignation, what remuneration you should count on and so on.
When sending your resignation letter, you should be ready to leave the same day. Even though you may be handing in your two weeks' notice, some employers choose to let their employees leave their jobs the same day for security reasons.
What to include in a resignation email?
There are several topics you should cover in your resignation email.
First, you need to inform your employer that you intend to leave your current position. As this is the main message of your email, make sure to mention this at the very beginning so that the reader knows exactly what the email is about.
Next, you can mention why you have made the decision to leave the company. This part of your email can be tricky as you will not want to offend your employer. If the reason for your departure is personal don't go into too much detail. Simply mention that you are leaving the company for personal reasons. If you're leaving for professional reasons, you may elaborate a bit and mention that you are leaving to discover new career opportunities.
 

In the next paragraph, make sure to thank your employer and your team for all the time you've worked together. This can help preserve a good relationship with your employer and coworkers and let them know that you appreciate their help and support.
At the end of your email talk about the transition process. Describe what you can do to make your departure easy on the company. This means that you will complete all your current projects before your final workday or you may offer to assist with the transfer process of your current assignment add to your team. Finally, you may also suggest that you have a candidate for your replacement.
Tips for writing a resignation email
Give a two weeks' notice. Do your best to give your employer enough time to prepare for your departure. Standard practice here is to give at least two weeks' notice when sending your resignation letter. However, if possible your employer and team about your plans as early as possible. This will ensure a smooth transfer of your current assignment and put much less pressure on both you and your team through the transformation process. Read more about the two weeks' notice letter.
Make it clear in the subject line. Resignation emails may not be the most pleasant emails to write. But it's important to be clear and straightforward about your intentions. To make sure your employer opens and reads your email right away, make your subject line very clear. For instance, you may use something like "Resignation — Your full name" in the subject line.
Mention when you plan to leave. I'll make sure to include your planned departure date in your email. This will give your employer a clear idea of the timeline and the time they have to prepare for your final day at work.
Keep it simple. As we've mentioned above, there is no need to go into too much detail about why you're leaving and what you're planning to do next. If you leave in her personal reasons simply say just that. If you plan to start another job you can mention that he will be exploring new career opportunities. However, there is no need to explain what you didn't like about your previous job, criticize your boss or your coworkers or vent about a tense relationship with your team.
Thank your employer and team. A resignation email is a good chance to thank your employer and your coworkers for their support and help throughout the time you spent together. Including a mini thank you note into your resignation email will help leave your current company on good terms and will let your employer and team know that you do appreciate your time together.
Be helpful. If it's possible offer assistance with a transition process. For instance, you may offer to train a new employee or to finish your current project before your final workday. You may also ask what the employer and your team need to make this transition as smooth as possible on both sides.
Add new contact details. Just because you're leaving your current position doesn't mean you can't keep in touch with your boss or your team. At the end of your email, make sure to add your non-work contact details so that your employer or coworkers can reach out to you in the future.
Check your email before sending. Before you send out your email, go over it one more time. First, you could run a quick check for spelling mistakes or typos. Second, you can make sure your email reads well and will be clear and informative to the person reading it. Make sure the tone of your email is friendly but formal. Check that your email has all the information your employer might need concerning your resignation.
Resignation email sample #1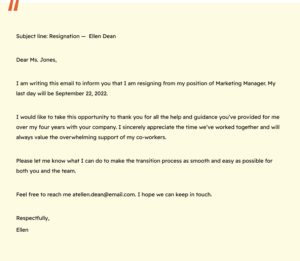 Resignation email sample #2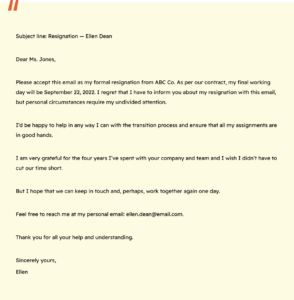 Sending a resignation letter email vs. resigning in person
Should you resign in person or send a resignation email? This depends on a number of factors — like your company (its size, policy, etc.), relationship with your employer, the nature of your resignation and more.
In most cases, if you do have the option to talk to your employer in person before sending in the resignation email, this would be best. It will provide a more informal conversation setting and let you and your employer discuss the resignation and transition process in depth.
On the other hand, if you have a very formal relationship with your employer or if you work remotely, sending a resignation email is perfectly acceptable.
After you resign: how to handle an uncomfortable situation
Resigning from a job is rarely a pleasant process. Over your final two weeks at the company, you will need to say goodbye to your team and co-workers, transfer your projects and assignments and make sure you leave the company on good terms.
In order to do that, it's best to put all emotions aside and be as productive and helpful to your employer and team as you can be. Make sure you point out that you appreciate the time you've spent together but also don't be too apologetic about the fact that you want to explore new opportunities.
Do your best to preserve a friendly and cooperative relationship with your employer and co-workers. Remember that how you leave may be how you will be remembered.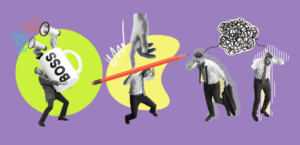 Summing things up
Here are some key takeaways about writing a resignation email:
If possible, have a conversation with your employer before formally resigning. Perhaps, there is a way to adjust your current working situation so that you decide to stay on with this company.
If you do decide to resign, make sure you are aware of all the consequences of your decision both financial and professional.
When sending a resignation email, make sure it has the following information: your intent to resign, your final working day, how you can assist with the transition process and your new contact details.
Learn more about how to quit a job.