As you apply for a new job, you may be asked to talk about your soft skills and hard skills. A successful candidate should be able to highlight both of these skill sets to get the job they want.
In order to do that effectively it's important to understand the difference between hard skills vs soft skills and be able to provide relevant examples of each.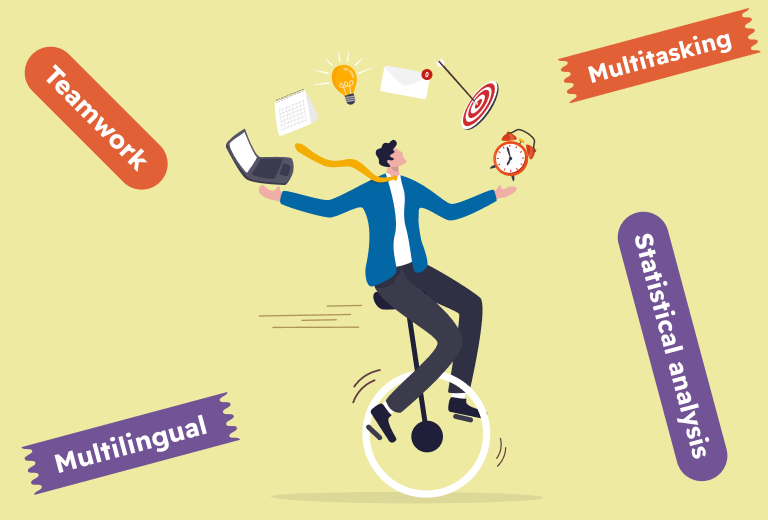 What's the difference between hard skills vs soft skills?
When reading through a job description, you may come across qualities that are listed under "soft skills" and "hard skills". And, when composing your resume, you may also need to classify your skills as soft and hard.
Fortunately, the difference between hard skills vs soft skills is quite clear and very easy to define.
Hard skills are skills that are easy to measure. They are typically specific to a particular job and can be acquired through training: like the ability to code or translate text from one language to another.
Soft skills, on the other hand, are a bit harder to pin down and measure. These may include your personal qualities that may be helpful in a specific profession (like sociability) or more specific attributes (like negotiation skills) that may you have spent some time developing.
When listing these skills on a resume, hard skills typically take their place in the areas where you hold specific certifications. Soft skills, on the other hand, can be described under personal qualities or illustrated in how you handled specific work situations.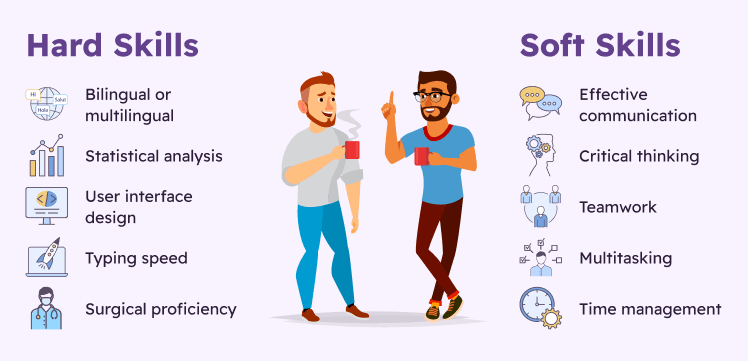 What are hard skills?
As we've mentioned above, hard skills are skills that are quantifiable and measurable. These are skills that you can train and your abilities can be certified.
Here are just a few hard skills examples
Accounting

Knowledge of a foreign language

Business analysis

Computer programming and coding

Marketing and sales

Cloud computing

Ability to perform medical procedures

Knowledge of the legal system

Copywriting

SEO and so on.
This list can be very long as almost every profession comes with a list of its own hard skills.
If you are just starting out in a new career that requires specific hard skills, you may be tested on them during the application process. For instance, your employer may ask you to do a trial assignment, which will be later evaluated.
Why are hard skills important to train for?
Hard skills serve as the backbone of any profession. They are the reason we go to colleges and universities and spend years training to better very specific abilities. Hard skills may take a long time to acquire. But, once you do, they will serve as a solid base for getting your first job and furthering your career.
So, what is the best way to acquire new hard skills? This, of course, depends on the skills themselves and why you need to acquire them.
If you plan to use these hard skills to seek formal employment, then it may be best to go the traditional way and apply to a college or university that specializes in teaching the skills you require. With a lot of modern professions, you can also take online courses to learn new skills or better existing ones.
This mostly applies to digital professions like web development, IT, coding and more.
What are soft skills?
Soft skills, as we've mentioned above, are much harder to measure compared to hard skills. And while soft skills can definitely be developed and even trained, there are very few options for proving your level in a specific soft skill with a test or certificate. On the other hand, a study by Wonderlic mentions that 93% of employers find soft skills essential or very important when hiring new employees.
Here are soft skills examples that may better illustrate this concept
Social skills

Creativity

Negotiation skills

Collaboration skills

Adaptability

Emotional intelligence

Teamwork ability

Leadership skills

Listening

Attention to detail

Punctuality

Flexibility

Patience

Ability to multitask

Decision making

Conflict resolution

Cultural awareness and sensitivity

Likeability

Problem solving

Organization and more
Some of the skills above are often referred to by HR managers as "people skills". While soft skills are not easy to evaluate, they are often listed in job descriptions and important requirements for various positions.
Why are soft skills important to train for?
Soft skills are not as easy to measure as hard skills. What's more, for the majority of soft skills, you won't be able to present a certificate or diploma to prove your proficiency.
With that, soft skills are listed as important requirements for a lot of jobs and may have a direct effect on your success in a specific profession. In fact, according to the 2019 Global Talent Trends report by LinkedIn, 89% of hiring managers say that when a new hire doesn't work out, it's the soft skills that are to blame.
Developing soft skills is not as straightforward as learning new hard skills. In a lot of instances, soft skills are something that comes with experience — like negotiation skills or the ability to work in a team. Or, they may simply be part of your personality — like sociability, patience, creativity and more.
What skills employers look for
What hard skills an employer is looking for depends on the position you are applying for. Hiring managers may also require that you possess a certain level of specific hard skills, which can be proven with a degree, certificate or performing a test.
Employers are also increasingly interested in a variety of soft skills. In some cases, certain soft skills may actually be valued more than certain hard skills. For instance, a specific hard skill can be learned on the job, while some soft skills (like patience or dependability) may be much harder to develop.
Some of the top soft skills for resumes include:
Work ethics

Dependability

Time management

Teamwork

Motivation

Problem solving

Verbal communication

Leadership and so on
For most jobs, you will need both hard skills and soft skills to succeed. In fact, employers are increasingly interested in what is referred to as hybrid skills.
Hybrid skills are a combination of technical and non-technical abilities. What hybrid skills employers are interested in depends on the job itself.
For instance, a company may be looking for a web developer with hard skills like software testing and debugging. But with that, they may also want the right candidate to potentially lead a team, which will require them to have leadership and communication skills.
How to include hard and soft skills on a resume?
When composing your resume, you may want to consider including a skills section to highlight both hard and soft skills you possess that are relevant to the job you are applying for. You can put the skills section at the top of the resume and use bullet points to make sure they are easily noticeable to the hiring manager.
Here's a bit more on how many bullet points per job on a resume.
To decide what to include, go back to the job description and check what skills the employer has highlighted as the most valued. You may find this information under "required skills" or "requirements" or another similar title.
Learn more here: what skills to put on a resume.
How to highlight your skills through the interview process?
You can also highlight some skills, especially soft skills, during the interview process. There are many different ways to do that. For instance:
You can show that you are punctual and dependable by showing up for the interview on time.

You can carefully listen to what the interviewer is saying and ask return questions to demonstrate active listening and attention to detail.

You can give clear and thorough answers to show that you are an effective communicator.

You can honestly talk about your weak points, career plans or mistakes in your previous position to demonstrate integrity.
One of the best ways to demonstrate your skills (both technical and non-technical) is by sharing experiences from your previous jobs. You can do this by presenting a previous work situation, work tasks and related challenges and explain how you handled them.
Tips: what skills not to include on your resume
The skills you highlight on your resume should be relevant to the job you are applying for. As we've mentioned above, the best strategy here would be look over the job description one more time and see what skills the employer would like to see on your resume. This can also give you a hint as to what skills not to list.
For instance, if you are applying for a managerial position, you will probably want to emphasize leadership, motivation and other similar soft skills in your application. On the other hand, other skills may not be relevant for the position or win you any extra points.
Hard skills vs soft skills: a summary
Both hard skills and soft skills are important when applying for a job.

Hard skills are defined and measurable abilities like the knowledge of foreign languages, coding, etc.

Soft skills are a bit harder to define and often have to do with personal qualities and people skills like communicability, reliability and so on.

To make your resume more effective, include a skills section. Go over the job description one more time and list hard skills and soft skills that would be the most valued by your new employer.

Avoid mentioning skills that are not relevant to the job. Keep in mind that your resume shouldn't be over a page long.

A job interview is a good way to demonstrate your soft skills. You can do that by being punctual, listening actively, offering ideas, providing examples from previous employment and more.
We hope that you have found the examples useful and now have a better idea about hard skills vs soft skills — and how you can highlight each of these in your resume and during the job interview. Learn more about how to best present yourself to an employer in our post on What makes you stand out from other candidates.