When applying for a job, you will often be asked to provide references.
If you know how to ask someone to be your reference, you can easily strengthen your resume and make it more interesting for recruiters: a reference is a good way for your potential employer to get to know you better by speaking to someone who has worked with you.
Employers often use references to fact-check some of the information in your resume. In fact, according to the Society for Human Resource Management survey, over 92% of employers conduct a pre-employment background check on their potential employees. Hiring managers also use recommendation letters to clarify specific details about the projects you've worked on and find out if you will fit in well with their team, etc.
So, let's find out how to make asking someone to be a reference easy, polite and effective.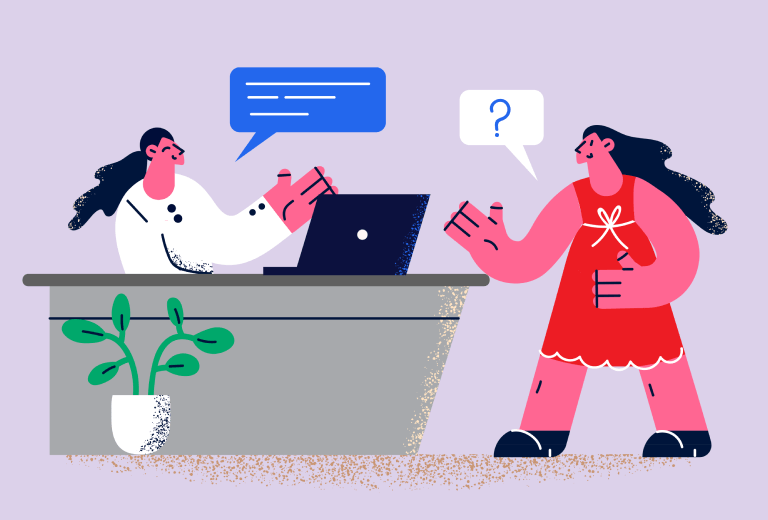 Notify Your References in Advance
Once you've narrowed down your list of references and have selected your top three, reach out to each of them and ask if they are comfortable with being references on a resume.
The people you've selected as your references shouldn't be caught off guard by a sudden call from your potential new employer. Also, they should also have the option to say "no" to your request if, for any reason, they feel uncomfortable acting as your reference.
It's important to notify your references for a number of reasons.
First, they may simply not be able to give you a good and comprehensive reference on the spot if the new employer decides to call them. Sometimes, providing a reference means the person will need to answer a questionnaire or write a long email. All of these things take time and careful preparation. You should at all costs avoid putting the person you've asked for a reference on the spot and have them come up with the information in a hurry. Try to make sure that they have plenty of time to provide you with a well-structured and comprehensive reference.
Second, reaching out to your potential reference in advance gives you a chance to reconnect with them. You will get a better understanding of their opinion of you and will be able to sense their willingness (or the lack thereof) to provide you with a reference. And this brings us to our next point.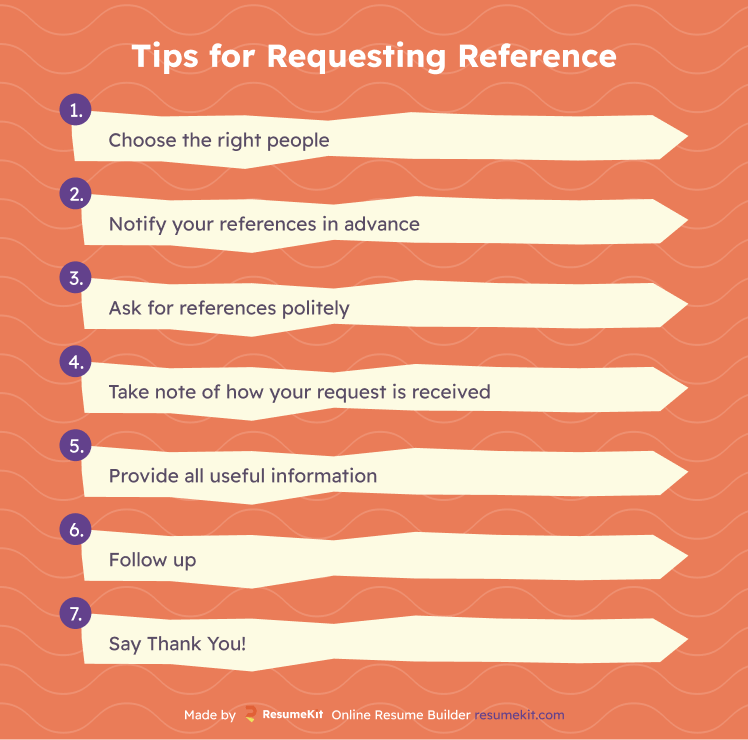 Learn more about how to list references on a resume.
Ask for Reference Politely and Take Note of How you are Received
Here's an example of what an email asking for a reference might look like:
Subject line: request for reference

________________________

Dear John,

I hope that all is well with you! How have things been with you and your company? Congratulations, by the way, on your promotion to [Vice President of Operations]. I've been following your career on LinkedIn for a while now and saw the announcement.

Things have been great here. I have still been working at [ABC] since you left for new experiences. I have risen through the ranks and am now the [Marketing Communications Manager].

However, it is time for me to search for new challenges. So I'm currently searching for an opportunity to enter a more senior position. I was thinking about who could provide a good reference for me and concluded that you would be a great choice.

Would you mind if you served as a reference and provided a good recommendation for me? I know we worked well together as [Operation Research Analysts]. And I think you'd be an excellent reference because you can attest to my skills and accomplishments so far.

I'd be happy to forward my resume and a sample position description to give you a current view of my experience and career goals.

Thank you for considering this. I hope our paths cross again soon, and I wish you the best of luck in your endeavors. If you have any inquiries, please contact me.

Sincerely,

Brian
Reaching out to a potential reference is a great opportunity to reconnect. You can talk about the projects you used to work on together, revisit old memories and share your current career situation and aspirations.
This will you can see if the person you are contacting will be capable or willing to provide you with a good recommendation letter that will increase your chances of getting the job.
When asking someone to be a reference on a resume, make sure to use polite questions starting with "would you mind" or "would you feel comfortable". You should also make sure the person you are reaching out to has "a way out" of your request. Make it clear that you will not be offended and that your relationship will not be affected if they decide they feel uncomfortable with providing a reference.
Provide your References with Information
Once you've sent a list of references to your new employer, make sure to send a quick email or give a quick call to the people you've asked for references. You can also give them more details on the job you are applying for and who will be contacting them.
If possible, give them a quick overview of what particular skills or qualities matter the most to your new employer.
If you choose to send an email, here's a sample of what it might look like:
Subject line: request for reference — update

_______________________________

Dear John,

Thank you again for agreeing to be my reference.

I am sending this email to let you know that I've just completed the final interview at [ABC] and the HR manager may be reaching out to you shortly.

I've included the job description for the position I hope to get below. It can give you an idea of what [ABC] is looking for in a candidate.

Hope this information will be helpful — and do let me know if there is anything else you need.

Thank you!

Brian
Follow Up
After your reference has been contacted, it's good practice to write a follow-up email or give a follow-up call to thank them. It is also an opportunity for you to find out how the conversation with your new employer went.
If you are hired for the new position, make sure to inform your references and thank them for their input. You can also mention that you will be happy to return the favor if your services are ever needed.
Here's an example of the follow up email:
Subject line: request for reference — thank you!

——————————————————–

Dear John,

I am happy to let you know that I've just received a formal offer from [ABC] Company.

I am writing to thank you again for providing me with a reference. I truly appreciate your help and would be happy to return the favor if you ever need one.

Thanks again,

Brian
How to Choose the Right People?
If you have substantial work experience and, as a result, a large pool of candidates to choose from, selecting just a few people may be quite a challenge.
The people you select may also differ depending on the position you are applying to. Your ultimate goal should be to select those people who would attest to your professional qualities that are most relevant to the job you are applying for.
Your references can be:
A former manager or supervisor

A former or current colleague

A former employee or subordinate

Your professor, mentor or professional advisor

A connection from your academic or professional group

And others
Note that the more time you spent working with this person, the better.
In most cases, your reference list should include three references — unless the hiring manager has asked for a specific number.
Find out more about how many references on a resume you should have.
FAQ
Personal and professional references. What is the difference?
Personal references can provide information about person's character and personal qualities, such as a friend or family member. Professional references can provide information about an individual's work performance and qualifications, such as a former employer or co-worker.
The main difference is that personal references speak to a person's character and personal qualities while professional references speak to the person's work performance and qualifications.
How to ask someone to be your reference for grad school?
Send an email to your professors and explain that you are applying to graduate school and would like to ask them to serve as a reference for you.
Provide professors with all the necessary information about the graduate program you are applying for, such as the application deadline, the requirements, and the contact information of the admissions committee. Give them your CV or resume, and any other materials that would help them to write a strong letter of recommendation.
Can I use someone as a reference without asking?
It's disrespectful not to get someone's permission before using them as a reference. It reveals something about your character and is the courteous thing to do. Never use someone as a reference without first getting their permission. It's unethical, and it can cost you your job.
How to Ask Someone to be Your Reference: Summing Things Up
We hope that this article has provided you with some ideas on how to approach asking someone for a reference.
For your convenience, we've summed up the main ideas below:
To apply for a new job, you will most likely need to prepare a resume, cover letter and a list of references on a resume.

When choosing who to ask, consider how long you've worked together, their weight in the industry and how well they know you professionally.

Make sure to give the people you've selected enough time to prepare for the conversation with your potential employer. Notify them way in advance and provide them with any information they might need for a comprehensive reference (your resume, job description, etc.).

When asking for a reference, make sure to use polite language and give the person you are asking a chance to refuse.

Once the reference has been provided, send a follow-up email or make a follow-up call and thank the person you've asked for the reference.