When applying for a job, you will often be asked to provide references. A reference is a good way for your employer to get to know you better by speaking to someone who has worked with you and knows you professionally.
Employers often use references to fact-check some of the information in your resume. In fact, according to the Society for Human Resource Management survey, over 92% of employers conduct a pre-employment background check on their potential employees. Hiring managers also use references to clarify specific details about the projects you've worked on and find out if you will fit in well with their team, etc.
Learn more about how to list references on a resume.
How to choose the right people?
The first step in preparing your list of references is choosing the right people to include in this list. If you have substantial work experience and, as a result, a large pool of candidates to choose from, selecting just a few people may be quite a challenge.
This is why it is recommended to make a list of everyone who you can use as references as early as possible. From there, you can select individuals who, in your view, have the best professional opinion of you, who know you the best, or who have substantial weight in the industry.
The people you select may also differ depending on the position you are applying to. Your ultimate goal should be to select those people who would attest to your professional qualities that are most relevant to the job you are applying for.
Your references can be:
A former manager or supervisor

A former or current colleague

A former employee or subordinate

Your professor, mentor or professional advisor

A connection from your academic or professional group

And others
Note that the more time you spent working with this person, the better.
In most cases, your reference list should include three references -— unless the hiring manager has asked for a specific number.
Find out more about how many references on a resume you should have.
Make sure to notify your references in advance
Once you've narrowed down your list of references and have selected your top three, reach out to each of them and ask if they are comfortable with being references on a resume.
The people you've selected as your references shouldn't be caught off guard by a sudden call from your potential new employer. Also, they should also have the option to say "no" to your request if, for any reason, they feel uncomfortable acting as your reference.
It's important to notify your references for a number of reasons.
First, they may simply not be able to give you a good and comprehensive reference on the spot if the new employer decides to call them. Sometimes, providing a reference means the person will need to answer a questionnaire or write a long email. All of these things take time and careful preparation. You should at all costs avoid putting the person you've asked for a reference on the spot and have them come up with the information in a hurry. Try to make sure that they have plenty of time to provide you with a well-structured and comprehensive reference.
Second, reaching out to your potential reference in advance gives you a chance to reconnect with them. You will get a better understanding of their opinion of you and will be able to sense their willingness (or the lack thereof) to provide you with a reference. And this brings us to our next point.
Ask for reference politely and take note of how you are received
Reaching out to a potential reference is a great opportunity to reconnect. You can talk about the projects you used to work on together, revisit old memories and share your current career situation and aspirations. This will be a great way to see if the person you are contacting will be capable or willing to provide you with a good reference that will increase your chances of getting the job.
When asking for a reference on a resume, make sure to use polite questions starting with "would you mind" or "would you feel comfortable". You should also make sure the person you are reaching out to has "a way out" of your request. Make it clear that you will not be offended and that your relationship will not be affected if they decide they feel uncomfortable with providing a reference.
Provide your references with information
Once you've sent a list of references to your new employer, make sure to send a quick email or give a quick call to the people you've asked for references. You can also give them more details on the job you are applying for and who will be contacting them.
If possible, give them a quick overview of what particular skills or qualities matter the most to your new employer.
If you choose to send an email, here's a sample of what it might look like: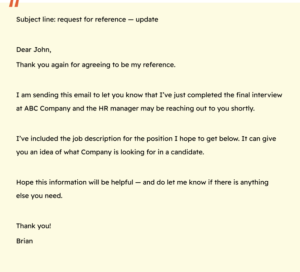 Follow Up
After your reference has been contacted, it's good practice to write a follow-up email or give a follow-up call to thank them. It is also an opportunity for you to find out how the conversation with your new employer went.
If you are hired for the new position, make sure to reach out to your references and thank them for their input. You can also mention that you will be happy to return the favor if your services are ever needed.
Here's an example of the follow up email: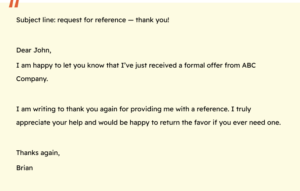 How to ask for a reference in an email: sample
There are several ways to request a reference. You can give the person a call, meet with them personally or send an email. Sending an email can actually be a good way to "test the waters" before you reach out to someone directly.
Here is a sample email for requesting a reference.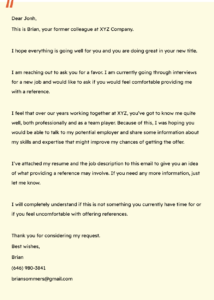 Learn more about writing professional emails.
How to ask someone to be a reference: summing things up
We hope that this article has provided you with some ideas on how to approach asking someone for a reference.
For your convenience, we've summed up the main ideas below:
To apply for a new job, you will most likely need to prepare a resume, cover letter and a list of references on a resume. Learn

how to write a resume

.
When choosing who to ask for a reference, consider how long you've worked together, their weight in the industry and how well they know you professionally.

Make sure to give the people you've selected enough time to prepare for the conversation with your new employer. Notify them way in advance and provide them with any information they might need for a comprehensive reference (your resume, job description, etc.).

When asking for a reference, make sure to use polite language and give the person you are asking a chance to refuse.

Once the reference has been provided, send a follow-up email or make a follow-up call to thank the person you've asked for the reference.