You have just walked out of the interview room or hung up after a Skype call with the hiring manager. Now what?
As long as you had read our tips on answering job interview questions and on questions to ask in an interview, you most likely aced it and are proud of yourself. If the interview seems to have gone well, you must be feeling super enthusiastic and relieved at the same time. However, this is not the end of it for today yet!
Writing a thank you email after a job interview is an often-overlooked step that can get you extra points with your potential employer, or at least with their HR folks. And the sooner you send your follow up email after the interview, the better.
Tip. If you send your interview thank you email the moment you hang up or walk out after your interview, the HR will know that you used a template that was prepared ahead of time. We bet you don't want to show that! Take a little bit of time to personalize the letter and mention some facts from the conversation you had with the hiring manager. But still try to send it within 15 to 30 minutes.
Here is a handy template you can use to write your own interview thank you email. A warning though, if you copy it directly, the HR will know you used a template. If it's found on the web, chances are other applicants may have already used it. Therefore, use it as a guideline and be sure to edit and personalize it to the max.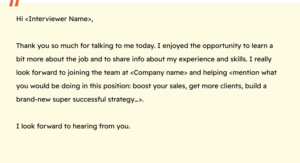 Thank you email. How do you personalize this letter? Use some of these tips as a guide
If the interviewer asked for some writing samples, references or the like, you may include those right away, if you have access to them.

If some challenge the company faces was mentioned during

the interview

and you had a lightbulb moment about it right after leaving, you may be generous enough to share your idea with the potential employer. This will make you stand out as someone who really cares and who won't bill you for every single idea they come up with.

If you remembered some fact from your previous experience that you believe could make a difference, share it in this letter. It's never too late and it may just be what will tilt the scale to your side.

Mention something you appreciate the hiring manager saying, doing or sharing during your interview. Like if they gave very detailed answers to every question you asked or were patient with your hardware glitches during a Skype call. This will be a sure sign that your letter is no canned follow-up email.  
Want to see what real-life interview thank you emails may look like? Below are a few samples that could give you inspiration: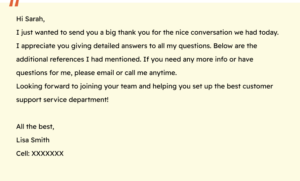 If you were interviewed by a company head or one of the top managers, you may want to make your follow-up message a bit more formal. Until you see with your own eyes other employees at this company calling their boss "Dude" and having casual chitchat with him, use slightly formal language in communicating with him. Don't overdo it though: being too formal is usually a turn-off, as it doesn't allow you to connect with the addressee on a more personal level from the get-go.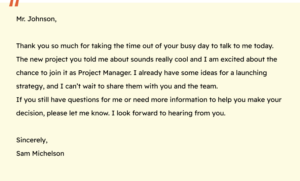 In addition to personalizing the letter, you can also actually share some ideas to solve a problem that was mentioned during the interview. Including a quick mockup or a list of potential causes to explore, ideas for a future partnership that could boost revenues, or a mention of your contacts in the media would be a good sign to the company's HR.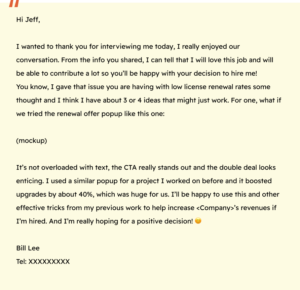 Hiring managers love it when an applicant goes out of their way to provide good reasons to hire them. You won't believe how many applicants will choose not to complete test tasks or will send in a test that's done in a hurry. They don't bother sharing references or work samples, send in a cover letter that looks like a template, and do all sorts of other things that give away a lack of interest or enthusiasm about the job they are applying for. Therefore, what you need to do to stand out from the unenthusiastic crowd is show your enthusiasm and eagerness to get the position. And the best way to do that is by providing some real-life samples to demonstrate your skills.
Let the hiring manager see that you didn't mind spending some time and putting in effort to get them to notice and choose you. Of course, you will do this by sending in the best samples of your work, if your specialty allows that; by providing verifiable references, and by completing any tests the employer asks for, but an interview thank you email is another great way to offer proof of your professionalism, your outstanding skills and extensive experience.    
For even more tips and ideas on how to stand out among dozens or even hundreds of applicants, see this article.