When you leave a job, you will need to inform your employer and team about your plans. This involves writing a resignation letter. Today, we are looking into how to write a resignation letter that will deliver all the right information and help you leave the company on good terms.
What is a resignation letter?
A resignation letter is a letter, email or note that a person uses to inform their employer of their intent to leave their current job.
Learn how to write a resignation email.
The main purpose of a resignation letter is to create written record of your intent, which can be used as official notice.
A letter of resignation can simply state your intent to quit the job or can include further details. For instance, you may offer guidance regarding the current state of your projects, the transfer process, your last day on the job and more.
Examples of resignation letters
Standard resignation letter example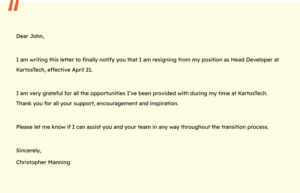 Formal resignation letter example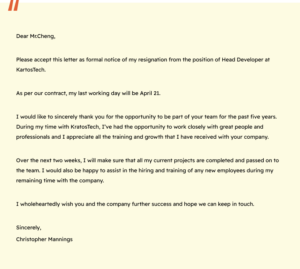 Two weeks' notice short resignation letter (informal)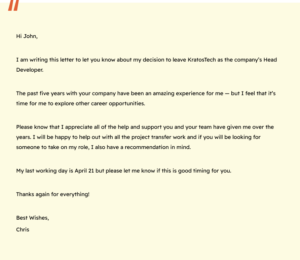 Immediate resignation letter example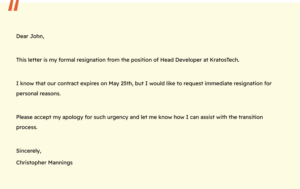 What your letter of resignation should include
As you can see from the examples above, most resignation letters have several essential elements. Let's go over them one by one.
Greeting
Begin your resignation letter by addressing the right person. In most cases, you will be addressing your resignation letter to your direct supervisor, hiring manager or the head of the company. However, in some cases, you may also need to forward your resignation letter to your team, department, or the whole organization. You can use standard business greetings to start your letter. For instance:

Purpose
The body of your resignation letter should focus on your intent to leave your current job.
Include your current title, the company you are working for and your planned departure date.
In the next section, provide more detail on your resignation and future plans.
For instance:

Departure date
One of the most important things to include in your resignation letter is your departure date. The standard timeline for resigning for most companies is two weeks. This means that you will need to hand in your notice two weeks before your last working day.
It's also good practice to include information about how you will handle your current projects. Will you transfer them to someone else? Complete all your assignments before leaving?
This helps the company prepare for what's ahead and make sure that your departure doesn't affect their deadlines and important contracts.
Reason for leaving
This is optional but you may also want to include the reason why you are leaving. This may be related to your career goals, family situation, travel plans and more. It's not necessary to say why you are leaving the company and it's probably best not to include too many personal details. However, you may quickly touch upon your plans in your letter.
Thank your employer and team
A resignation letter is not only a way to inform the company about your leaving. It's also a great opportunity to thank your employer and team for all the years of working together, their support, help and more.
Plus, thanking your employer and team can see the right tone for the email and help preserve a friendly relationship with the company even after your departure.
Offer help with the transition process
At the end of your resignation letter, offer assistance or provide guidance on how you want to handle your current projects and assignments. You may mention that you plan to complete all your current work before you leave your position or you may have arranged for your work to be transferred to other members of your team.
Additionally, if you have any suggestions for who may be able to take over your job, this is a good place to mention this.
Sign-off
Complete your letter with a standard signature like "Sincerely", "Best wishes" and so on.
What to avoid in your resignation letter
A resignation letter may seem like your final correspondence with your current employer. However, this letter may still affect your future work and career prospects — which is why it's important to take it seriously.
Your employer may keep your resignation letter on file and may refer to it if you ever reach out for a professional reference or any other assistance.
To leave a good impression and make sure your part on friendly terms, avoid the following:
Don't be too critical of the company, its management and your experience working with them.

Don't use the resignation letter as a chance to vent about the difficulties you've faced in the job, bad relationships with colleagues and more.

If you are writing a resignation letter for personal reasons, don't go into too much detail. It's also best not to include too much information about your future plans in the new workplace.

Keep your letter short: up to a page long. There is no need to make the letter too abstract or too emotional. If there are personal things you want to discuss with your team, it's best to do that in person.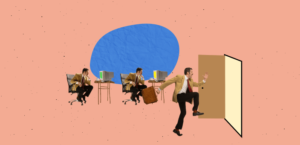 Two weeks' notice vs resignation letter
In essence, there is no difference between a two weeks' notice letter and a resignation letter.
A two weeks' notice informs the company that you will be leaving on a specific date — typically, within two weeks from your letter of resignation.
Learn more about how to write a two weeks' notice letter.
A resignation letter, on the other hand, describes a more general intent to leave the company and you may mention any date that doesn't break the terms of your work contract.
Summing things up
So, here's what to remember when writing your letter of resignation:
Make sure to send your resignation letter ahead of time to give your employer enough time to prepare for your departure. Most employers require at least a two weeks' notice.
Your resignation letter should include the following essential information: when you are leaving and how you will handle your current projects.
It's a good idea to thank your employer and team in your resignation letter. This will ensure a lasting relationship and good terms with your current company.
Don't go into too many details or include too much personal information in your resignation letter. Keep it short, formal, friendly and to the point.
Learn more about how to quit a job.