What Excel skills should you list, and how should you present them on your resume? In this article, we will discuss the key skills that employers look for, and provide tips on how to effectively showcase your Excel proficiency on your resume.
From finance and accounting to marketing and sales, many roles require a proficiency in Excel. Therefore, it's no surprise that including these skills on your resume can greatly enhance your chances of getting hired.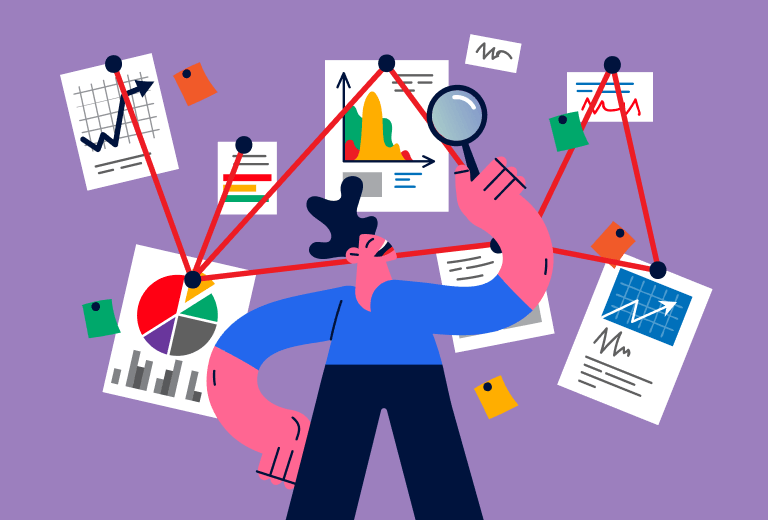 What Are Excel Skills?
Excel skills refer to the ability to effectively and efficiently use MS Excel, a popular spreadsheet program used for data analysis and management.
The skills typically include proficiency in functions such as:
creating and formatting spreadsheets,
manipulating data using formulas and functions,
creating charts and graphs,
using pivot tables,
and working with macros.
These skills are essential for a wide range of industries, including finance, accounting, marketing, and operations, and are highly valued by employers. Excel proficiency can also include advanced features like:
VBA programming,
data visualization,
and data analysis tools.
A strong command of Excel can greatly enhance an individual's productivity and decision-making abilities, making it a highly sought-after skill in the job market.
What Excel Skills to Include on a Resume?
When including Excel skills on your resume, it's important to focus on those that are most relevant to the job you're applying for. Here are some of the most important ones to include on a resume:
Spreadsheet Creation And Formatting
Demonstrating the ability to create and format spreadsheets accurately and efficiently is essential for most roles that require Excel skills. This can include the following:
Creating and formatting spreadsheets with accurate data entry and consistent formatting
Applying conditional formatting to highlight key data points or trends
Using cell styles and formatting to create a visually appealing and professional-looking spreadsheet
Organizing data into tables with clear column headings and row labels
Creating and formatting charts and graphs to visually represent data
Customizing spreadsheet templates to meet specific project or team needs
Using data validation to ensure accuracy and consistency in data entry
Familiarity with Excel's keyboard shortcuts for more efficient spreadsheet creation and formatting
Collaborating with team members to create shared spreadsheets with clear instructions and formatting guidelines.
Formula And Function Knowledge
Excel is widely used for data analysis, and a strong understanding of formulas and functions is critical. Be sure to highlight your knowledge of popular functions such as SUM, AVERAGE, IF, VLOOKUP, and HLOOKUP, as well as your ability to use formulas to manipulate data. Here are a few examples:
Ability to use common formulas such as SUM, AVERAGE, COUNT, MAX, and MIN to perform calculations on data
Knowledge of advanced functions such as VLOOKUP, HLOOKUP, INDEX, MATCH, IF, and SUMIF for data analysis and manipulation
Ability to create nested formulas to perform complex calculations and data analysis
Familiarity with statistical functions such as STDEV, CORREL, and FREQUENCY for analyzing data sets
Experience using date and time functions such as TODAY, NOW, and DATEDIF to manipulate dates and times in spreadsheets
Ability to create and use named ranges to simplify formula creation and make spreadsheets more readable
Familiarity with array formulas for manipulating data across multiple cells or ranges
Experience creating custom functions using Visual Basic for Applications (VBA) to automate complex calculations or repetitive tasks.
Pivot Table Creation And Analysis
Pivot tables are a powerful tool for summarizing and analyzing large datasets. Be sure to highlight your ability to create and manipulate pivot tables, as well as your experience with pivot table formatting, filtering, and sorting.
Ability to create pivot tables to summarize and analyze large datasets
Familiarity with different types of pivot table layouts and their uses, such as tabular, compact, and outline
Knowledge of how to filter, sort, and group data within pivot tables
Ability to apply conditional formatting to pivot tables to highlight key data points or trends
Familiarity with calculated fields and calculated items within pivot tables to create custom calculations
Experience using slicers and timelines to filter and interact with pivot tables dynamically
Ability to use pivot charts to visualize data from pivot tables
Knowledge of best practices for organizing and formatting pivot tables, such as adding column labels and totals, and renaming fields for clarity
Ability to use pivot tables to perform ad hoc data analysis and answer business questions.
Data Visualization
The ability to create visually appealing charts and graphs is an important skill for roles that involve data analysis. Highlight your proficiency in creating and formatting various chart types, including bar graphs, line graphs, and pie charts.
Ability to create visually appealing charts and graphs in Excel to communicate data insights
Familiarity with different types of charts, such as column, bar, line, scatter, and pie charts, and their uses
Experience using chart elements such as titles, legends, and axis labels to enhance chart readability
Ability to format charts to match brand guidelines or project requirements, including color schemes, fonts, and chart styles
Knowledge of best practices for chart design, such as choosing appropriate chart types, avoiding clutter and unnecessary information, and using data labels and callouts to highlight key data points
Experience using sparklines and data bars to visualize data trends within cells or tables
Ability to create interactive dashboards and reports using Excel, incorporating charts and pivot tables to provide real-time data insights
Familiarity with data visualization add-ins for Excel, such as Power View and Power BI, for more advanced data visualization and reporting capabilities
Experience creating infographics or other visual materials to communicate data insights to non-technical stakeholders.
VBA Programming
For more advanced roles that require automation or customization of Excel functions, knowledge of Visual Basic for Applications (VBA) programming is essential. Be sure to highlight your experience with VBA programming and any related projects or tasks you've completed.
Ability to write and debug VBA code to automate Excel tasks and perform custom calculations
Familiarity with VBA concepts such as variables, loops, conditions, and functions
Knowledge of Excel object model and ability to interact with workbook, worksheet, and cell objects using VBA
Experience creating custom user-defined functions (UDFs) to perform specialized calculations or tasks
Ability to use VBA to manipulate and transform data, such as importing data from external sources or cleaning and formatting data
Familiarity with VBA tools such as the VBA editor, immediate window, and watch window for debugging and testing VBA code
Ability to create custom add-ins using VBA to provide reusable functionality and enhance program's capabilities
Knowledge of VBA best practices, such as commenting code, using error handling, and writing efficient and modular code
Experience using VBA to integrate Excel with other Microsoft Office applications, such as Word and Outlook, or with external databases or APIs.
When listing Microsoft skills on your resume, it's also important to be specific about your level of proficiency. For example, you can use terms like "proficient in Excel" or "advanced Excel user" to communicate your level of expertise. You can also list specific certifications or training courses you've completed to demonstrate your proficiency.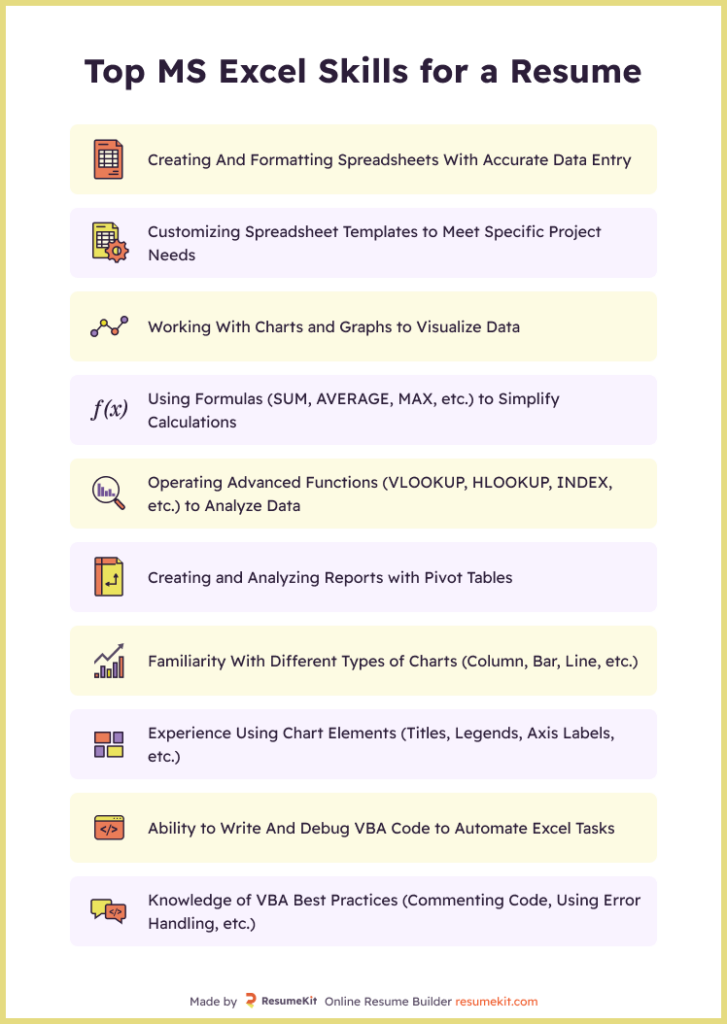 How to Write an Excel Resume Section
Writing an effective Excel resume section involves highlighting your relevant skills in a clear and concise manner. Here are some tips to help you write an effective resume section:
Customize the section to the job: Tailor your Excel skills section to the job you're applying for by focusing on the skills that are most relevant to the position.
Use bullet points: Use bullet points to list your Excel skills in a clear and concise manner. This makes it easy for the recruiter or hiring manager to quickly scan your resume and see your relevant skills.
Use specific examples: Whenever possible, use specific examples to demonstrate your MS skills. For instance, you could mention a specific project where you used Excel to perform data analysis, or a particular function that you used to solve a problem.
Be honest about your skill level: Be honest about your Excel expertise level. If you're a beginner, it's okay to say so. If you're an advanced user, make sure you can demonstrate your proficiency in an interview or assessment.
Include relevant certifications or courses: If you have completed any Excel certifications or courses, include them in your resume section. This demonstrates your commitment to improving your skills and shows that you have a strong foundation in the program.
Bonus:
Power Phrases for Your MS Excel Skills on a Resume
"Created and formatted complex spreadsheets with accurate data entry, consistent formatting, and customized formulas."
"Analyzed and visualized data with pivot tables, charts, and graphs to extract key insights and communicate findings to stakeholders."
"Developed and implemented VBA macros to automate repetitive tasks and streamline workflows, saving time and increasing efficiency."
"Conducted data cleansing and manipulation using MSformulas and functions to ensure data accuracy and consistency."
"Collaborated with team members to create and maintain shared Excel spreadsheets, ensuring clear communication and adherence to project timelines."
"Utilized Excel's advanced features, such as data validation and conditional formatting, to ensure data integrity and enhance data visualization."
"Designed and created interactive dashboards, providing real-time insights into business performance and improving decision-making."
"Trained and mentored team members in Excel best practices, improving team-wide proficiency and productivity."
"Completed certification courses and attended training seminars to stay up-to-date with the latest Excel features and best practices."
"Applied the program's skills to improve business operations, resulting in increased efficiency, accuracy, and profitability."
Resume Sample: Showcase Your Excel Expertise
Name: Sarah Johnson

Contact Information:

Email: sarahjohnson@email.com
Phone: (555) 555-5555
LinkedIn: linkedin.com/in/sarahjohnson

Summary:

Highly motivated and detail-oriented professional with over 5 years of experience in data analysis and reporting. Proficient in Microsoft Excel, with extensive knowledge of advanced functions and formulas. Skilled in project management and communication, with a proven track record of successful collaborations with cross-functional teams.

Skills:

– Advanced Excel functions and formulas (VLOOKUP, SUMIF, INDEX/MATCH, PivotTables, etc.)
– Data analysis and visualization
– Project management
– Communication
– Problem-solving
– Attention to detail

Professional Experience:

Data Analyst
ABC Company, Anytown, USA
January 2020 – Present

– Develop and maintain complex spreadsheets to track and analyze company data
– Create customized reports and dashboards using PivotTables and advanced Excel functions
– Collaborate with cross-functional teams to identify trends and insights in company data
– Communicate findings and recommendations to upper management
– Manage multiple projects simultaneously, ensuring timely delivery of data analysis

Data Coordinator
XYZ Corporation, Anytown, USA
June 2017 – January 2020

– Managed a large database of customer information using Excel
– Developed and maintained reporting processes to track customer acquisition and retention
– Assisted with data analysis and visualization for cross-functional teams
– Streamlined data management processes, resulting in a 25% increase in efficiency

Education:

Bachelor of Science in Business Administration
University of Anytown
Graduated May 2017

Certifications:

Microsoft Office Specialist: Excel Expert
Certification Date: August 2021
FAQ
Should I Show What Level My Excel Proficiency Is?
Yes, it's a good idea to show what level your Excel skills are on your resume. This helps the recruiter or hiring manager understand your proficiency with the program and how well you may fit into the job requirements. Be honest about your experience and use clear terms such as "beginner", "intermediate", or "advanced" to indicate your level of proficiency. You can also mention any relevant certifications or courses you have completed to further demonstrate your skill level.
Should I Categorize My Excel Skills?
Categorizing your Excel skills on your resume can be a helpful way to organize them and make them more easily understandable for recruiters or hiring managers. You can categorize your skills by function, such as spreadsheet creation and formatting, data analysis, pivot tables, data visualization, and VBA programming. This allows the reader to quickly understand your level of proficiency in each area and how it may relate to the job requirements. However, categorizing your MS skills is not necessary and may depend on the specific job or industry you are applying for. If you choose to categorize them, make sure the categories are relevant and easy to understand.
How Can I Improve My Excel Skills?
To improve your Excel skills, you can start by taking online courses or tutorials, practicing regularly with the spreadsheets, and exploring new features and functions. Additionally, seeking out tips and tricks from experienced users, participating in forums or user groups, and experimenting with real-life projects can also help you enhance your Excel proficiency.