The ability to set goals and stick to them is one of the key factors of success. However, according to a study by the University of Scranton, only 8% of people actually go on to achieve their goals. This is understandable. Staying productive and keeping to your goals is much more complicated than an occasional motivational poster will have you believe.
Luckily, there are helpful strategies that can help you stay on track and reach your goals on schedule. What's more, the soft skills that you will acquire while developing these strategies will come in handy in a variety of work situations.
To learn more about skill development, check out our post on Hard Skills vs. Soft Skills: What's the Difference?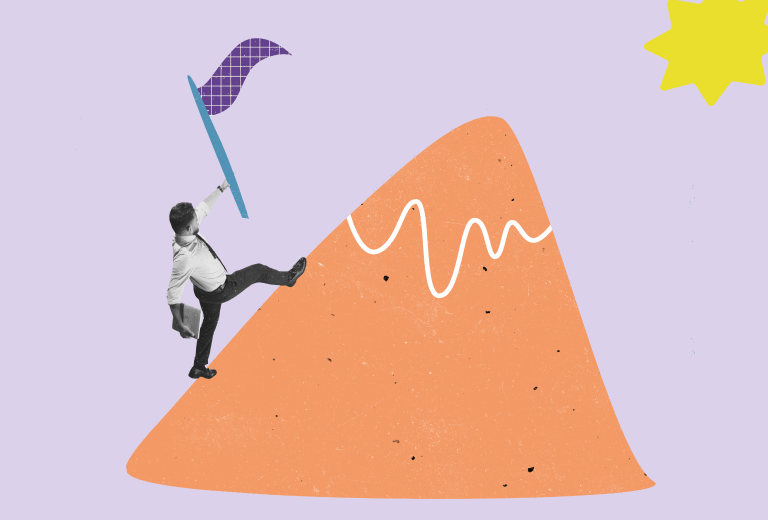 Goal-oriented: meaning
Being goal-oriented means that you are fully focused on completing specific tasks — the tasks that will help you reach a certain outcome. Here's a goal-oriented definition from Merriam-Webster:
Goal-oriented — aimed toward a goal or toward completion of a task
Goal-oriented people are motivated by the goal they want to achieve. The synonyms for goal-oriented are task-driven or results-driven.
Here's what can help you become more goal-oriented
Planning
If you list and plan the steps you need to take to achieve your goals, arranging the tasks in a logical order will be much easier and you will clearly see where you are headed.
Positive thinking
If you keep your thoughts positive, you will find it easier to focus on solutions rather than obstacles. This, in turn, will lead to an increase in productivity.
Self-awareness
When you set out your goals, you will need the ability to clearly understand your strengths and identify areas of improvement. Developing this type of self-awareness will be helpful in achieving better results.
Prioritizing
Some tasks are always more urgent and important to your objectives than others. And you will often need to make quick and firm decisions on what to do first. The ability to prioritize will help you save a lot of time and will ensure that you get to your objectives faster.
Time management
To get to your goals faster, you will need an efficient way to organize your time. Time management is a highly valuable skill that will allow you to stay focused and get more done. You can use calendars and to do lists to assign yourself short term objectives that will later form into long term goals.
Analysis
When establishing both short-term and long-term goals you will need to have good assessment skills. They will let you set realistic goals and design realistic ways of achieving them. Assessment skills will also help you make adjustments to the process as you go ahead and make sure all your actions are taking you closer to your goal.
Benefits of being goal-oriented
So, what are the benefits of being goal-oriented? There are quite a few.
✔ First, having goals will keep you motivated and will give you a sense of purpose. With a clear list of things to do, you will procrastinate less and do more. Plus, when you start achieving short-term goals, you will also start feeling better — which, in turn, will inspire you to keep going.
✔ Having clear goals will keep you focused. Without a plan, we often tend to get distracted. And a lot of small day-to-day tasks may get in the way of the bigger goals.
✔ When you have a plan in mind, all your actions are working towards one big cause. And because you know where you are headed, staying focused becomes easier than ever.
✔ You get to see the bigger picture. When you have one big goal that you are working towards, you will see the world differently and opportunities will become much easier to spot. Plus, you will no longer get discouraged by setbacks. When you clearly see the bigger picture, smaller problems will not be reason enough for you to quit or even slow down.
Tips for being goal-oriented in the workplace
So yes, there are lots of benefits to being goal-oriented. But how do you keep yourself goal-oriented with so many challenges and distractions around?
You can substantially improve your skills in defining, setting, and reaching your goals by using new organization methods. Here are a few tips for being more goal-oriented that we will discuss below:
Splitting goals into objectives
Time management
Prioritizing
Writing things down
Time-saving strategies
Staying motivated
Having productive habits
Tracking progress
Having an accountability buddy
Borrowing useful strategies
Also read: How to Call Out of Work
Let's look at all of these in a bit more detail.
Splitting goals into objectives
After you determine your goal and the timeline during which you want to complete it, you should schedule a set of actions to finish the first task leading towards a goal. Basically, you can divide your big goal into several objectives or stages and create a sequence of actions to complete it. This can help you manage your daily activity and make sure you're always working towards your big goal.
In fact, splitting a goal into smaller more manageable portions can help you finish your work in a short amount of time. For instance, if you have a big project to finish by the end of the week you can split this task into: emailing a coworker on Monday, collecting the needed data on Tuesday, structure in the materials you've collected on Wednesday and so on.
Time management
To stay goal-oriented, you will need to learn to prioritize your tasks and focus on only those tasks that will help you achieve your goal faster. To do this, you can use a calendar, to-do list, digital reminders and more. Here are a few more ideas on how to better manage your time:
Assign yourself a specific number of tasks per day (not too many)
When you have a specific number of things that you need to do each day, completing these tasks becomes more manageable. Before you leave work, consider making a list of about five tasks that you will need to complete the next day. It may also be a good idea to include small tasks in this list, like sending an email. This will demonstrate your progress and you'll feel more satisfied as you cross off another item in your agenda.
Plan for longer
In addition to a daily plan, it's a good idea to also make weekly and monthly plans. Plans are the best way to track your long-term goals that require multiple tasks spread over a period of time. You can use outlines to better select your daily tasks and schedule your work week more efficiently. You can spend time at the end of your week to review what you've done over the previous week and outline new deadlines and responsibilities.
There are tools that can help
There are a lot of tools that can help you better plan your day. You can use calendars and vision boards to evaluate the scope of your goal. There are plenty of other tools such as to do lists, digital reminders, focus apps, project management software and more.
Prioritizing
When you make your daily, weekly and monthly plans try to also note which tasks are to be completed first. Make sure you know what you should be working on and then one order closer you could organize these by deadline, the time it will take you to complete the task, difficulty level and more. A workable strategy here is to prioritize tasks first by urgency, next by complexity and, finally, by time commitment.
Writing things down
In some cases, you may find it easier to write things down. You can use the standard pen and paper or digital calendars. Sometimes, when you make the physical effort to write things down, you may find it easier to commit to the tasks ahead.
Having things in writing will also make it much harder for you to avoid accountability and much easier to track and evaluate your progress. Writing things down can also help you become more detail-oriented, which is a very useful quality as well.
Time-saving strategies
To make your workday easier, try completing small simple tasks as you're waiting for other tasks that depend on the progress of your team. It's also a good idea to take phone breaks throughout the workday. This is a great way to maintain productivity and start each new task with a clear head.
Staying motivated
Motivating yourself is an important part of staying goal-oriented. First, think about what keeps you inspired: this could be anything from listening to music, burning incense, finding a work spot with a nice view and more. When working becomes a satisfying process in itself, you may find it much easier to complete your daily workload.
There are two main types of motivation that you should be mindful of: intrinsic motivation and extrinsic motivation.
Intrinsic motivation is when you enjoy performing a task because it is personally satisfying.
Extrinsic motivation is when you are looking forward to completing a task because you will be rewarded. These don't have to be big rewards. For instance, you can reward yourself with having a snack or taking a walk after a task has been completed.
As you look for ways to stay inspired, take note of what is the best motivation for you throughout the day.
Having productive habits
Consider what habits will help you achieve your goals and make sure to incorporate them into your life. This can be for replying to emails before you leave the office. Self-discipline is a great way to use your time and increase your productivity.
Tracking progress
Regularly reviewing your progress is an important part of being goal-oriented. For example, you can schedule a time at the end of each day to evaluate how you were doing on your short-term and long-term goals.
You should also develop a method for tracking how much progress you've made in achieving specific goals. As we mentioned above, there are lots of digital tools that will help you do that — such as online to-do lists or productivity apps. These tools will be a great way of identifying potentially time-consuming tasks and pinpointing obstacles that prevent you from working more efficiently.
Having an accountability buddy
Another efficient way of staying focused and keeping track is to find an accountability partner to help you. This could be a coworker, friend or family member who may be also working on improving their own goals. In this case, you could be of great help to each other. It's a good idea to get in touch with your accountability partner every week or month and go over what you have accomplished.
Borrowing useful strategies
You can also use your network to improve your goal-oriented strategies. You can do this by exploring the strategies your coworkers use to stay focused and adding elements from their routines into yours. See what works for you and adjust their approaches to your own situation — you may just be able to expand your goal-oriented toolkit with some helpful strategies. You can also share your own website efficiency strategies, which is an essential part of being a team player.
How to be goal-oriented at work: takeaways
Next time you feel at a loss about how to stay on the right track, come back here and take a look at these tips. Here's a brief summary:
Learn to manage your time and use all the tools that can help with it: calendars, productivity apps, online to-do lists and more.
Do the most urgent tasks first. Then move on to the more complex ones and, finally, get to the ones that take the most time.
If you find it helpful, write down what you need to do and make notes throughout the day.
Pick out several time-saving strategies, figure out what works best for you and do your best to keep to them.
Practice self-motivation by rewarding yourself for a job well-done.
If a time-saving strategy works for you, do your best to develop it into a habit.
Track your progress and consider finding an accountability partner who can help you with it.
If you spot someone using a productivity strategy you might like, don't hesitate to borrow it and customize it to your routine.
For more helpful tips on staying productive, read our post on how to set your career goals.
For more helpful tips on staying productive, read our post on how to set your career goals.