Indeed.com is one of the most useful online job portals in the world. With a reasonably constructed resume, any job applicant can get the job of their dreams. However, using the website effectively requires some skill and practice. Nevertheless, getting the hang of it, especially of the Indeed advanced search algorithm, will yield unprecedented results.
This article is all about how to get the best results from Indeed.com. We touch on the most vital aspects of the job listing site, including how to use the search tool.
We also provide a simple outline for maximizing the Indeed advanced search option. Lastly, we made a list of tips from experts about using Indeed.com to successfully get notifications of relevant local and international job opportunities.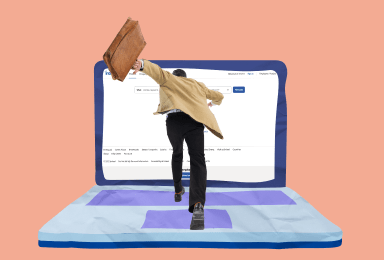 How to Use Advanced Search Tools on Indeed.com
Advanced search tools on Indeed.com is a way to filter job postings by industry, company, location, and salary. These filters are useful for narrowing down the results for what you're looking for to find the perfect opportunity.
Use Advanced Query Options to Get Better Results
In addition to the basic search options in which you enter texts into the search bars, and Indeed.com returns results and filters, you can also customize your searches. This is the Indeed search method that lets you query job listings. By using this method, you can personalize the directory of available jobs and see only the most relevant ones.
You only need to enter query markers to use this method.
Examples of these markers and how to use them are as follows:
1. Quotation marks "…"
Use quotation marks to search for an exact phrase in your job search. For example, type "programming skills" if you are looking for a job that requires programming skills.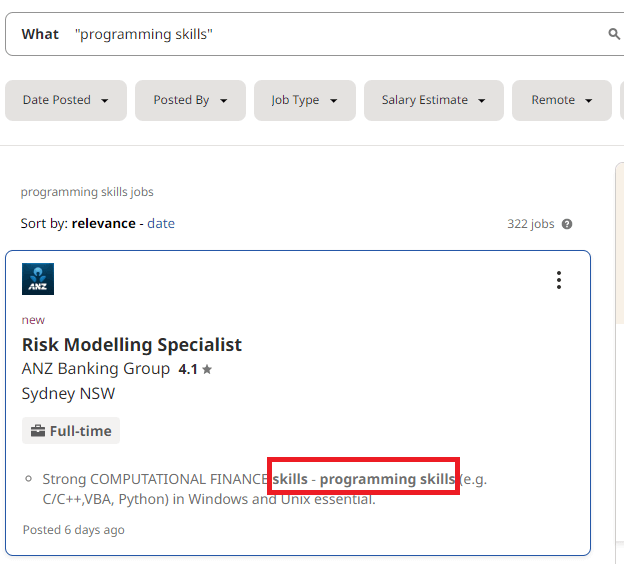 2. Parentheses (…)
Use parentheses to search for at least one of several key terms. For instance, type (writer or copywriter or journalist) to find a job related to writing.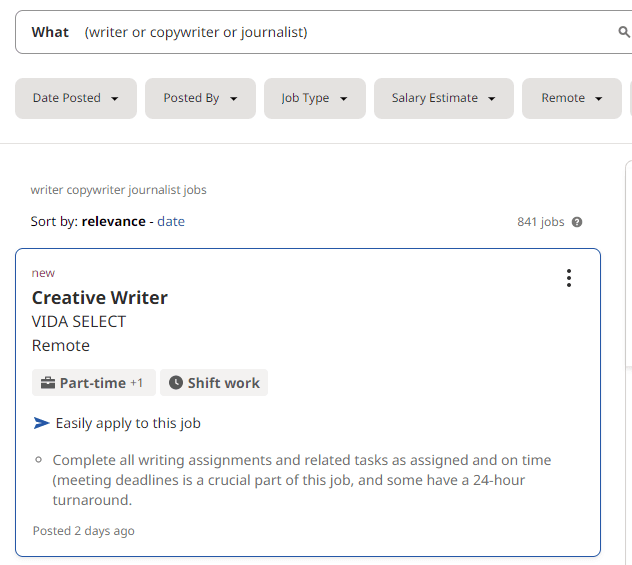 3. Hyphen –
Use a hyphen to exclude some terms from your search. For example, type -intern -temporary if you don't want to find a job that hires interns and temporary workers.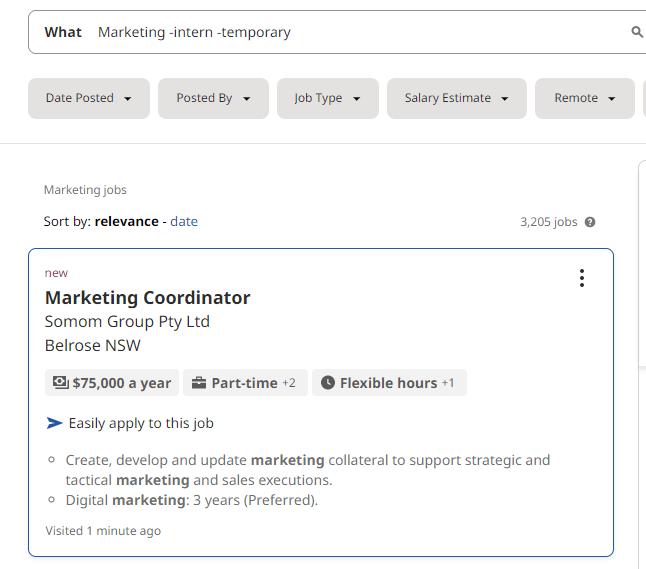 It is also essential to know what each of the query markers means. Thankfully, Indeed.com uses a simple query method: each of the markers used as examples is for inclusion, except for the hyphen.
So, if you use quotation marks, parentheses, or keywords with quotation marks, you will get personalized results with the text(s) you included in the search.
However, if you use the hyphen, Indeed.com will exclude the associated word.
So, if you want to exclude certain criteria from your search, use the hyphen before the word. For example, writing -SEO would return writing job listings that don't have SEO proficiency as a criterion. This can also help you remove a salary range from the search results.
Use the Filter Option to Narrow Search
Having set up an account on Indeed.com, you should familiarize yourself with the site. None of the dynamic functions you will find on the site is as helpful as the search function. However, the search option itself is only the starter function to help you filter available jobs.
The homepage of Indeed.com has two search bars with the WHAT and the WHERE options.
The WHAT search bar collects queries about the job you are looking for.
The WHERE search bar collects address information—your preferred geographical location.
But once you have entered these pieces of information, Indeed.com will present you with at least 5 filter buttons, including Date Posted, Job Type, Location, Company, and Job Language.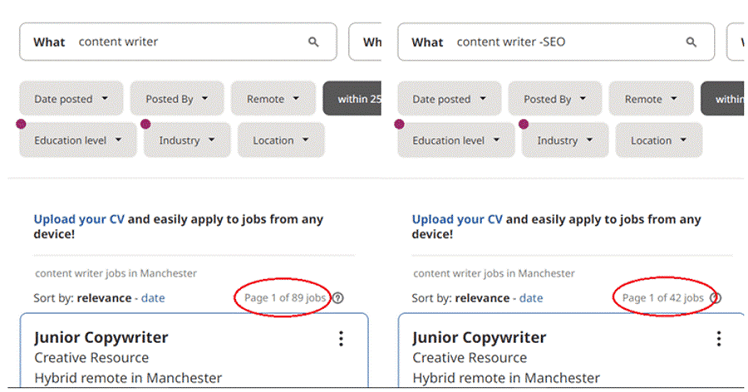 Each filter option allows you to narrow your search, saving you the time and effort required to sift through lots and lots of job listings.
For instance, the Date Posted filter is useful since it tells you when the employer posted the job, so you can know whether to prioritize or ignore it.
Additional Search Settings on Indeed
Many different search options are available on Indeed, but some are hidden in the settings. In this section, we will talk about additional search settings on the website: reset and save search.
You can find these two options under "Advanced Search" in the "Search Settings" section. When you click on "Reset Search", it will remove all your current settings and start fresh with default settings. If you want to save your current search so that you don't have to re-enter all of your preferences again, just click on "Save Search"; it will be saved for future use.
How to Reset Indeed Search
To reset your Indeed searches, go to the top-most part of the browser and click the three vertical dots. Go to More Tools and select Clear Browsing Data.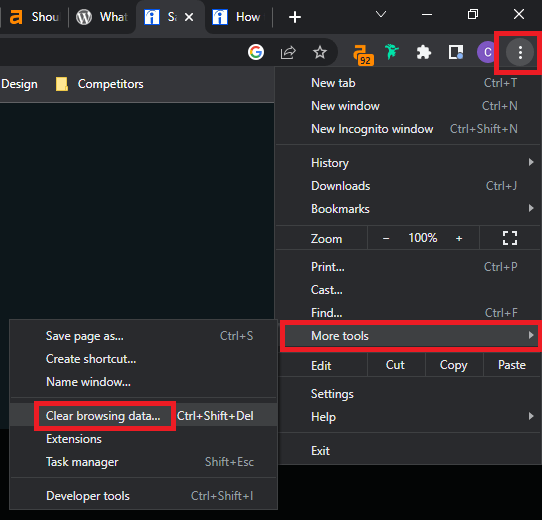 Then select a time range. If you want to delete everything, simply choose All Time. After that, tick the boxes next to the Cookies and other site data and Cached images and files sections. Finally, hit the Clear Data button.
How to Save a Search on Indeed
If you are currently logged into the website, your recent searches will be automatically saved and appear on your homepage. However, you may save your job search as a Job Alert email so you will be notified if new matching jobs are available.
To do that, locate the "Be the first to see new Indeed jobs" section in the upper right corner of the search results. Then choose Activate. You will then receive job alert emails within the next hours.
To enable job alerts, follow the steps below:
Use the WHAT and WHERE search options.
When Indeed returns the results, look to the right-hand side of the page where it says Get new jobs for this search by email.
Enter your email address into the bar and click Activate.
Confirm your email via the verification process.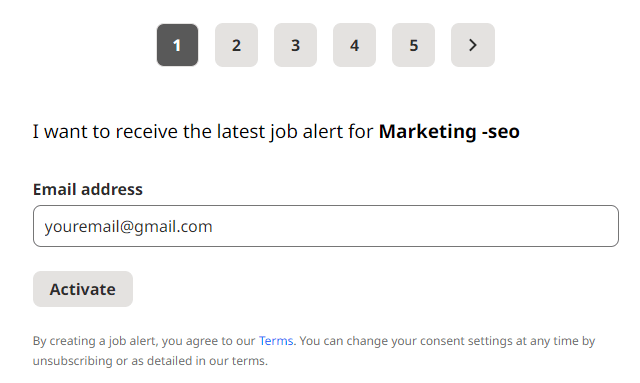 These steps enable Indeed.com to notify you via email of job postings that fit the criteria you searched for. You can create multiple search profiles this way. This way, Indeed.com can help you look for relevant jobs, not just anything that is posted in the online directory.
Get the Most from an Indeed Job Search
As a bonus, here are a few tips from experts about how to use Indeed.com productively. Though few, each of these can help you maximize a job posting on Indeed.
1. Sign Up to Use Indeed Job Listing Website
Much like the majority of online services, you need to sign up on Indeed.com before you can use the site. This is not only to get you included in the site's mailing or subscriber's list. Instead, signing and setting up an account with Indeed.com helps you join the system's complementary framework of job seekers and employers.
The biggest advantage to setting up an Indeed.com account is that you get to upload your resume. This helps the site match you with jobs that fit your qualifications and location.
Thus, because this system is very organized and runs seamlessly, you may not even need to use advanced search before the system finds you a reliable prospective employer. And if not an employer, then various job listings that fit your bill.
2. Upload Your Resume for System Match Algorithm
The best way to use Indeed.com is to upload your resume from the very start. You can do this even before setting up an account. The goal of letting Indeed have a copy of your resume is to allow the system to match you up with relevant employers and job listings. Indeed.com does this by singling out parts of your CV, including your contact information (location, especially), skills, education, and more. Then it matches this information with job requirements and sends your resume (if you want) to employers.
3. Customize Browser Plug-ins to Increase Search Convenience
In addition to Indeed.com sending you notifications based on your search criteria, you can also maximize job listings on the site by using browser plug-ins. These plug-ins are browser extensions that integrate with Indeed.com and therefore make it easier for you to access and use the site's many functions.
One of the more commonly used website functions via plug-ins is the setting up of job alerts. With a Google Chrome or Firefox plug-in, for example, you can search for jobs without being on the Indeed homepage. In effect, you can easily set up notifications at a moment's notice, saving much-needed time in the process. Moreover, Indeed.com recommends Google Chrome as the best browser for navigating the platform. So, having the Chrome Indeed extension will greatly improve your chances to get suitable jobs.
There are two other common browser plug-ins useful for navigating Indeed.com. These are Google's toolbar button and the RSS feed tool. These extensions make the Indeed advanced search process significantly faster and more effective.
As a bonus, here are a few tips from experts about how to use Indeed.com productively. Though few, each of these can help you maximize a job posting on Indeed.
4. Install and Use Indeed.com App
Indeed.com is available for download and use on Android and iOS devices. Having the platform as an app on your phone affords you some advantages.
The most valuable of these advantages is location. In other words, even if you don't use Indeed's WHERE search function, having an active GPS on your phone lets the app tailor job listings that match your location.
Thus, the platform always localizes job posts on the app for you, saving you the stress of modifying locational requirements. So, download the app from Apple Store or Google Play Store and use it instead of relying on the web version.
5. Make the Most of Job Notifications
There is no alternative for Indeed's job notifications. Once you have set up a search profile, the platform will always send you relevant job postings via email. With this function activated, you don't even have to regularly use the search function.
6. Read Company Reviews to Get an Idea of What to Expect
Lastly, read company reviews whenever you find a suitable job on Indeed.com. These reviews can be found on the platform's homepage. Alternatively, you can click the link to the employer (company) and find the reviews from other applicants.
Conclusion
Indeed.com serves as a very useful online platform for job seekers all over the world. Due to the website advanced search functions, a job applicant can sift through the posted job opportunities quickly and painlessly. As long as the methods and tips cited in this article are followed, you will sooner than later get your dream job via Indeed.com.