Quitting your job is a bold move, and there's no doubt you had a valid reason. You need all the courage, discipline, and resolve you can muster to cut off your income.
It's even more gutsy when you're quitting because you want to start a new career or move to another industry.
If you walked out of your job during the past year, you're not alone. A whopping 47 million people resigned in 2021.
That number was largely due to workers facing poor work-life balance, being disenchanted over low pay, feeling disrespected at work, and lacking career advancement opportunities.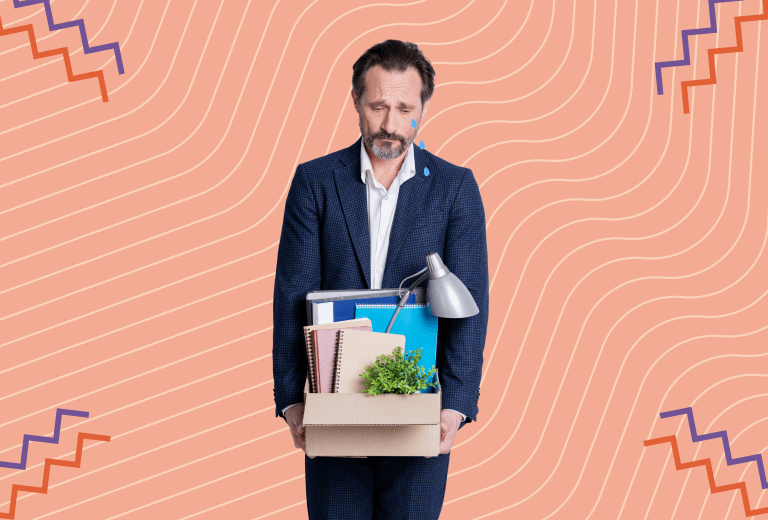 Why People Are Quitting their Jobs
According to a Pew Research Center survey of US workers, low wages, a lack of career advancement opportunities and workplace disrespect were the leading reasons respondents left their jobs. Many of the people surveyed cited more than one reason to quit. The researchers found that 63% cited low pay as one of their reasons, 63% mentioned lack of advancement opportunities, and for 57% of the respondents, lack of respect at work was a factor.
More so, the study categorized their responses into minor and major reasons. Of the 63% that cited low pay as a factor, 37% said it was a major reason and 26% admitted it was a minor reason. 33% of the 63% that pointed to lack of advancement opportunities said it was a major reason and 30% reported it was a minor reason.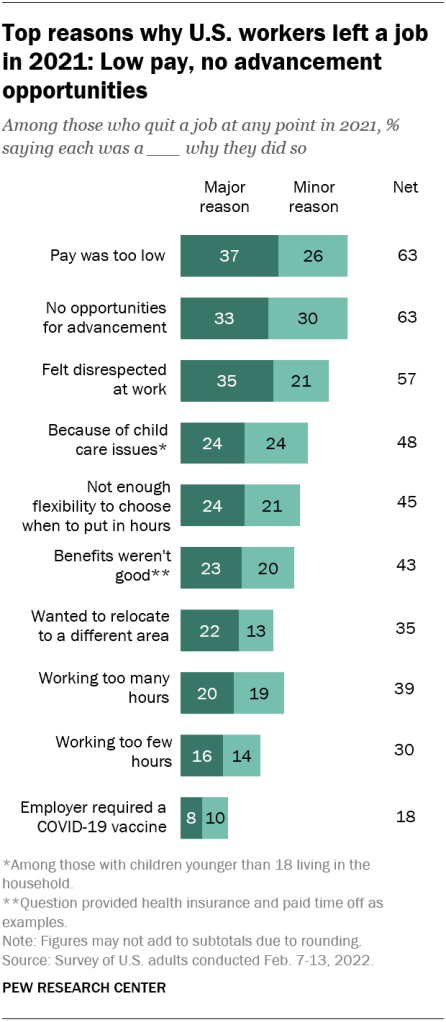 While most workers who quitted their jobs found better opportunities, some are regretting their decisions to quit and saying, "I quit my job and ruined my life."
That's why there's a current surge in boomerang employees – workers who want their old jobs back.
If you're among those who feel they ruined their lives by resigning, this article will help you put things in perspective and guide you on your next best steps.
Why Do You Regret Your Decision to Quit?
Understanding why you quit helps you see things more clearly. You have an incredible opportunity to learn new things about yourself and know where your priorities lie. You'll begin to plan better and make less mistakes.
That said, you may end up realizing that you're panicking over the new change and can salvage the situation.
So, why do you regret quitting?
1. You Quit too Soon
You may think your action was too rash and you didn't take your time to think things through. It's natural for such doubts to set in after making a tough decision.
2. You Didn't Have a Back-Up Plan
Leaving a job without a back-up plan could set you up for an ugly reality. You will likely start burning through your savings and begin to find it difficult to clear bills. Since the job market is tough and competitive, going through unsuccessful applications and interviews could also make you look back at your decision to quit without landing another job first.
However, you likely knew that quitting would come with its challenges. So, what you're experiencing are things you expected, even if they turned out a bit steeper.
3. You Don't Feel Fulfilled in Your Current Position
You may have landed a better-paying job before or right after you quit your former job. That said, you may end up feeling frustrated at the new organization for any number of reasons.
You could feel disrespected and out of place. You may also feel like the work you do doesn't matter. You could also be finding it difficult navigating your new workplace and integrating with your new colleagues.
While these reasons are legitimate, you may be experiencing the blues of adjusting to the new role.
4. You Miss Your Old Job
It would be difficult to transition into a new role if you quit a job you loved. Replacing your former workplace and colleagues could seem impossible and lead you to think about getting your old job back.
5. Your Back-Up Plan Failed
You may be regretting your decision to quit because what you had in mind to do after leaving didn't work out.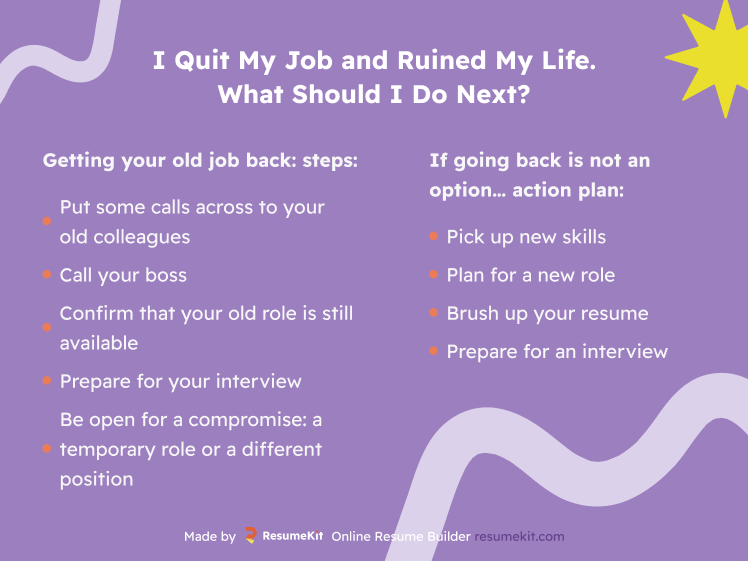 What to Do When You Regret Leaving Your Previous Job
As I mentioned, regretting your decision can help you reevaluate your position and make better choices.
Before saying, "I quit my job and ruined my life," you have to remind yourself why you left the job. The reasons you left may very well still be there, and you may still not have the tolerance to endure the work situation.
So, what should you do about your regret?
Make Peace with Your Current Situation
Accepting your current situation could help you deal with the regret. This way, you'll be able to look forward, especially if returning to your old job isn't a good idea.
Weigh Your Options and Plan Your Next Steps
Once you've accepted your situation, you can think more clearly. Remember that everything is on the table, including getting your old job back, depending on your situation.
Weighing your options include considering getting your old job or moving forward to a new position.
We'll cover different tips and questions that will help you discover the right decision.
Consider Patching Things Up in Your New Job
You may be regretting your decision to quit because you're finding it difficult to settle in your new job. You may not be getting along with your new colleagues, not entirely comfortable with your new role, and you may have issues with the company's management.
Instead of taking the nuclear option to quit the new job, consider the possibility that you may grow to love it.
You can try to socialize more with your new coworkers and get to know them, try to understand management better, and talk to your supervisor about changes you'd like to make.
Should You Get Your Old Job Back?
You should consider a few things before thinking about getting your old job back. It will be premature to say, "I quit my job and ruined my life" before answering these questions.
Why Did You Quit Your Job
Remembering the reasons you left your old job is the first thing to think about. It will help you confirm whether you're willing to return.
You may have left because you were having clashes and conflicts with the team. If the same team members still occupy the same role, it's probably not a good idea to relive the situation.
Did you leave because you were being treated unfairly? In this case, you have to confirm that the organization's hierarchy has changed or made changes to the company culture.
If you left due to a lack of career advancement, weigh your options and confirm whether your former colleagues got recent promotions.
If money was the problem, consider asking your former colleagues if there have been reviews to the previous salary structure.
How Did You Quit Your Old Job?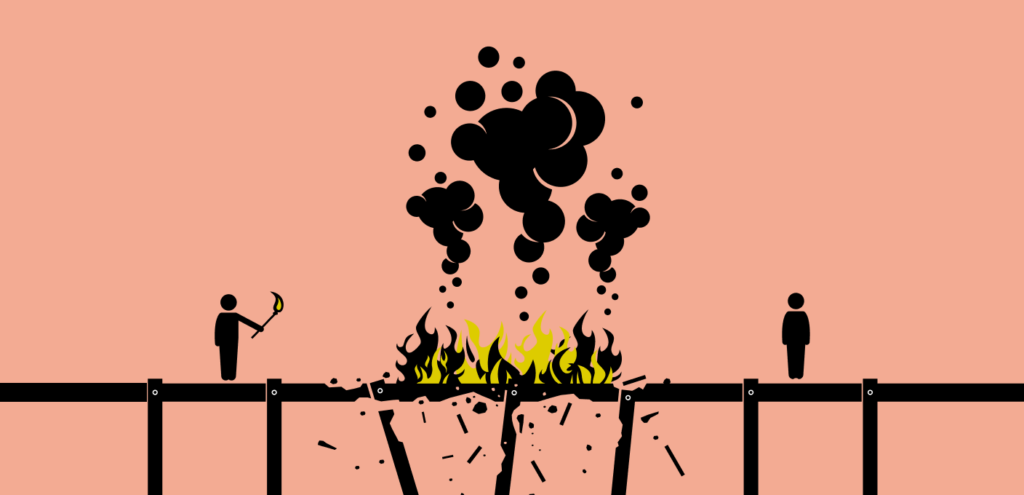 Remember your behavior during your last few weeks at work and how you broke the news of your departure. How did your colleagues and bosses respond?
Did you burn any bridges? Did you aggressively express your frustrations and behave unruly? Did you leave your teammates hanging by ditching your role? Did the company lose anything valuable because of your actions?
If any of these are true, you should consider getting a new job elsewhere instead. It'll be almost impossible to settle back into your old job if you don't have healthy relationships with people in the organization.
On the other hand, if you maintained strong professional relationships with your former colleagues and bosses, getting your old job is possible. Things will also look up if you quit graciously.
Was Your Professional Life Growing?
Going back may not be a good idea if you weren't expanding your skills at your old job.
Also, if you're going straight back to your old position with the same salary, you may end up feeling unfulfilled.
So, consider getting a new job where you can grow professionally. This way, you're able to learn new skills and land higher paying roles.
Is Your Old Role Still Available?
There may be no point gunning for your old position if it's no longer available. The organization may have filled the role shortly after you left or may be conducting interviews. So, while you weigh your options, confirm whether there's a job to go back to.
You can check the company's LinkedIn profile and job postings. If you're still close to former colleagues who still work there, call them to confirm.
What's the Company's Policy on Boomerang Employees?
Some companies are skeptical about hiring back former employees for many reasons:
Hiring an old employee may be considered high risk because the worker may quit abruptly again.
They might be looking to hire someone more experienced.
The employee didn't leave on good terms.
So, don't assume your company will rehire you just because you want to return. You can make a few enquiries to confirm that they haven't changed their stance on hiring boomerang employees.
Are You Being Desperate?
You may be thinking about going back to your old job because you don't have a lot of options left. However, you should settle down and think things through before making a rash decision. After all, you quit your job for a reason. If those reasons are still there, you're better off going for a new job in another organization.
What if Going Back to Your Old Job is Out of the Question?
Your best option could be moving on to a new job whether you're frustrated with your current job or didn't have any backup plan before quitting.
Moving on to another company is the best way to go if:
You no longer have a working relationship with your previous employers
Your former company has already filled your old position
You can't return to your previous job because of the reasons you left
As it turns out, the job market is looking good and there are many roles you could land in 2023. With all the options available, you'll realize that you no longer have to say, "I quit my job and ruined my life."
That said, you should make the right plans before starting your hunt for a new position.
Quit Your Current Position the Right Way
If you've weighed your options and decided you want to leave your new job, don't burn bridges and ensure you quit the right way. Talk to your boss, let them know why you want to leave, and tell them at least two weeks in advance.
You should help them through the transition and train the new recruit if possible. This way, you'll maintain a good professional relationship with them.
It will also be a good idea to tell your colleagues about your decision to leave.
Pick Up New Skills
If you quit your job before securing a new position elsewhere, you can pick up new skills while looking for a new role.
On the other hand, if you want to move on from your new job, add whatever new skill you learnt in the role to your resume.
Plan for Your New Role
Before sending out applications, research the company and ensure the role is the right fit. This way, you can settle in quickly without having to deal with thoughts of quitting.
Essentially, you have to ensure the issues you ran away from are not present in the company you're looking to work with.
You can use job boards and join industry groups to look out for ideal job openings. You can also follow up with your contacts and ask former coworkers and friends to refer you.
Brush Up Your Resume and Prepare for Your Interview
Writing a modern resume is among the critical steps in landing a new job. Recruiters spend less than eight seconds going through resumes, so you want to make sure your application is well-prepared.
You don't have to get called up for the interview before preparing for it. Doing that well in advance gives you an edge. This way, you're ready for the exercise even if the recruiter gives you short notice.
How to Get Your Old Job Back
You can make a play for your old job if you believe it's the best thing to do. If the company holds you in high regard and you left on great terms, they'll be likely open to rehiring you.
After all, a survey found that 76% of HR professionals say they are currently more open to hiring boomerang employees than in the past.
That said, you must ensure you're returning to the organization on favorable terms.
Here are tips on getting your old job back.
Rebuild Your Relationship and Call in a Few Favors
If you left the job without burning any bridges, it's time to put some calls across to your old colleagues and bosses.
Reach out to your former colleagues to confirm that your old role is still available or if there's a position you can take.
You can also contact your former boss and try to renew your relationship, especially if they still hold you in high regard.
Schedule an In-Person Interview
When you contact your former boss, tell them you'll prefer to schedule an in-person meeting to talk about details of the job.
This way, you're able to have a professional meeting and know what they feel about rehiring you. You can also get to ask them about your prospects and if you have a shot.
Prepare Yourself
Getting your old job is not really different from applying for any new role. Even if your former boss has given you the greenlight, they still have to evaluate you.
So, you have to prepare for your interview, especially if you're filling in a different position at your old firm.
In this case, though, you have an advantage since you're returning to familiar territory. Your recruiters already know who you are and are privy to your track record.
Stay Professional and Maintain Your Composure Throughout Your Interview
Remember to maintain your composure during the interview and act professionally. Because your recruiters used to be former colleagues or supervisors doesn't mean you have to be informal or too friendly.
Letting them know that you take the interview seriously is a way to show your commitment to returning to your previous role.
Be Open for a Compromise
Things will likely not be the same way you left them. So, you should be open to changes.
In many situations, your employee will be skeptical to offer you your full role back. Instead, they may be willing to rehire you on a probationary basis.
This way, you'll fill a temporary role that could turn into a full-time position if they're satisfied with your performance.
You could also be offered a different position than you expected. The role may come with different responsibilities and remunerations than what you previously enjoyed.
If you believe working with the organization is the right thing to do, consider making these compromises.
Know When to Ask for More
You should evaluate your situation to know your bargaining power before heading into the meeting.
If the company is keen on rehiring you because finding a replacement is difficult, you can renegotiate your terms of employment. This time, hammer out a better deal in terms of work situation, position, and pay.
If you've gained new skills and experience while you were away, consider asking for a raise.
Also, ensure that the company commits to dealing with the issues that led you to quit.
Be Ready for Any Outcome
Your bid to get your old job back may be unsuccessful, just like any job application.
While you have to be hopeful and optimistic, prepare for any outcome, even if you don't land the job.
There's More Ahead
Quitting your job without a backup plan isn't the end of your professional life. You can get something better or discover new things about yourself. You now have a chance to explore new possibilities and do things you love instead of enduring a job that makes you miserable.
So, instead of saying, "I quit my job and ruined my life," think about the new opportunities you can now pursue.