Once your resume and cover letter have made a good impression on your potential employer, you may be asked to meet for an interview — either in person or online. Some interviews are formal and conducted in a traditional setting. Others, on the other hand, are informal and allow for a more casual conversation.
Today, we are looking into what an informal interview entails and how to best prepare for it.
What is an informal interview?
An informal interview is different from a traditional interview in a way that it typically takes place in a casual setting, does not have a strict structure and rarely requires a particular dress code or any specific preparation. While a formal interview is focused on evaluating your technical skills and professional knowledge, an informal interview has more to do with getting to know you as a person. An informal interview can take place in a coffee shop, over dinner or even during a walk in the park whereas a formal interview would typically take place at the company's headquarters. An informal interview has no specified duration. It can be a quick brunch or turn into a long conversation if both parties have a lot to discuss.
Why do employers use informal interviews?
The purpose of an informal interview for an employer is to decide whether the candidate is right for the company. By means of a casual conversation, they will aim to find out more about the candidate's personality, attitude towards work, leadership abilities, team spirit and more. The candidate, on the other hand, will have the opportunity to learn more about the company, its mission and values, their potential team-mates and more.
How to prepare for an informal interview?
While we have mentioned earlier that an informal interview requires no preparation, it is recommended to do a bit of research prior to your meeting so that you feel confident and ready to both answer and ask questions. Here are a few useful strategies to get ready for an informal interview:
Do some company research
One of the best places to start is to read up on the company that you are applying for. This will give you a better idea of what questions you may be asked and will also help you find out what you may want to ask your potential employer: 
Take a look at the company's website.

Check their social media profiles on Linkedin, Facebook and other media.

If you know anyone already working for the company, take the time to talk to them and get some valuable insights into their company's culture.

If you don't know anyone working for the company, do some research on Linkedin: you may be able to find out how many people work there and even who your potential supervisor will be.
Analyze the job description
If you are going to discuss a specific position, take the time to go over the job description again. Think about how your experience aligns with what the job requires and have some examples ready that prove your expertise and accomplishments in previous employment.
Consider what you may be asked
There is definitely no need to try to predict the questions you will be asked during the interview. And scripting your answers and reciting them is also a very bad idea. On the other hand, there is nothing wrong with planning your answers to some of the most popular interview questions like "where do you see yourself in five years" or "what are your long-term career aspirations". Having an idea of what you will say will help your employer save quite a bit of time and will let you avoid uncomfortable silences or vague and ill-conceived replies.
Check out the 10 most common job interview questions.
Think long term
Most employers will be very interested in your career goals. This will help them identify whether your professional goals can be met and how long you may stay in the company. Consider what you will be getting from the new position if employed, how you plan to further your career and what your employer can do to fulfill your needs.
Informal interview tips: during the interview
An informal interview is a great opportunity to express yourself. However, it's an even better opportunity to showcase yourself as the perfect candidate for the job and to learn about the company you would like to work for. Here are some simple tips to follow during an informal interview:
Ask questions
This will not only show your potential employer that you are genuinely interested in the position but will also be a great opportunity to learn more about the company, who you will work with and what career prospects you may expect. Here are some of the very basic interview questions to ask: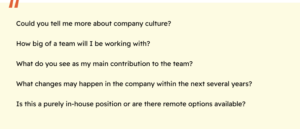 Here are more job interview questions to ask your potential employer.
Listen carefully
It's important to not only listen during the interview but to also practice active listening to keep the conversation going smoothly. Active listening involves making eye contact, nodding, smiling as well as referring to your interviewer's words when replying. For example, you could begin your reply with something like "Going back to what you just said…" or "I completely agree with what you said about …". This will demonstrate to your interviewer that you are genuinely interested in what they are saying and help build a lively and involved dialogue.
Don't lose focus
It's easy to get a bit too relaxed during an informal interview. However, it's important to remember that this is still a job interview — and your goal is to make a good impression. No matter how friendly they may seem, the interviewer will be watching what you say and do and making notes. Do your best to keep it as professional as possible while also remaining who you genuinely are. Avoid asking personal questions, making direct remarks or going into too much detail about your life outside of work.
What if you are offered the job on the spot?
You should be prepared to get an offer on the spot. Consider your reply before the interview — but do not feel obligated to reply right there and then. If you need to, give yourself enough time to consider the offer and make the decision that works for you.
You should also be prepared to answer questions about your expected salary, potential start date, availability for relocation and more.
How to follow up after an informal interview?
After the interview, it's a good idea to send a follow-up email. It is important to choose the right time to send your email. If you know that the interviewer will be speaking to other candidates, it may be better to wait a few days before reaching out. When you do, make sure to thank the interviewer for their time, mention what you have learnt during your conversation and reaffirm your interest in the position.
Here's how to show appreciation with an interview thank you email.
While following up on the interview is very useful, make sure to not bombard your interviewer with emails, calls and demands for feedback. Note that your interviewer may still have a number of candidates to talk to and a formal review and hiring procedure to follow.
If you are not sure when to expect an answer, read this post – how soon will I get HR feedback after the interview?
Summing it up
An informal interview is a great way to express yourself and to get to know the company you may soon be working for. It's best to approach this interview as your true self — don't act or pretend to be someone you are not. On the other hand, make sure to do at least some research before the meeting and use the information that you have gathered to your advantage.
Remember that this interview is not only for your employer — it's also an opportunity for you to evaluate how good of a match you and the company are and how this job aligns with your long-term career goals.