A job interview can be quite stressful. Meeting new people, making a good impression on your potential employer and proving your skills can all add pressure to this day. With so much to be concerned about, you definitely don't want to add worrying about what to wear to the list.
In today's article, we are sharing a few quick ideas for the perfect job interview outfit — to take at least this small issue off your hands. Plus, we suggest you take a look at this article — The 10 Most Common Job Interview Questions — to be even more prepared for your first interview.
Informal/formal interview outfits
We all know that an interview outfit — or any outfit for that matter — can be formal or informal. However, the lines between these two categories are not as defined as they used to be. And, changing from an informal outfit to a formal one can be a matter of putting on a tie or a blazer.
 However, to avoid any confusion, let's look into what a formal or informal interview attire may look like.
Formal interview wear generally means that men should wear a suit and women should wear a dress or a skirt and blouse. Formal wear is often recommended for interviews at large corporations or when applying for senior or formal positions.
Informal or casual interview wear, on the other hand, doesn't presuppose any specific dress code. You can show up for an interview wearing a T-shirt and jeans or a sweater and trousers. This is often the case when you are interviewing for a job in a startup or are a candidate for a creative or freelance position. Learn more about other aspects of getting ready for an informal interview in Informal Interview. Complete Guide and Tips.
In most cases, however, unless your interview invitation mentions a specific dress code, it's best to keep to the semi-formal dress code. This involved combining both formal and informal clothing elements: for instance, wearing jeans and a blazer.
Interview outfits for women
Women generally have quite a bit of choice when it comes to selecting an outfit. However, with this vast choice come a number of complications: picking what to wear for the first interview in a new company can be rather intimidating.
To help you navigate the complicated world of office fashion, here are a few quick ideas for a winning look:
A classic black dress and tights

If you don't want to spend too much time digging through your wardrobe and mixing and matching colors, the classic black dress is a simple and effective solution. Both formal and refined, a knee length black dress can be a true wardrobe life-saver in a variety of situations. To make your look more modern, consider pairing the dress with a pair of textured tights.
A sweater and black slacks

A pair of black dress pants is a wardrobe essential — and serves as base for a whole range of outfits. Pair them with a button-down shirt or blouse when going for a formal business look or dress them down with a sweater.
A blouse and skirt or slacks

This is another classic that can be made interesting with a bit of detail and texture. You can go with a simple white blouse or experiment with more modern designs. A blouse will go well with a simple black pencil skirt or a pair of classic black slacks we've mentioned above. A jacket or blazer can dress up the look.
A statement dress

While the classic black dress is a simple and easy choice, there is also nothing wrong with letting a bit of your personality come through. A tasteful dress in a brighter color like turquoise or deep green can be a great choice for both a formal and a casual interview.
A blazer can complete the look

A menswear-inspired blazer can be that one detail that can complete and "formalize" almost any outfit. It is remarkably versatile and a great piece of clothing to always have ready in your wardrobe for meetings, interviews and more. A blazer will look great with dark jeans (for a less formal look) and a matching skirt of black dress trousers (for a more formal one).
Interview outfits for men
The first thing that you may be happy to learn is that you won't need to completely overhaul your wardrobe or spend lots of money to look great at an interview. Luckily, men's fashion is quite straightforward and all you will need are a few basic pieces to put together a stylish and professional interview outfit.
Here are just a few quick ideas for what you can wear to interview:
Light-colored blazer and pants to match

A lighter-colored blazer is milder than a black or gray suit and perfectly rides the fine line between business casual and format. Keep a tie handy: if paired with a tie, the outfit will lean towards formal, take the tie off and you are closer to casual.
A button-down shirt layered with a sweater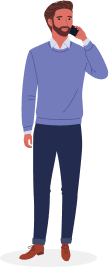 Top a classic light-colored shirt with a brown, black or navy sweater. You can pair the layered top with khakis or chinos — or even dark-colored jeans for a less formal look.
A navy blue blazer

A navy blazer is a classic — but it can also be a breath of fresh air in a formal look. It can be worn with or without a tie and goes well with a variety of shirt colors, khakis, chinos and slacks.
A classic button-down shirt
Matched with an interesting tie, a classic button-down shirt can be the simplest solution for an interview outfit. If you are going for a strictly formal dress code, choose classic shirt colors and subdued prints. If you are aiming for a more casual look, you can experiment with bolder colors and take off the tie.
A textured piece

Adding some texture to your outfit can bring personality, class and sophistication in any ensemble. Try a textured blazer (tweed or corduroy) with a button-down shirt and classic slacks. Once again, adding a tie to the mix will make the whole outfit more formal.
How to figure out what to wear for an interview?
This is a really good question — and sometimes deciding what you should wear is much more complicated than actually putting together an interview outfit. Here are a few simple strategies to keep to:
Check if your interview invite says anything about the dress code. There may an indication about what you should wear with the dress code being labeled as "business formal", "business casual", etc.
Read the room. In a lot of cases, an interview at a startup will allow for a more casual look compared to an interview in a large established corporation. Same logic can be applied to the type of position you are applying for. A candidate for a design or freelance writing position can typically dress more casually for an interview compared to someone hoping to work as a manager in a bank.
Check the company's website or social media page. Take a look at the photos from in-company events, conferences and meetings — this can give you a general idea of the corporate dress code (or its absence).
Finally, if you are having a hard time finding any related information, it may be best to play it safe and prepare a semi-formal outfit. This means calm subdued colors, simple prints, classic cuts and so on.
Make sure you are not only well-dressed but also well-prepared for your first. Learn about Job Interview Questions to Ask Your Potential Employer to avoid uncomfortable silence, show your interest in the job and find out key information about the company that may help you further your career.
Interview outfit. Summing things up
A good book shouldn't be judged by its cover — and your professional potential shouldn't be evaluated by what you wear to your first interview. However, missing the mark when it comes to company dress code can make you feel less confident and cause unnecessary stress and nervousness that can affect the key parts of the interview process.
To avoid any clothing distractions on your interview day, pick out a few outfits a few days before the interview and try wearing them out in public to make sure you feel comfortable and confident. Also, take a look at our article on what not to wear to an interview to avoid any potential faux-pas.