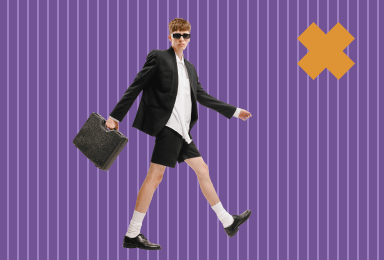 Getting ready for a teen job interview can be stressful — especially if it's your first job interview. In fact, according to a recent survey by JDP, the majority of job candidates (93%), no matter how prepared, do experience anxiety during the interview.
According to the recent survey from JDP, a majority of job candidates (93%) have experienced anxiety related to their interview
Wearing the right outfit can not only put you at ease and help you feel more confident. It can also help you make a great first impression and improve your chance of landing the job. Here are a few tips for what to wear to a job interview for teens.
Jobs That Hire At 15 Years Old Or Less: 2022 Guide
Why is wearing the right outfit to a job interview important?
Picking an outfit for an interview may feel like an unimportant extra. After all, if you have good qualifications and the right attitude, this is all that should matter to your potential employer.
Read more on what makes you stand out in a job interview.
However, things are quite a bit more complicated than this. In fact, according to a study by Prof. Albert Mehrabian of the University of California in Los Angeles, only 7% of our communication happens verbally — while nonverbal communication (body language, tone of voice, facial expressions, etc.) account for a staggering 83%.
Wearing the right thing for an interview can also send a subliminal message to the hiring team that you take the job seriously and have taken the time to prepare. A polished and neat look at an interview may also speak towards your sense of responsibility and attention to detail.
What to wear to a job interview for teens?
Now, what you wear during a job interview is definitely important. However, as a teenager interviewing for your guest job, you probably don't want to invest into a full set of formal attire. And that's not necessary either.
Below, we will share a few simple and easy to put together outfit ideas for your first job interview.
What to wear to a job interview for teens: unisex looks
There are a lot of popular formal and business casual looks that can suit both men and women. Here are just a few ideas:
Button-down shirt + slacks/khakis
Most positions for which teenagers can be hired won't require you to wear a suit. This, a button-down with a simple design and a pair of
khaki pants will be enough to project that near and organized look. It will also give your interviewer the perception that you took the time to prepare for the interview and are taking it seriously.
Polo shirt + slacks/khakis
Polo shirts are a business casual staple. It's a good idea to have a few polos in your wardrobe for occasions just like these. Depending on what you pair then with, polos can be more or less formal.
If you don't want to spend too much time planning out your interview wardrobe, simply pair a polo shirt with a pair of slacks or khakis.
Shirt and blazer + jeans
Another fairly effortless look to put together is pairing a short and blazer with a pair of jeans. Yes, jeans are generally not the best option for formal occasions. However, if you pick a classic pair of jeans, preferably in a darker color, and top them with a shirt and blazer, you will be creating a very clean look, perfectly suitable for the occasion.
What to wear to a job interview for teens: young men
Here are a few ideas for what a young man can wear for a job interview.
A classic suit
A suit is probably the most obvious option for a job interview. You are likely to already have one in our wardrobe, tucked away for formal occasions. A suit can indeed be a great option if you are applying for a job that requires daily formal attire. It can speak to your ability to judge the nature of the situation and show your willingness to adapt to the role. It may also signal to your potential employer that you are career oriented and may be interested in working your way up. As the saying goes: dress for the job you want, not for the job you have.
On the other hand, if the position you are applying for will have you working in a more informal and casual environment, a suit will probably have you looking overdressed.
A dress shirt and trousers/dark jeans
You can never go wrong with a clean ironed dress shirt in a neutral color paired with classic trousers or dark jeans. This is a simple and effective look for an interview. It is less formal than a suit and yet perfectly demonstrates your seriousness and preparation for the interview — at least when it comes to wardrobe choice. If you want to make the look more formal, add on a striped or plain colored tie.
What to wear to a job interview for teens: young women
A classic pantsuit
Just like with the classic suit for men, a women's' suit can be a natural choice for a job interview. It shows that you are ready for the responsibilities of a new working environment and speaks to your preparedness for the interview.
A blouse/sweater + dark-washed denim
If you want to keep it less casual, you can create a polished look with a classic top (neutral colored blouse or fitting sweater) and a pair of dark-washed jeans or trousers.
Preppy dress
A clean button-up dress is an interview-proof look that requires almost zero effort. In fact, it's a good idea to keep a preppy dress in your wardrobe just for occasions like this. It can save your lots of time when you need to get dressed for a formal occasion and don't have the time or energy to shop for a new look from scratch.
And here are a few general best practices for dressing for an interview, whichever outfit you choose to go with:
Don't go with oversized clothing. While this is definitely a fashionable look, it's not the best choice for a formal occasion.
On the other hand, your clothing shouldn't be too small or tight either. Simply wear well-fitting clothes to your interview.
Be mindful of colors. When in doubt, go with neutral colors like as black, taupe, beige, brown, blue or gray. Sure, you can also use a bright element in your wardrobe to make the look pop. But it's best to avoid colors that are too bright or distracting.
Shoes matter. Now that you've put in some time and energy into reading this article and putting together an interview look, don't let it all go to waste by choosing the wrong footwear. Avoid anything open-toed or athletic. Classic tame colored sneakers may work for both men and women. For men, if you are wearing trousers, consider pairing them with loafers or dress shoes. For women, classic pumps will always work as well as flats.
Complete the look with a suitable bag. If you need to bring something to the interview (documents, work samples, recommendations, etc.), consider putting them in a clean briefcase or satchel. A shoulder bag or a small classy backpack works too.
What to avoid wearing to a job interview: women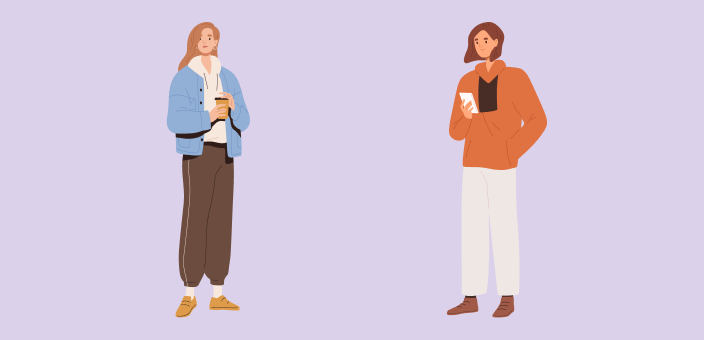 The basic rule for what not to wear to an interview is that you should avoid looking too casual. This means not wearing things like shorts, flip-flops, crop tops, flashy sneakers, etc. If you don't want to wear anything too formal (like a pants suit or a pencil skirt and blouse), consider upgrading the casual items in your look to something business casual. For instance, wear khakis instead of shorts or a polo shirt instead of a crop top.
What to avoid wearing to a job interview: men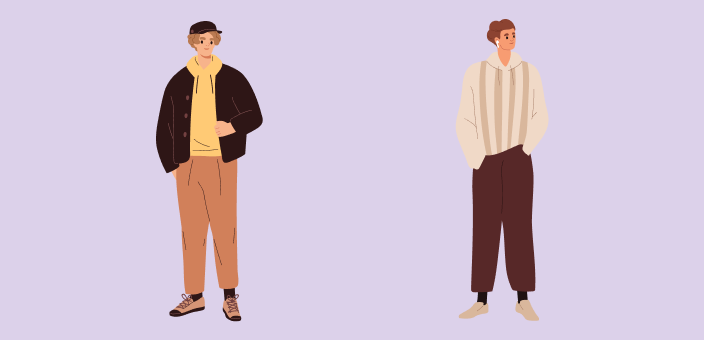 Just like women, young men are advised to avoid wearing a look that is too casual for their first interview. It's best to steer clear of baseball caps, hoodies or jerseys. Instead, consider wearing a button-down or polo shirt. It's also best to wear clothing that fits you well instead of going for the oversized look. Make sure anything you wear fits you well and is not too loose or too tight.
Tips to consider when dressing for a job interview
First, take the time to assess the level of formality needed for the interview. The person you will be having an interview with may indicate whether it is a formal or informal interview. You can also determine the level of formality by what you would be wearing if you got the job. Places that generally require a strict dress code include law firms, banks and other financial institutions, business consulting companies, public service institutions and so on.
Second, it's generally better to show up overdressed for an interview than to show up underdressed. So, if you are worried about being dressed too formally, it's typically quite okay to take this risk.
Third, make sure everything you are wearing is clean, pressed (if needed) and well-matched. The goal is to make a favorable impression on the interviewer and avoid them getting distracted by a hole or stain on your shirt.
Finally, it's not only about your outfit. Your body language, tone of voice and other general behavioral elements also matter during an interview. When answering the interviewer's questions, do your best to stay focused and calm. Don't mumble, avoid long pauses or over the top gestures. If this is your first interview, you may even want to practice a few answers in front of a mirror to see how you come across.
Learn how long job interviews last.
What to wear for a teen job interview: summing things up
We hope that this article has made your interview prep at least a bit easier. As a final piece of advice, make sure to wear something that you feel comfortable in. Staying focused and calm is really important in an interview and your outfit should be helping and not distracting you from the conversation.
Lear about the best ways to follow up an interview in our post on How Soon Will I Get HR Interview Feedback?
As always, happy job hunting!