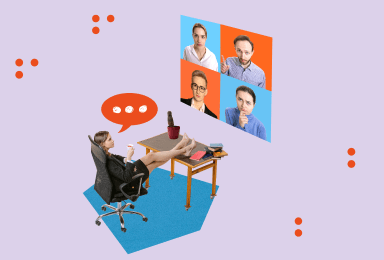 Interviews are a critical component of a hiring process, and sometimes it may come down to how you present yourself. As part of the preparation, it is crucial to consider what to wear for a zoom interview or any other interview. This sells you well in the interview and boosts your confidence.
You must ensure you impress your interviewer and show them there is more than just your resume. The trick is simple: You wear something that makes you feel good and gives the impression that you are organized, confident and capable while not being pretentious or overdressed.
An invitation to a Zoom interview means the interviewer has gone out of their way to ensure you know about it early enough. This is to ensure you are well prepared and ready for the interview.
What is a Zoom Interview?
A Zoom interview is a job interview where your interviewer sits at a computer and communicates with you via video conference. This type of interview is helpful if the applicant lives far away or cannot physically attend the interview.
The goal of a Zoom interview is to efficiently assess multiple aspects of your capabilities and personality before considering you for the role. So, your job is to attend the Zoom conference and answer the questions involved.
A Zoom interview is quite different from a face-to-face meeting with an interviewer. In a Zoom meeting, you mostly give short answers since you don't have much time to elaborate on every answer. So, it is vital to be precise and accurate.
Zoom meetings also provide an easy way for an interviewer to quickly assess your abilities without wasting time requesting additional information via email.
As with any job interview, candidates should prepare for a Zoom interview by researching their interviewer and the company they're applying to before their interview. What's more, it is vital to dress well for a Zoom interview as it helps give a great first impression. Let us explore primary considerations when choosing what to wear for a Zoom interview.
How to Dress During a Zoom Interview
When dressing for a Zoom interview, you have much more leeway than when preparing for an in-person interview. With that in mind, you can carefully choose what to wear to achieve a professional look.
Dressing too formally might make you look uncomfortable in front of your computer screen. Although your initial aim was to impress, you might end up looking unprepared and unprofessional. The key is to find an outfit between casual and formal. This can be challenging, especially if you are not used to getting interviewed remotely. Here are some tips to help you find what to wear for a Zoom interview:
Do not overdress. While you do not want to look unprofessional, you should not look like you are trying too hard either. Your clothing should portray you as polished and prepared. So, keep your outfit simple and understated.
Opt for dark or neutral colors – Darker colors like black, navy, or grey are best. Avoid bright or bold colors like bright red, yellow, or orange.
Choose fabrics that feel good – Make sure the dressing you choose feels good against your skin. You do not want something itchy against your skin as it might disrupt your focus during the interview.
Dress for the environment you will be in – If you will do the Interview in a hot or cold room, ensure you dress appropriately.
In general, what to wear for a Zoom interview should tailor your confidence, comfort, and control of the situation. If you feel like you are being forced into a specific type of clothing, likely, you will not be as confident in your interview as you might otherwise be.
How to Set Up Your Background for a Zoom Interview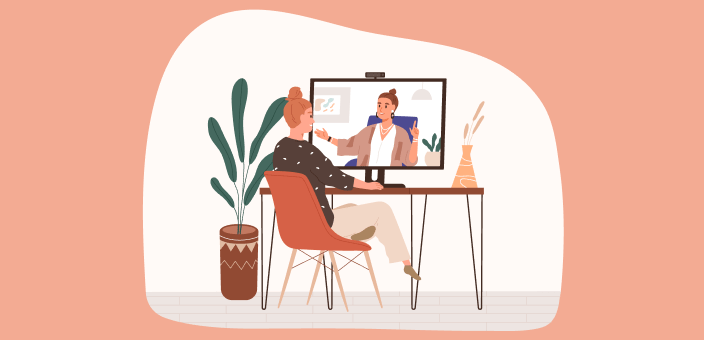 It's essential to make your environment conducive for you and your interviewer to ensure an excellent interview. This shows the interviewer that you took the time to prepare for the interview and are serious about the role.
First, you must pick a quiet place to avoid loud noises that might interrupt smooth communication during the interview. This also helps you concentrate and gives a good impression. Here are some extra tips to apply for a successful Zoom interview:
1. Set Up a Drop Cloth
When setting up your background, one of the first things to do is lay out a drop cloth. This will ensure that you are completely visible to the camera and also eliminate any distractions behind you.
You can also use a light-colored wall behind you to achieve a minimalist look with fewer distractions. If you are wearing bright cloth, it is prudent to use a dark background and vice versa.
Another option is to use a piece of furniture, like a bookshelf or credenza, as your background. Ensure it is clean and tidy, so it does not distract the interviewer.
2. Ensure Proper Lighting
Natural lighting is ideal for Zoom interviews as it helps avoid shadows. If you are in a room with overhead lights, you might need to turn them off. Also, avoid lamps with bright bulbs that will cast harsh shadows on your face.
If you are in a room with windows, ensure to draw your shades to prevent sunlight from streaming in behind you, as that could be distracting.
3. Set Up Your Laptop in Front of the Desk
The other important step is to place your laptop on the desk in front of you and ensure that you are angled so that your upper body faces the camera. This will expose you to the camera for a clearer video.
Additionally, make sure your office desk is clean. Therefore, clear all the papers and other items off the desk so that nothing unnecessary is visible in the video.
4. Check Your Microphone and Speakers
Checking if all your microphone and speakers are functioning will save you from audio issues during the interview. It helps to keep your microphone close to your mouth to minimize background noise.
Pro Tip: Add Professional Props & Decor
You can also set the scene for your interview with some basic props and decor. While you do not want to go overboard, adding a few items can help set the tone and make the interview more comfortable for you and the interviewer. Some simple props like a plant, a pen, paper for taking notes, a glass of water, and a notebook or journal can be helpful.
You can decorate your desk with items representing your work or company values and culture. You could also include photos of your team, company logo, mission statement, or other professional objects.
What to Know Before Your Interview
Before you get dressed, you should be well prepared for your interview. So, you must know what the company does and what the role entails. In addition, you should familiarize yourself with the Zoom Interviewing platform. The last thing you want is to be confused about where certain controls like audio are when you answer the Zoom call. This shows that you don't know what you are doing. Finally, ensure you have a good internet connection to avoid unnecessary disconnections.
Statistical fact
It is best to stick to neutral colors, black, white, grey, or beige, to get more from your interviewer. According to research, these colors are associated with authenticity, trustworthiness, and creativity. Bright colors and patterns are said to make people look least like experts.
Conclusion
Securing a position in any company requires experience and proper skills. However, your presentation during an interview, in-person or virtual, speaks a lot about your capabilities. So, you must ensure you dress well and stay composed during interviews. This article provides key tips to help you prepare for a Zoom interview.