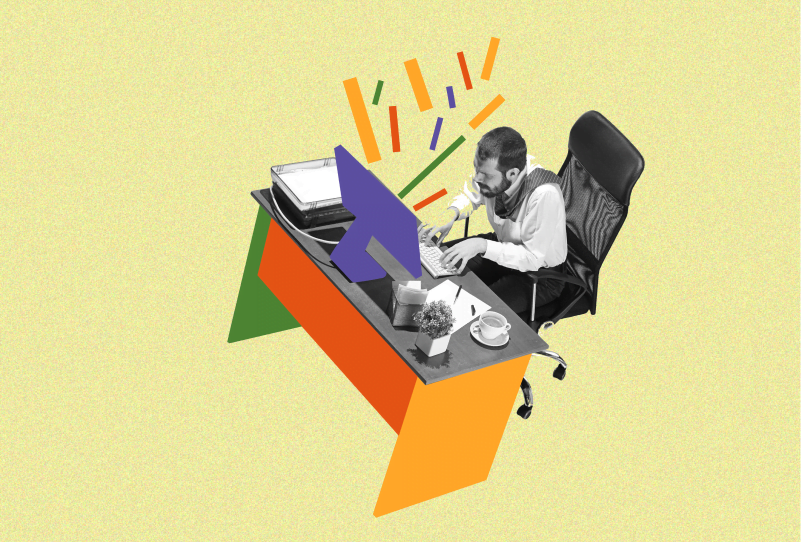 Indeed
Indeed is considered to be the best job search engine by many, and has held that title for quite a long time. It is one of the most popular job search platforms in the world, which means there are many postings added there every day, giving you plenty of options.
Many employers post there directly, but it also takes ads from various sites and collects them in one place. It's completely free to make an account and add your resume to send out applications from the website. Additionally, you can also take a look at employee reviews of a company before applying for work there.
ZipRecruiter
ZipRecruiter has gained popularity in recent years and is becoming even more popular than Indeed. It has many job postings available and is free to use for job seekers, as well as has the same functions as Indeed. It is also the best job search mobile app currently available, which can be very convenient if you want to be able to search for jobs while on the go and instantly get notifications about new postings.
LinkedIn
In addition to its professional networking platform, LinkedIn also has a job search function. Just make sure you complete your profile before you apply, because your profile will serve as your digital resume. You can also do assessments to prove some of your skills and add them to your profile. You can use the site for free, however there is also a premium subscription available that allows you to see who viewed your profile and send messages to people you haven't connected with.
We also suggest you try using the platform for networking and reaching out to professionals and recruiters. Whether you are an experienced professional looking for a new job or a recent grad hoping to get an internship at your dream company, this can be a great place to start. This approach is best for those who know what field they want to focus on. If you are just looking for a summer job, this kind of networking may not be the best option for you.
Glassdoor
You may know this job search website as a platform for reading reviews on employers from employees, but it also has a job searching tool available. The website has a sleek, easy-to-read design, and you can immediately check reviews about what it's like to work at a company before applying. People who went in for interviews also post what questions they were asked, making it easier to prepare in advance if you get a response to your application.
Monster
Monster was one of the first job search websites that was ever created, and is still very popular today. It has the same functions as most job search sites with filters and the ability to upload your resume. However, its unique feature is that you can adjust the privacy settings on your profile, making it either visible to everyone, limited or fully private. This is especially useful if you are currently employed and hunting for a new job, but would not want your current employer to stumble across your resume and learn that you are planning to quit.
Also read: How to Use Indeed Advanced Search
FlexJobs
FlexJobs specializes in postings for remote jobs, which have become much more in demand in the past couple of years. It is a paid subscription service, but this is because the posts are vetted by hand, preventing scams. If you are focused on finding a remote position and would prefer an ad free and spam free environment, this site may be the option for you.
Government job sites
Most governments have their own job search websites where they publish ads for government jobs. For example, the US has USAjobs.gov. These sites are free and usually don't have any spam, so they can be a great option for job hunting. Even if you are not looking to start a career in public service. It's worth checking out as it can have postings such as summer jobs in federal parks or other positions that don't even require much experience.
Google for jobs
Google recently created a job search platform and, of course, it is already gaining popularity. It gathers job postings from various sources and makes them easy to filter and sort through. However, you will have to be redirected to a different site to apply for the position. And you can't upload your resume to apply for jobs quicker. It is still a great place to look through many options and start your search.
Don't rush when writing your resume, make sure that it is professional and has no errors. You should also edit your resume to tailor it to the specific job you are applying for. To learn more, read our article about writing a resume.
Carefully read through the job posting and be sure to check the way the employer prefers to receive applications. Some may prefer that you apply directly through the site you found them on. Others may prefer email or through their own company website.
Don't limit yourself to only searching for work online. You can also seek referrals or go to networking events. The more opportunities you open yourself up to, the better.
Lensa
Lensa is a comprehensive job search platform that utilizes advanced algorithms and AI-powered technology to connect job seekers with relevant job opportunities. The platform offers a range of features, including a personalized job search dashboard, resume optimization tools, career advice, and a vast database of job listings.
With its user-friendly interface and innovative technology, Lensa.com simplifies the job search process, making it easier for job seekers to find and apply for jobs that align with their skills and experience. Overall, Lensa.com is an excellent job search platform that offers valuable resources and support for job seekers.