We will share education resume examples that you can use to structure your own resume section to make it more appealing to the hiring manager.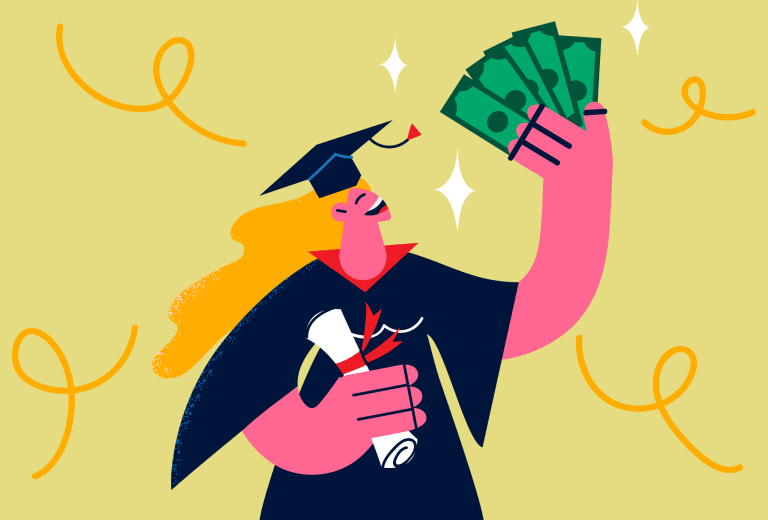 What to include in your resume education section?
In most cases, the information you include in the education section on your resume is quite standard. It includes the following:
Name of the college you attended
Location of your college
Your highest degree
Graduation year
Your GPA
And any relevant academic achievements
Depending on the job you are applying for, you will need to apply different levels of detail to the educational background section. However, in most cases, this is one of the shortest sections of a resume, typically totaling around 30 words.
Though varying levels of detail are required for different jobs. For example, if you are a recent graduate, you may want to add more detail to your education section to illustrate your capabilities — as you don't yet have enough work experience to showcase your abilities.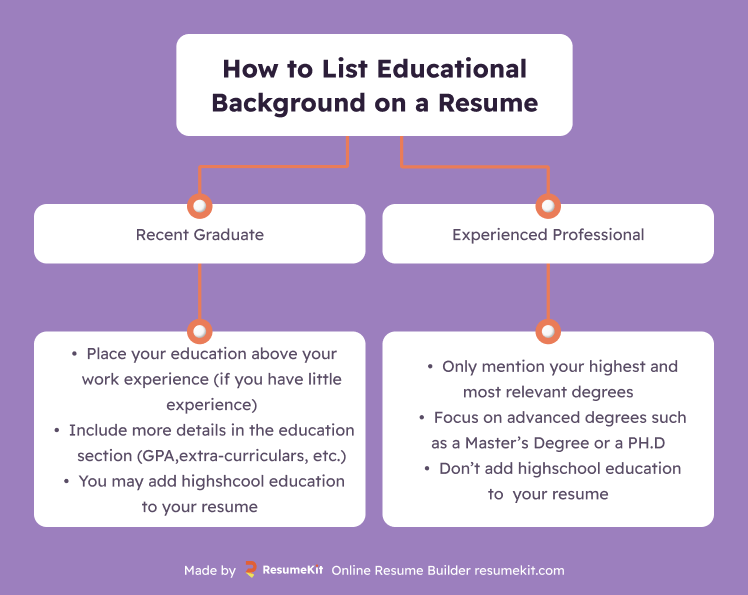 The most important thing to pay attention to in your education section is that it should match (as much as possible) the position you are applying for. Make sure to look through the job description again and try to emphasize the relevant qualities that you have obtained during your studies.
What do employers look for in the educational background section of your resume?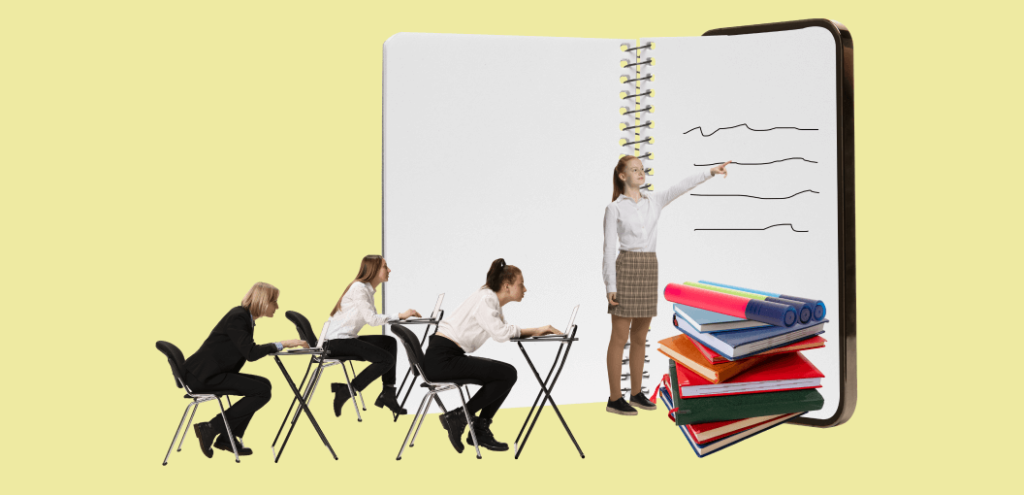 Each employer may look for a different thing in your education section. This depends on what the job is and what position they are looking to fill. Someone seeking a top manager or director may be interested in seeing a high-level business degree on your resume such as an MBA. You can check approximate MBA employment statistics on the Foster School of Business website.
If you are applying for an entry-level position, the recruiter will probably just be looking for a high school or college degree. In some occupations such as finance or healthcare, the HR manager may be looking for a specific certification that is necessary for the job.
While it's important to tweak your educational background section to the position you are applying for, the most important thing here is that you remain honest. Never lie on your resume, including the education section, as this will work against you in almost all cases and will affect your chances of getting hired in the future.
Don't omit the education section either. According to Zety, 97.25% of all resumes list education — so your potential employer will be expecting to see this on your resume. Even if your education is incomplete, simply mention where you are in the education process.
How to list education on your resume?
There are several ways in which you can list education on your resume. How you do it depends on the job you are applying for, what education you have and the resume format you've chosen.
Top Resume Formats. Tips and Examples.
Let's look at a few scenarios here.
You are a recent graduate
If you've recently graduated, your education section may be the only prominent part of your resume as you don't yet have any work experience. This is why you can place your education ahead of your work experience. You can also include more details in your education section that showcase your good qualities. For instance, you can mention the honors you've received, your GPA, extra-curricular courses and more. Here's an example of how your education section may look:
University of Hawaii, 2011–2016

Bachelor of Arts in Psychology

Business Essentials Certificate

Terry Scholar
You will find more useful information in Writing a Resume With No Experience.
You are an experienced professional
If you have substantial work experience, you should focus on that part of your resume and list your education below work experience. You should also keep this part of your resume relatively short and only mention your highest and most relevant degrees. In this case, the hiring manager reviewing your resume will be more interested in what you've achieved in the workplace rather than your academic achievement. However, if you have advanced degrees such as a Master's Degree or a PH.D, these are absolutely worth mentioning. Here's an example of what this might look like.
New York Graduate School of Business Management

Master of Business Administration (MBA)

Master of Science in Information Systems (MSIS)

University of Georgia

Bachelor of Accounting
Should I put high school education on a resume?
When listing education on your resume you might start to wonder: how far back should I go? For instance, should I put high school education on my resume? The answer to that question depends on where you are professionally.
If you are currently in high school or are a recent graduate (high school or college) with little or no work experience, you can add your high school education to your resume and it will fit in quite organically.
However, once you've gained work experience or received higher education degrees such as a Master's or a Ph.D., you should take your high school off your resume.
How to list incomplete education?
If you're still enrolled in an education program, you can still include it on your resume. You will simply need to mention the work you've already done and when you plan to graduate.
You may include information like the name of the institution, the degree you will receive upon graduation, honors and academic achievements, extracurricular activities and more. Here's an example:
Rogers High School

Expected Diploma, 2025 (GPA 3.9)

National Honor Society, Vice President
If you haven't completed your degree, you can list the coursework that you've completed. You can also add an extra section to your resume to showcase your professional development for the relevant job that you've done since. On-the-job experience is often more valuable than academic qualifications (especially for some jobs). And your employer will definitely appreciate it if you have experience directly related to the job. Here is an example:
You have quite a few options about that to include in the education section of your resume and where to place this section. It all depends on what job you are applying for and how much education you have compared to work experience.
When it comes to the placement of your education section, consider where you are in your career and what you want to emphasize. If your academic achievements are the most outstanding part of your experience, then it makes perfect sense to put the focus on them and place them before your work experience. If, on the other hand, you already have a few years of work experience, place your work experience section before education as it will showcase your more hands-on knowledge.
When deciding how to organize and structure your resume content, stay honest but also be strategic.
Try to include information that is specifically relevant to the position you are applying for and highlight your strongest points first.