You've decided to enter the workforce and start applying for your first job! This is exciting but can also be intimidating. After all, you need to write a resume, which requires you to write about your work experience. But what if you don't have any?
Don't worry, whether you are still in high school or have just finished your college degree, you can write a great resume even without any previous work experience. With the right resume, you will soon find your very first job!
You will need to follow the general resume format, but with some adjustments.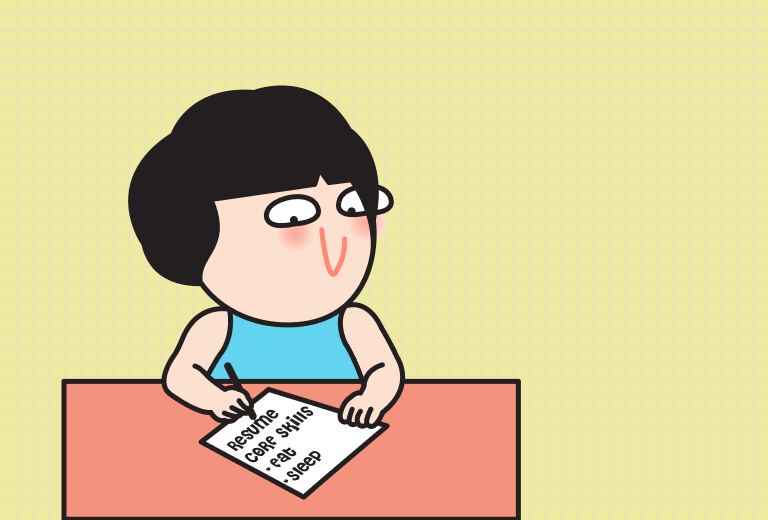 Header
Your header simply consists of your name and contact information. Include your full name and phone number. If you haven't already, create a professional email address to use on your resume. It's best if it simply includes your initials or full name. Avoid nicknames or funny email addresses here.
If you like, you can also add your linkedin account and/or a link to your website, but only if the content on your website is relevant.
Summary
Your summary is where you can give a very short overview of your skills and ambitions. You can read our article about writing a summary to make sure you get it right. Here is an example of a good summary for a high school student's resume:
Creative and motivated high school student with proven written communication skills. Responsible with deadlines and passionate about the field of mental health research.
Education
You can include any challenging courses or courses relevant to the job. For example, if you took a business class – this could be helpful in some type of an administrative job.
If you are on the honour roll or Dean's list, you can also add this, as it is evidence that you are hardworking and diligent.
Skills
We recommend adapting the skills section depending on the position you're applying for. Read the requirements for the position and think about what skills you have that match them.
For example a position in the food industry could include requirements such as friendly attitude, customer service skills, attention to detail, ability to work under pressure, time management skills. In this case, you can add the skills you have and then make sure to also try to add examples of these skills in different sections of your resume. If you did many extracurriculars while in school or college, this can be added to demonstrate your excellent time management abilities. Any previous experience working with people, even in an unpaid position, could also be beneficial here.
So all you need to do is some brainstorming and you can think of skills you have that are relevant to positions. For more ideas of skills to use and how to format this section, read our article on what to write in the skills section.
Here are some skills you may have that are useful in many jobs
Speaking additional languages – you can create a separate section if you speak multiple languages.
Written communication skills- you can prove this skill by writing an excellent cover letter.
Ability to work with others- any previous experience in group projects or in teams of people will be helpful here
Leadership- think of any past experiences involving you leading others, even in a school project.
Other sections you can add
If you have some volunteer/unpaid experience, you can create a section for it. It can be something as simple as babysitting for a neighbour or helping out in a family business.
Perhaps you were or still are a member of a club or organization, or participated in some other extracurriculars. Then, include this as well as it can show that you know how to work with others and have organizational skills. If you led any projects, mention the number of people on the team you led and what you accomplished, as this demonstrates leadership skills.
Additionally, if you have accomplishments you would like to highlight, you can add them in a separate section, grouping together academic accomplishments and those from other fields.
Certificates can also be useful for many positions, for example CPR certification can be an advantage when you apply for positions that involve working with the public. However, if you only have one certificate, it may be best to simply add it to the skills section.
Hobbies and interests can also be included but only if they are somehow relevant to the position you are applying for. For example, if you love to play video games, it may be best to leave this out unless you are applying to work in a video game company or store.
Finishing up
When creating your resume, make sure you choose the best format that works for you. A simple, easy-to-read format works best. Don't get too experimental with the design or colors, unless you are applying to a company that may value that type of creativity.
Another thing that is important to note – don't be afraid to apply for positions that state that they require experience in the field when you don't have any. Most of the time, they are describing the perfect candidate in the requirements and are willing to give chances to people who don't match the description perfectly if they have some of the skills and are capable of doing the job.
Focus on applying for jobs that you have the skills for and be honest about your own abilities. With this, and a well-written cover letter, you should be getting your first calls for interviews in no time! To get to that stage fully armed and be able to ace every single interview you are invited for, read our article about the most common interview questions.
Best of luck in your first job hunt!