Cover letters are an essential part of getting your foot in the door when you're looking for a new job. However, it can be difficult to know how long to make them.
So, how long should a cover letter be? Should it be one page? Two pages? A single paragraph?
This article will answer these questions and more! We'll also give you some tips on making your cover letter stand out and not get tossed aside. Hopefully, you can find inspiration to create the best possible cover letter for your next job application!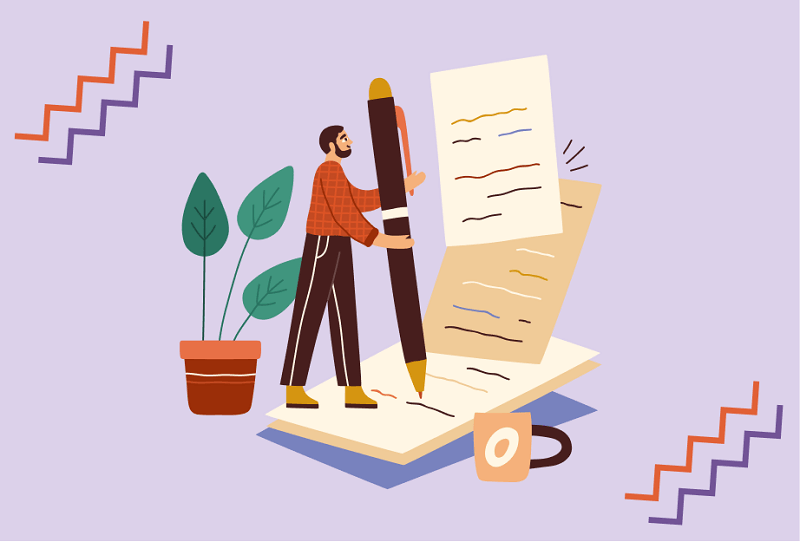 What Is a Cover Letter?
A cover letter is a one-page document that accompanies your resume and helps you introduce yourself as a candidate for the position. The main purpose of a cover letter is to concisely summarize why you are qualified, what makes you stand out from other applicants, and how this position aligns with your goals.
The most common question when it comes to the length of a cover letter is how many words should a cover letter be; there are many different opinions on this subject.
Some people believe that a three-paragraph cover letter is enough, but others feel that five paragraphs are better. There are no set rules in terms of how many sentences or paragraphs make up an appropriate length for a cover letter. So, it's best to consider what would work best given your situation (how much information you have about the company/position) and then decide based on what feels right.
Related: Are Cover Letters Necessary?
What's the Ideal Cover Letter Length?
Ideally, your cover letter should be one page long, but it can vary based on the position you're applying for. If you're applying for an office-based position, your cover letter might be shorter than if you were applying for a laborer position at an excavation company.
It's always best to ask the hiring manager or HR representative what is considered appropriate for their company and industry before submitting your application materials! If you don't know, err on the side of being more concise with your cover letter rather than sending too much information.
A rule of thumb is that if it doesn't sound good when said in person, don't write it in an email or as part of a paper document. That goes for every type of content, from text messages to emails and cover letters.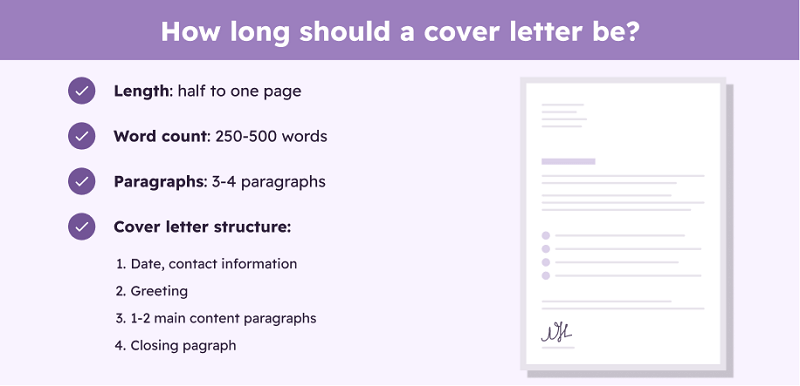 What Should You Include in a Cover Letter?
A cover letter is your opportunity to make an impression on your potential employer, so it's important that you put your best foot forward and show them how much you're looking forward to being a part of their team.
But how do you know what information needs to go in your cover letter, and what information should you include in it? See the list below.
Date
Just like with a resume, employers are interested in knowing when they can start working with you. Let them know how soon you're ready to join their company!
Contact Information
If someone wants more information about you after reading your cover letter, they'll want to contact you at some point. Be sure to have contact information available for the right person, including any phone numbers or email addresses.
Relevant Experience
Give examples of your relevant experience, including internships and extracurricular activities.
Why You Want the Job
Get specific about why this position interests you and aligns with both your skillset and career goals.
Qualifications
Explain any qualifications or certifications that apply specifically to this position. Reiterate why you believe that these qualities will help meet the company's goals.
At this point, don't forget to mention any other aspects of your professional life, such as volunteer experience, research projects, publications, etc. If you have additional documents that are appropriate for submissions, such as transcripts from a degree program or references from past supervisors, feel free to attach them here.
Closing
When you end your cover letter, include some personal details about yourself and close by reiterating your interest in the position. Remember to also thank the employer for taking time out of their day to read through your application!
Other Tips to Prepare a Perfect Cover Letter
A well-crafted cover letter can make all the difference when applying for jobs, but it can also be tricky knowing how much information to include. There are no set rules for how long a cover letter should be, but here are some general guidelines that may help you decide what is best for your situation:
If you're applying for an internship or other short-term job, for example for less than two weeks of work, then limit your paragraph about yourself and why you're interested in this position to one or two sentences at most.
If it's been more than six months since you've applied for a role in a company you previously worked for or run by someone you know, then don't share too many personal details about yourself in your introductory paragraph. They already know you.
Know what you're going for. A cover letter is a document that helps you sell yourself and your skills to an employer. It's not an in-depth resume but rather an introduction of who you are, what you can do, and why they want to hire you.
Keep it short. A good rule of thumb is one paragraph (or two short paragraphs) at most. This keeps your message concise and easy to read.
Be honest, and don't exaggerate. Hiring managers will quickly see through any false claims or misrepresentations if you try to stretch the truth with your qualifications.
Follow up. After you've sent your cover letter off, follow up with an email one or two weeks later to check in and ask for updates. If they respond with questions about you or your application, be ready to answer those questions right away!
Related: To Whom It May Concern Alternatives
Conclusion
A successful cover letter is one that presents you as a capable and qualified candidate while also demonstrating that you are an excellent fit for the company's mission and values. And while there is no exact rule on how long should a cover letter be, three paragraphs (roughly 300 words) are ideal for most applications.