If your career path is related to science or academia, you need to know how to list publications on a resume or CV. Highlighting them is an excellent way to make your knowledge and accomplishments visible to recruiters and show off your writing and analytical skills, which can help you beat the competition and increase your chances of landing a lucrative job.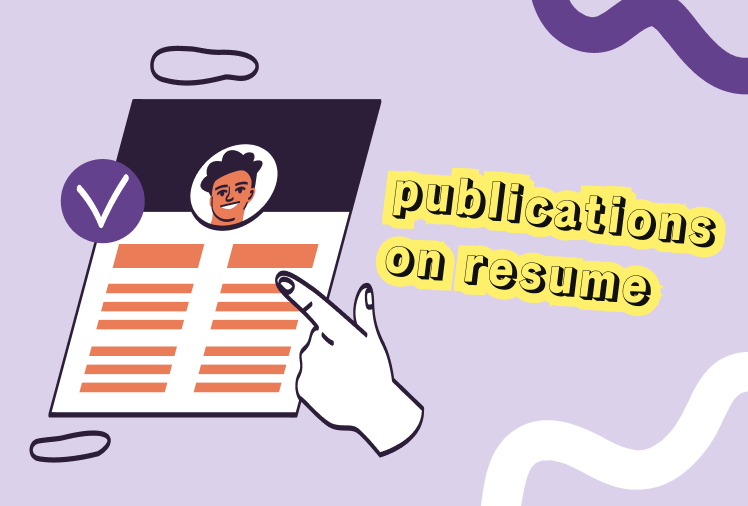 What Publications to Add to Your Resume or CV
While you may feel tempted to list everything you have ever published online or offline, this is certainly not the best strategy. There is no room for inappropriate or questionable writing experience on your CV or resume as it can repel hiring managers and diminish your chances of scoring interviews.
You need to illuminate your publications the right way if you want to accelerate your job search when applying for any of the following academic or scientific positions:
Scientist
Researcher
Research Assistant
Research Associate
Professor
Assistant professor
Dean
To begin with, to be included on your resume or CV, a publication should be relevant to your career and the job you are applying for. Second, it should be authoritative, which means you have enough experience in your specialist area and use only credible sources. Another best practice is to include only peer-reviewed articles since those demonstrate validity and reliability due to being critically assessed by experts in corresponding fields.
Here is a list of publication types that are the best fit for academic CVs and resumes:
Scholarly articles or papers
Academic books or book chapters
Published research papers
Research papers that are currently under review
Conference articles, papers or presentations
Publications or articles in trade association journals, magazines or periodicals
Also read: Cover Letter vs. Resume
How to Include Publications in a Resume
Employers want to see results on your resume, and impressive publications may open many doors across the entire academia. Here are a few tips on how to list publications on a resume:
1. Choose the most fitting publications
Remember, relevance is everything here. There is no need to include all your publications – an overstuffed resume is something that neither you nor the reader wants to see. Just focus on those that are up to date, illuminate your most appropriate skills and knowledge, and reflect your current career aspirations. A good idea is to add publications that have titles containing keywords relevant to the position you wish to land. If you have an important publication whose title is a bit less revealing, consider providing some explanations.
2. Decide on the format
While there are no universal rules for listing publications on a resume, it is essential that you check guidelines accepted in your professional field. You can choose a formal style or an informal one, but make sure to apply it consistently across your resume.
3. Use reverse-chronological order
Your most recent publications should go first. Then list the rest in descending order. This approach will help recruiters see that you are up to date with the latest trends in your research field.
If you want to add a publication to a resume, make sure to include
the title of your publication, whether an article, book or chapter;
the title of the journal/magazine/conference/book where your publication appeared; and
the year it was published.
When deciding where to put publications on your resume, pay attention to how many of them you want to add. If there are only a couple of publications you want to include, you can list them under your Education section. Here is an example:
Education
Colorado State University, Boulder, CO – May 2020
B.S. Computer Science – GPA 3.8/4.0
"Natural Language Processing: A Modern Approach," Computer Languages & Systems (2020)
"Artificial Intelligence on the Forefront," Hardware and Software Impacts (2019)
If you want to add more than two publications, your best bet is to create a dedicated section for them. Here is an example for your reference:
Publications
"Monetary Policy Aimed at Macroeconomic Stability," Research in Politics and Economics, November 2022
"Economic Resilience during the COVID Pandemic," Journal of Economics and Strategy, September 2021
"Top 10 Management Tools to Apply," chapter from Management Strategy & Economics, 80–99, October 2020
How to List Publications on a CV
An academic CV should scream research, and adding your publications to it is pivotal if you want to achieve that goal. Here are a few guidelines on how to include publications in your CV when hunting for an academic or scientific job:
1. Create a separate "Publications" section
A dedicated "Publications" section is an important aspect of a well-crafted academic CV. Your writing experience should be easily located, and recruiters will use it to evaluate your professional expertise and achievements.
2. Choose the right style
MLA and APA are the most commonly accepted styles for listing publications on CVs. APA is more common in engineering and scientific papers, while the MLA format dominates spheres like humanities and liberal arts.
3. Include all relevant writing experience
Be sure to add all publications that are relevant to your research interests and academic career. It's best when your most recent publications are the most important and relevant. This will show the reader that your career develops in the right direction.
4. Stick to reverse-chronological order
Make sure you start by listing your most recent publications first. Then proceed backward in time for every subsequent publication. This way, you will let the reader see your most up-to-date writing accomplishments first.
Depending on your type of work, you can use the following templates and examples for reference.
Here is how you can list a journal publication using the APA style:
Your Last Name, Your First Initial. Your Middle Initial. (The Year of Publication). The title of the article. The title of the journal, the volume (issue), the page range.

Williams, J. L. (2015). Recent Advances in Dog Nutrition. Journal of Animal Science, 20(1), 8-12.
Here are a template and an example on how to add a journal publication using the MLA style:
Your Second Name, Your Name. "Your Article's Title." The Journal's title, the volume, the issue, the year of the publication, the page range.

Smith, Anna. "The Origins of Trade Issues." International Journal of Economics, vol. 20, no. 5, 2021, pp. 90-96.

This is how you can list a book on a CV using the APA style:
Your Last Name, Your First Initial. Your Middle Initial. (The year of publication). The title of your book: The book's subtitle. The Location: The Publisher of the Book.
Doe, J. O. (2020). Business and Uncertainty: Changes in Dynamic Markets. New York City: AUPresses.
You can use the template and example below for reference when listing a book using the MLA style:
Your name. The Title of Your Book: Its Subtitle. The Name of the Publisher, The Year the Book Was Published.]
Barnes, Alice. Linguistic Turns: The New Paradigms of Language History. Cambridge University Press, 2018.
Adding Publications to a Resume vs. Listing Publications on a CV
Both a CV and a resume are vital documents when it comes to a job search, yet they are different in nature, which results in different approaches taken by job seekers when listing their publications.
Resume
You create a resume to apply for a specific job. You tailor it to each position you are interested in and include only the most relevant skills, accomplishments and qualifications, so it is usually brief and straight to the point.
Resumes are used more often when hunting for a job in industry rather than in academia. This nuance results in publications being an optional entry on your professional resume and lack of a particular format for listing them.
Nonetheless, you may have authoritative publications that are highly pertinent to the industry work you want to be engaged in. In a case like this, listing them on your resume may skyrocket your chances of winning out the job competition. Your goal here is to help the recruiter see that you are the perfect candidate for the job, and an impressive publication demonstrates that you are respected in your field.
That said, you should only add those publications that are highly relevant to the position you want. While your other papers may be of high scientific value, your resume is a place where you should focus on highlighting that you can close a specific industry gap with your skills and experience.
CV
A CV is mainly used when pursuing a career in academia. It is a more comprehensive document as it encompasses all your academic achievements and accomplishments. Since your publications allow your potential employer to evaluate how deep your knowledge in a particular scientific area is, they should shine on your CV.
Your CV is a universal, in-depth description of your career journey. It should be up to date and display your consistent progress. Therefore, you should include all publications that show that you are an expert in your domain.
Listing publications on a CV is a bit less flexible when compared to the freedom you enjoy when adding them to your resume. You are expected to follow a major style guide here, such as MLA or APA, depending on your area of expertise.
Resume & CV Publication FAQs
How to list co-authored publications?
If you want to add a publication that you have co-authored, add the names of its authors, separating each by a comma and adding "&" before the last name, and place your name in bold.
Here is how you can include a co-authored publication on your CV:
Roberts, C. C., Wilson, A. V., & Garcia, L. A. (2015). The Origin and Purpose of the Human Decision System. Journal of Neuroscience, 23(2), 10-20.
How to add publications under review?
You are free to include pending work that is still being reviewed. Place it into italics, omit the journal you have submitted your paper to, and list it as "in press". Be sure not to add publications that have not been approved.
Should online publications be included?
It is not recommended to include non-scientific or non-academic publications like blog posts and magazine articles in your CV or resume. However, if you want to add an authoritative online publication that highlights your research skills and academic interests, you can do so. Just make sure to include the corresponding URL after citing it using a format accepted in your field.
Conclusion
Listing publications on a CV is a must in academia, so it is essential that you make the most of the section in question: introducing your writing experience in a thorough and convincing way will help you advance your career and reach greater heights. When it comes to a career in industry, adding the right publication to your resume can also be a game changer: it will show hiring managers that you are a renowned expert that can push things forward and put you above other candidates.