If you are searching for tips on what hard skills to put on a resume and the best hard skills examples, you've landed on the right page. Whatever industry you are in and no matter what career you are pursuing, in this article, you'll find valuable information that will help you outshine the competition.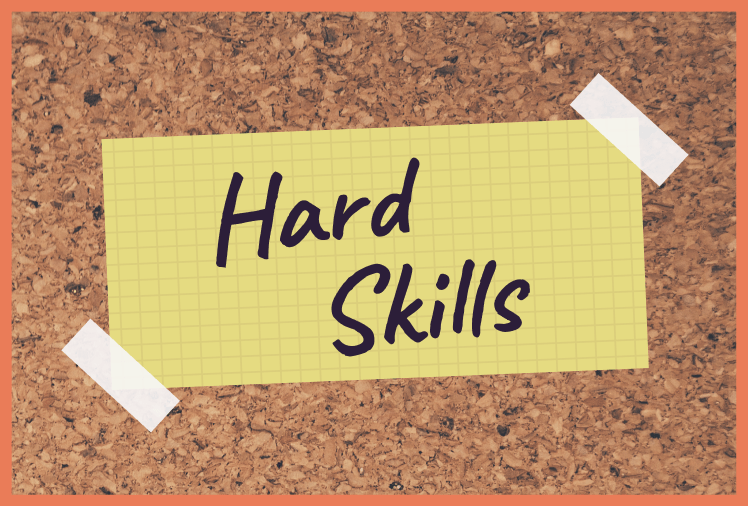 What Are Hard Skills?
Hard skills are job-specific competencies and abilities that enable you to perform work-related responsibilities and duties, such as software development, database management or tax accounting. Hard skills are also called technical skills and are related to the essence of your profession. You can gain them through hands-on experience, education and training.
Hard Skills vs. Soft Skills
One of the easiest ways to distinguish between hard skills and soft skills is to focus on their nature.
Hard skills are quantifiable, meaning you can provide numerical evidence that you have them, and are developed through learning and on-the-job experience, meaning they take time and effort to acquire. Some examples of hard skills are coding, budgeting and network administration.
While hard skills are about what you do, soft skills are more about how you do it. They refer to your personal traits, represent habits and behaviors and define the way you work and communicate with others. Although soft skills can – and should – be developed in life and at work, they are often inherent, and individuals usually hone them over time rather than learn them from scratch. Examples of soft skills are stress management, teamwork and adaptability.
Soft skills are often called transferable skills as they can be utilized in any industry. For instance, the ability to think critically will make you a valuable asset to any company. Hard skills are also portable in some situations: for example, language proficiency is something that can prove helpful in many jobs related to communication, trade and science. Nonetheless, hard skills are usually non-transferable, which means they can only be used in one area. Cash-flow planning is a case in point here as it is applied only in accounting.
When it comes to resume-building, hard skills can be introduced effortlessly due to them being measurable. In most cases, it is easier to attach an outcome to a hard skill than to a soft skill. Besides, you will not find any difficulty in adding skill levels for hard skills and listing related certifications, making your resume more results-oriented.
What you should keep in mind is that your resume should display the right combination of hard and soft skills to make an impact. According to LinkedIn's research, soft skills are on the rise as a key factor for workplace success, yet recruiters always scan resumes for specific hard skills related to the jobs they post. For your resume to tick all the boxes, you need to list all the hard and soft skills relevant to the job you are hunting for and illustrate them with proper examples.
The Top 10 Hard Skills to Put on Your Resume in 2023
Computer Skills
From blockchain to cloud computing to artificial intelligence, computer-related competencies are the most in-demand hard skills according to LinkedIn. As stated in The Balance's research, basic computer literacy is no longer optional for candidates, and The U.S. Bureau of Labor Statistics expects the overall number of computer and IT jobs to increase by 15 percent between 2021 and 2031, which is much faster than what it forecasts for the average of all occupations. These facts highlight the importance of having computer skills in 2023, and here are a few types of them:
Software development
Programming
Blockchain
Machine learning
Natural language processing
Cybersecurity
IT troubleshooting
Productivity software
Content management
Cloud computing
Mobile development
Internet of things (IoT)
Artificial intelligence
Computer skills on your resume should be introduced in a way that allows recruiters to see that you can bring results and push things forward. For instance, you can write that you
"automated the company's data collection system, which resulted in a 33% increase in productivity".
Data Analysis Skills
According to Statista, today industries heavily rely on data-driven decision-making, with banking, insurance and telecom in the lead. Data analytics has been changing the business landscape over the years, with the global demand for data analysts expected to increase by 23 percent between 2021 and 2031. Here are types of analytical skills that can boost your career and help you land your next job if listed on your resume:
Data processing
Database management
Statistical programming
Probability and statistics
Statistical visualization
Econometrics
If you want to highlight your analytical abilities when crafting a resume, you need to provide specific examples, like
"wrote a Python script to scrape Tweets from profiles using Twitter's official API"
or
"used Tableau to perform the sorting, comparing and analyzing of sales data over time".
Marketing Skills
In today's digital world, marketing is all about promoting products, services and concepts online, so marketing skills are applied through virtual communication and digital platforms. If you are a digital marketer seeking for a new job, consider including the following types of hard skills in your resume:
SEM
SEO
Content marketing
CRM knowledge
CSM knowledge
A/B testing
CRO
Pay-per-click advertising
Social media
When adding marketing skills to your resume, you need to be specific and provide context. For example, instead of listing "Edited website content" as one of your job duties, you could write,
"Edited blog content using HTML within the WordPress CMS."
Design Skills
According to McKinsey, companies need to consistently deliver exceptional designs, which means that in today's job market, employers are likely to fight for candidates with the proven ability to create compelling visual design. You can show that you are the best person to hire by illuminating the following types of hard skills on your resume:
UI/UX design
Color theory
Adobe Creative Suite
Composition
Illustration
Photography
Photo editing
Logo creation
Layout and spacing
Basic HTML
When putting design skills on your resume, you need to demonstrate that your work made a positive impact. An example could be that you "redesigned the XX app's user interface using Adobe Creative Suite, which led to a 70 percent higher click-through rate."
Language Skills
According to a Confederation of British Industry (CBI) survey, language skills open up many doors to job seekers. Therefore, we can safely assume that proficiency in foreign languages is something that can help you beat the competition and land a lucrative job.
On a resume, language skills are usually listed in a separate Languages section. You need to describe your language proficiency level using a recognized framework for language competency assessment such as CEFR. Besides, it is a good idea to incorporate your language skills into your work experience and show how they helped you succeed in the workplace. For example, you could write that you
"provided outstanding customer support in French to clients from Quebec with a 98% customer satisfaction rate."
Management Skills
Management skills enable you to effectively lead a group of people towards a common goal. They are divided between soft and hard skills, the latter being our focus here. Here are some examples:
Agile
Scrum
Managerial psychology
Coaching skills
Forward planning
HR skills
On your resume, your hard management skills can be illustrated the following way:
"Under my mentorship, our Scrum team managed to increase its average velocity by 25 percent."
Writing Skills
The National Association of Colleges and Employers claims that 73,4 percent of companies and organizations need workers with strong writing skills. Thus, your ability to proficiently convey thoughts and ideas in written form makes you a valuable hire. You can showcase that by adding the following types of hard skills to your resume:
Copywriting
Editing
Translation
Transcription
Technical writing
Proposal writing
Reporting
Press release writing
Academic writing
Journalism
Scripting
You need to provide relevant examples with results when illuminating writing skills on your resume. For instance, you could let the reader know that you
"consistently applied thorough SEO writing practices, which resulted in page-one search results."
Mathematical Skills
The US Bureau of Labor Statistics predicts the job market for mathematicians to grow 31 percent by 2031, meaning the demand for mathematical skills is rapidly increasing. Thus, whether you are pursuing a career related to pure mathematics or regularly engage in resolving real-world math problems at work, you need to create a resume that lets your mathematical skills shine when planning a job switch. Here are the types of mathematical skills you can include in your resume:
Math concepts
Mental mathematics
Mathematical reasoning
Discrete mathematics
Mathematical analysis
Measuring profit or pay
Your mathematical skill set should be properly reflected on your resume and demonstrate that you can approach specific problems with it. For instance, you could expand on how you
"built a mathematical model to predict sales figures using historical transaction data."
Accounting Skills
According to the Hays UK Salary & Recruiting Trends 2018 guide, 76% of employers find it challenging to fill positions in accounting and finance, meaning individuals with advanced accounting skills are highly sought after by recruiters. If you are an accountant deciding on the best hard skills for a resume, you could focus on the following:
Billing
Budgeting
Payroll
Tax forms
Financial reporting
Financial modeling
Accounts payable and accounts receivable
You can make your accounting skills more compelling by accompanying them with numbers and data. You could use something like this as an example:
"Performed account analyses for assets totaling over $20M."
Project Management Skills
Project management skills allow you to control and supervise the progress of a project. According to CNBC Make, project management skills are in high demand these days, resulting in tempting job offers and lucrative paychecks. This makes the following types of skills a welcome addition to your resume:
Project planning
Project control
Project scheduling
Business analysis
Knowledge of project management methodologies
Project budgeting
Risk management
Cost management
Task management
Use your resume to illuminate your project management skills with relevant examples. You could write something like this to prove that you are an effective project manager:
"Directed project cycles and coordinated team schedules to deliver 99% of projects in time".
Hard Skills for Popular Careers in 2023
Wondering how to effectively navigate today's dynamic job market? Here is our list of popular careers in 2023 with relevant hard skills for a resume:
Software Developer
A software developer designs, builds, deploys, and supports computer programs of all sorts. According to Statista, software developers are generously paid for their work and the software development industry keeps growing rapidly.
The top hard skills for a software developer in 2023 include cloud development & cloud security, DevOps, IT automation, full-stack development, and coding languages. If your resume displays something like
"Created 40+ new features for our mobile app using Java and Kotlin, which increased the user base by 20%,"
you are an attractive candidate capable of winning out the job competition.
Data Scientist
According to Business Insider, employment for data scientists – experts whose job is to extract, analyze and interpret large amounts of data from various sources using complex technical methods and tools – is projected to grow 31.4% by 2030.
To succeed in this kind of career, you need to be proficient in data analysis, visualization and modeling, math, statistics, and coding (Java/Python). When adding such hard skills to your resume, make sure to be more specific about related outcomes. You can achieve that by writing something like this:
"Performed predictive modeling to forecast pain points in our trading platform and optimized existing algorithms to correct unclear platform roadmaps, which resulted in a 60% bounce rate reduction."
Marketing Specialist
A marketing specialist is responsible for implementing the full spectrum of marketing activities within a particular area of marketing. The U.S. Bureau of Labor Statistics forecasts consistent growth in employment for marketing specialists, so there is no wonder in someone's desire to highlight job-specific marketing skills on a resume.
SEO, social media, marketing analysis, knowledge of marketing tools, CMS, and CRM are among the top hard skills to put on a resume if you are a marketing expert. To prove your worth to a potential employer, you could write something like
"Improved the conversion rate by 17% by identifying the problematic areas of the conversion funnel and introducing effective data-driven recommendations."
Project Manager
A project manager is responsible for planning and organizing people and resources towards completing a project within time and budget. Project management is a popular career these days since 89% of companies have at least one project management office.
To become a successful project manager, you need to be able to plan, schedule, control, and supervise projects. Your resume is expected to demonstrate your accomplishments, such as
"Supervised a team of 10 developers to re-architect a web app, increasing the company's yearly revenue by 40%."
Blockchain Engineer
A blockchain engineer implements and creates blockchain solutions for enterprises and organizations. Since blockchain is taking over the world, the demand for such specialists is growing.
To have a successful career as a blockchain engineer, you need to know how to use blockchain development tools, how the blockchain architecture works, and how to encrypt data. Other important hard skills for a blockchain developer include
an in-depth understanding of data structures, consensus algorithms, smart contracts, and blockchain platforms;
the basics of back-end and front-end development; and
expertise in programming languages (like Java, Python, and C++).
On your resume, you need to show that your blockchain skills can make an impact. For instance, you could share something like this:
"Boosted the platform's efficiency by 20% by integrating 5 new tools into it."
Auditor
An auditor checks financial records and procedures of organizations to confirm their accuracy and efficiency. According to Northeastern University, audit is one of the top financial and accounting careers, with a 10-year projected growth of 7%.
An auditor's hard skills include a firm grasp of economics, accounting, math, financial reporting, and tax. To show them on your resume and impress recruiters, remember to add results, like
"Recovered over $20M in overcharges for more than 120 clients."
Sales Manager
Companies need to move their products to users, so sales managers are consistently in demand in the job market. They spearhead sales teams and lead them to reach sales targets. For this, sales managers need certain hard skills, including sales process proficiency, the ability to create effective sales strategies, familiarity with CRM and other sales-related software, and the ability to analyze sales performance metrics. A successful sales manager's resume should reflect their achievements, providing examples like
"Supervised a team of 10 sales reps, which achieved a 30% increase in departmental sales over a year."
Nurse
Nurses care for sick and injured individuals and patients with physical disabilities. Nurse practitioners are in high demand as of now, and this demand is projected to grow.
Nurses should be proficient in patient assessment, CPR and BLS, medication management, patient safety, and infection control, to name but a few. If you are a nurse, you could strengthen your resume with hard skills and relevant examples, such as
"Communicated healthcare instructions to more than 200 hospital patients per month, ensuring that all their treatment goals are achieved."
Psychologist
A psychologist studies the human mind and applies their knowledge to help people solve real-life problems. Demand for psychologists is expected to increase with time, so this kind of career seems very promising in 2023.
A psychologist is expected to have a solid set of hard skills like a firm grasp of psychological and cognitive science fundamentals, proficiency in statistical research methods and quantitative reasoning, and clinical reasoning skills, among others. When highlighting such skills on your resume, you need to be specific, like in this example:
"Coordinated mental health care and treatment for more than 60 patients afflicted with bi-polar disorder."
Nutritionist
Nutritionists share scientific, evidence-based information related to food and its effects on the well-being of humans and provide relevant guidance. Employment for nutritionists is growing, so this career can help you thrive in today's job landscape.
You need to have certain hard skills to succeed as a nutritionist. They include proficiency in dietetics, nutrition, wellness, fitness, and public health and expertise in nutrition-related areas of psychology and medicine.
To prove that you are a seasoned nutritionist, you need to include examples of applying the most relevant hard skills in your resume. For instance, you could expand on how you
"developed meal plans for 100+ individuals based on recipes highly tailored to each individual's nutritional needs."
Speech and Language Therapist
Speech and language therapists help individuals with speaking and communication problems and difficulties. Demand for these specialists is projected to grow rapidly, much faster than the average for other jobs.
The most important hard skills for a resume if you are looking for a position in this field are as follows: knowledge of speech-language pathology, understanding of learning difficulties and difficulties in producing sounds, and the ability to provide help to patients with vocal disorders, selective mutism, and hearing impairment. You can highlight these skills by utilizing relevant examples, like
"exceeded patient targets for speech development by an average of 20 percent per month."
Child Care Provider
The demand for child care services is increasing, so child care providers stand a high chance of landing high-paid positions. If you want to craft a winning child care provider resume, consider adding the following hard skills: child care, knowledge of psychology, crisis intervention, childhood education, and basic knowledge of medicine. You need to weave your hard skills into relevant examples for your resume to make more impact: for instance, you could write that you
"prepared 300+ children for kindergarten using highly tailored educational materials."
Dentist
A dentist provides health care by diagnosing and treating oral health problems. According to CNBC Make It, dentistry is a lucrative career with excellent employment opportunities.
To find a job, a dentist needs to be able to conduct initial dental assessments, remove dental deposits, take X-rays, perform restorative and cosmetic procedures, take dental impressions, and maintain dental equipment. On their resume, a dentist is expected to provide relevant hard skills examples illustrating that their work brings value, such as
"Performed corrective care and developed treatment plans for 10-12 adult patients per day, increasing client satisfaction by 70 percent."
UI/UX Designer
UI/UX designers create meaningful, accessible and aesthetically appealing user interface and user experience design in order to create a positive customer experience. Employment for such specialists is predicted to grow fast, so job seekers who have the following hard skills are likely to get hired quickly: design skills and a firm grasp of design tools, knowledge of computer operating systems, hardware and software, analytical thinking skills, and math knowledge. On your resume, you need to describe your design skills using relevant examples, such as
"Designed a website, which totaled 100,000+ unique visitors per day."
Architect
As an architect, you'll design new buildings and spaces around them and conserve and restore existing buildings. The outlook for architect jobs seems to be quite stable, and this kind of career is extremely fulfilling for people who love to create things and see the results of their work.
An architect's resume is supposed to display hard skills such as architecture, industrial design, advanced calculations, estimating, budgeting, conceptualization, drafting, drawing, design concepts, architectural rendering, visualization, sustainable design, model making, CAD, AutoCAD, etc. On a resume, they can be illustrated with specific examples, like
"Used AutoCAD to create innovative designs for 100+ clients, increasing client satisfaction with the company by 67%."
Human Resources Specialist
HR professionals perform the full spectrum of activities related to human resources, such as recruiting and onboarding new workers, maintaining employee records, and preparing compensation and benefits packages, among other functions, and they are in steady demand.
An HR specialist should have solid knowledge of full-cycle recruiting, retention, payroll, labor legislation and employment law, and health and life insurance programs. If you are an HR expert willing to strengthen your resume, you can illuminate your hard skills by quantifying them. For example, you could describe your previous workplace duties in a way like this:
"Administered 100 percent of recruitment phases and increased employee retention by 70%."
English as a Foreign Language (EFL) Teacher
An EFL teacher helps students learn English or improve their English language skills. With so many English language learners around the world, it's no wonder that employment for EFL teachers keeps growing.
If you provide English language instruction to non-native speakers, your skill set should include English teaching, curriculum development, lesson planning, classroom management, and experience in teaching English as a foreign language (EFL). It is essential that your resume reflects such hard skills along with relevant examples, like
"Planned and designed 300+ individualized education plans for beginner students from various cultural backgrounds and prepared them for intermediate level exams, resulting in 99,8% positive test scores."
How to List Hard Skills on a Resume
A resume is a document whose main goal is to help you land a job. For it to attract interviews and offers, you need to list your hard skills in an effective and compelling way. You can do that by following our guide:
Customize your hard skills to the job you are applying for – employers don't want to see anything unrelated to the positions they advertise.
Highlight your most prominent skills. There is no need to clutter your resume with minor details or things that are pretty obvious.
Focus on the results of your work. Providing vague descriptions or generic explanations won't help you get hired, but proving your worth as an expert with impressive achievements will certainly do the trick.
Create a separate Skills section and fill it with hard skills most relevant to the job ad you are responding to. Scanning the job post for specific keywords could help you with this.
Highlight your hard skills in the employment history section using related accomplishments and achievements.
Add a few key hard skills to your professional summary (the top paragraph on your resume).
Include transferable skills that fit the job description.
Add proficiency levels for measurable skills to communicate your expertise in the most convincing way.
Include relevant certifications and publications to validate your hard skills.
Hard Skill FAQs
How Can I Identify My Hard Skills?
You can easily identify your hard skills using the following tips:
Analyze your current position and previous occupations and focus on your job-specific duties and responsibilities. You surely possess a professional set of skills to tackle them.
Reflect on your education and training experience. Most academic and professional programs provide their students with industry-specific knowledge.
Think about your daily life – chances are your routines involve certain hard skills.
Talk to your colleagues, peers, teachers, and friends to get an outside perspective.
How Many Hard Skills to Include in My Resume?
We recommend you to list about 5-7 hard skills and add 3-4 relevant soft skills to balance your resume.
What Hard Skills Can I Put on an Entry-Level Resume?
If you have no professional experience, focus on the hard skills you have acquired at school or in your personal life. Just make sure to list them only if they are relevant to the job you want.
How Can I Improve My Hard Skills?
Here are a few tips that will help you boost your hard skills:
Practice makes perfect, so practice regularly. It takes time and effort to hone a hard skill.
Receive feedback. Constructive criticism will help you detect your weak points and work on them.
Enroll in a course or a degree program. This way, you will meet instructors and mentors ready to help you and individuals with similar interests and aspirations. You can also learn via online tutorials.
Should I Put Hard Skills on a Cover Letter?
A great cover letter that matches your resume and highlights your most valuable hard skills will boost your job search. You can share concrete examples both in the opening and body paragraphs. The opening paragraph is the best place to expand on your most prominent skill along with how it helped you achieve results and bring value to the table. Tell a personal story showing what you have accomplished and how your hard skills have led you to success.
Key Takeaways
Hard skills are job-specific competencies and knowledge that you can learn and measure. Having the right set of hard skills is a non-negotiable requirement for the majority of jobs today, so putting them on your resume is a must if you want to get hired.
Hard skills help you show your level of expertise and can even make up for lack of experience in some cases. No matter the industry you are in, you need to keep your hard skills up to date if you want to stay afloat in a sea of competition. Therefore, you should hone them at every stage of your life.