A job resume is a document you put together to present yourself to a potential employer. The common sections on resumes include the applicant's name and contact information, a resume summary outlining your career highlights, your education, and the most prominent part – your previous work experience.
You may be an educated professional with tons of relevant experience, but if you don't demonstrate it properly on your resume, the HR may not see it. Let's take a look at some tips from HR pros that should help you find the perfect balance and write a well-organized and effective Work Experience section for your resume.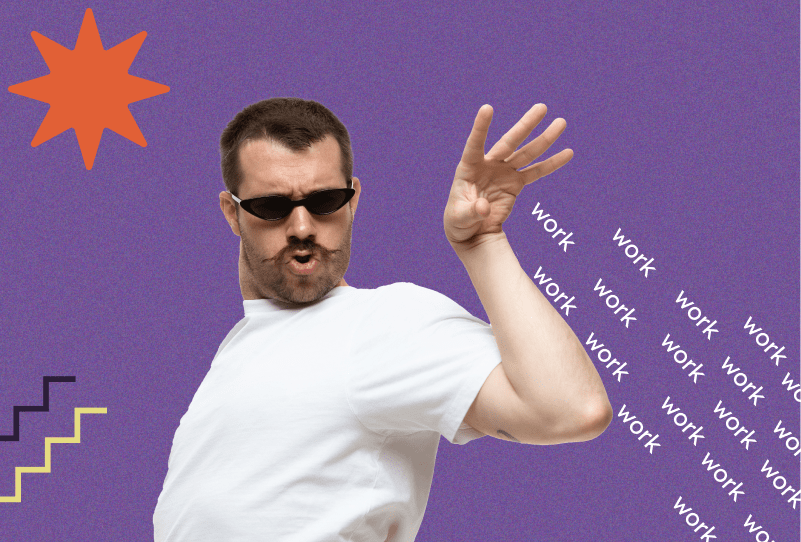 Simplicity is deceitful
How difficult could it be to just list your previous jobs in chronological order? Thinking that describing work experience on resume is the easiest part to compose can be a big mistake. Applicants often get carried away making long lists of responsibilities they took on at each job. Some even go as far as to write a long description of each company's specialty. This can make your resume too long, too difficult to read and too hard for the hiring manager to see the most important information.
One other problem might be not knowing where to start – do you start with your last job or your very first one? And how many years of work experience on resume is just right, especially if you've been in the workforce for 20+ years? We'll be talking about it further down, so keep reading and you'll know how to draw up your job history in a way to get your application noticed and considered. Here are some tips from HR experts to guide you through properly listing work experience on a resume.
Keep it concise
To make it easier for the hiring manager to review your work history and quickly identify relevant experience, follow this lifehack: write a description of a job you had in the past, then look it over and cut it down to about half the size. Then repeat: look it over once again and cut it some more. When you reread your own writing trying to look at it from the hiring manager's perspective, you should be able to see what's really important.
Make it relevant
Customizing your resume to the job you are applying for is always a good idea, as it can greatly improve your chances of getting hired. When cutting your Work Experience section down to the bare minimum, follow one simple rule – what you keep must be relevant to the position and must only describe your top skills and achievements that will get the employer interested.
Keep old jobs out
If you have been working for over 10 years, the general rule is to list only the jobs you had in the last 10 years. If there is something from an earlier time that could prove your qualifications, some significant achievement or just another job that helped you acquire some highly relevant skills, feel free to list that too. It's not like all of your jobs from 11+ years ago are taboo.
Use reverse order
Of course, you understand that your work experience must be listed in chronological order, but do you start with the oldest or the latest job? The general rule is to use reverse chronological order, which means listing your current job, or the last job you had, at the top, and going backward from there.
Leave company descriptions out
The hiring team will want to know what YOU did in each of your jobs, and will be less interested in the company's specialty. So, there is really no point in wasting valuable space on your resume on describing what each of the companies did. If you have to talk about the company's line of business, try to limit it to a couple of words.
List skills, not duties
Resist the temptation to enumerate all your duties and responsibilities for every job you ever held. Instead, focus on the skills you developed, the new ideas you brought to the table and the success they resulted in.
Following the above tips serves one main purpose, which is to make your resume more convenient to read and easy to spot the most significant information about your skills and capabilities. This is also why you should use bulleted lists when talking about your achievements and acquired skills for each position you held in the past. Be sure to keep each bullet point brief, listing only the details that will present you as a qualified professional.
Here is what to keep in mind when writing your bullet points
Choose your verbs wisely.

There is such a thing as strong and weak verbs. If you say that you helped someone, assisted with something and so on, those are weak verbs that make you appear as less of a leader. In the meantime, words like pioneered, lead, influenced, reformed and similar are strong verbs that make you sound like a highly capable individual.

Use numbers.

Instead of just stating that you were a development team lead, specifying that you lead a team of 10 developers will be more descriptive and give the employer a better idea of your experience. When talking about achievements, be specific with amounts, sizes, percentages and other numbers.

List facts

. Instead of responsibility descriptions, list some facts about the work you did, which will show your growth as a professional. If you had some on-the-job training or certification, be sure to specify that too.

Don't be afraid to brag.

If you have awards or commendations, go ahead and mention them all to impress the hiring team.

Make it ATS-friendly

. To help automatic Applicant Tracking Systems read your resume and select it for further review by a live person from the HR, be sure to use keywords from the job description, and use simple formatting that will not confuse AI algorithms.
No work experience resume
Writing a resume without work experience can be a challenge. If you are a recent graduate, or are still a student looking for part-time work, how do you compose a work experience section on resume? That's a common situation, considering how many graduates join the workforce each year. No work experience jobs aren't rare. What is very rare is that someone would get to college graduation without holding a single job. Many students work part-time while doing their studies, many try to find internships that would allow them to obtain on-the-job experience related to their future profession. A lot of young people participate in various volunteer projects, which may also count as work experience.
When you are thinking how to write a resume with no work experience, use these tips:
List relevant volunteer experiences and be sure to briefly mention what you actually accomplished and what difference it made.

List any temporary or part-time jobs you held, but only if they prove that you gained

work experience

needed for the position you are applying for.

If you worked on some school projects or participated in some professional contests or competitions that demonstrate that you have skills relevant to the position, by all means go ahead and talk about that. This can easily count in lieu of actual

work experience for students

and recent graduates.
Work experience examples
What is the general format to use for your work experience description? Most commonly, when talking about each of your jobs, you need to specify:
Position title

Company name and location (no need to list the address, just the city is fine)

Dates you worked there (month and year)

A list of 3 to 6 bullet points demonstrating how you contributed in this position
Some examples of how to describe work experience on a resume
#1 Product Manager
Someone applying for a Senior Digital Product Manager position is expected to highlight their leadership skills and experience managing teams of specialists in different areas, such as designers, developers, testers, marketers. For a senior position, you also need to show some significant achievements and prove them with numbers. Just like you see in the following example:
ABC Company – London, UK

Aug 2016 – Sep 2019

– Managed a cross-functional team of 18 people to develop an inventory management system for online stores that grew to 20,000 users in 2 years;

– Identified pain points to address in development and successfully resolved them, which gave a 50% boost to product adoption by larger companies;

– Developed a launch strategy that helped the product enter international markets within 2 months of launch; product is now used by businesses in 15 countries worldwide.
#2 Executive Assistant
Applicants for a Personal Assistant/Executive Assistant position need to list their work experience in a way that will also highlight their interpersonal skills and shed light onto their personality, as that's usually important to the future boss. Here is an example of how work experience may be listed on a personal assistant's resume:
ABC Company – New York, NY

January 2015 – February 2020

– Managed international and domestic travel for 2 executives, was able to cut travel expenses by 15%;

– Trained and mentored newly hired assistants, implemented a training program to cut introduction time to 3 days;

– Developed a PR strategy to boost the company's image, hired and trained a PR manager.
#3 Sales Representative
For jobs in sales, it is especially important to use numbers when describing work experience on a resume, as for any potential employer seeing how effective the person was in their work is an essential factor that can influence their decision about hiring. Here is how you can properly list your experience in sales to improve your chances of landing the job:
ABC Company – Fort Lauderdale, FL
May 2019 – Aug 2021

– Improved conversions by 27% by picking and using the most effective tools to identify customers likely to convert;
– Implemented an innovative retention strategy, which resulted in a 40% boost to customer retention rates;
– Was among the top 3 in sales 5 times in 2019 and 2020, exceeding sales targets every quarter from Q4 2019 and on.
We hope our tips will prove helpful to you, but there is more to writing the perfect resume than just knowing how to properly list your work experience. Check out some expert advice on how to write a resume summary, what skills to put on a resume, as well as what formats work best for a resume today. Good luck with your job hunt!