If you want to apply for a research position, you need to provide evidence of research skills on your resume. In this article, we explore what the best research skills for a resume are, why they are important and how to list them properly. We also provide a researcher resume sample to get you started – you can use it as inspiration or a template.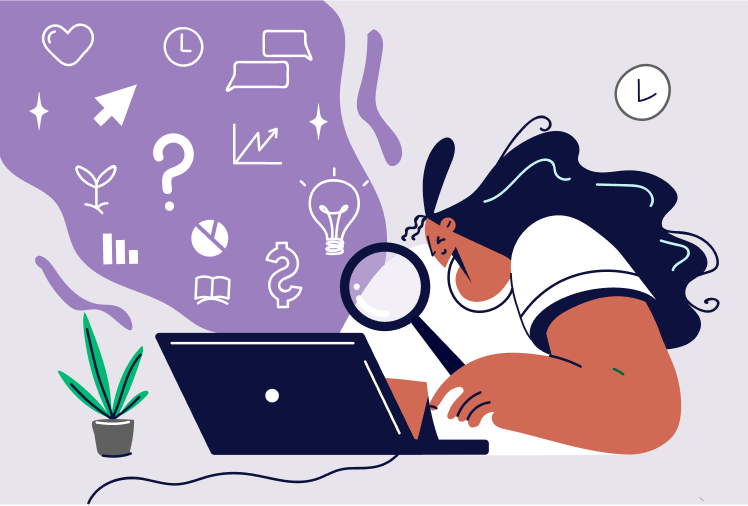 What Are Research Skills?
A career like research is an excellent option for anyone who can collect, analyze and interpret data, solve complex problems, dive deep into discovery, and offer innovative solutions. The best thing about being a researcher is that you can not only succeed in science and academia but also climb up the career ladder in the corporate world. Indeed, having solid research skills opens the door to many roles and industries, including academic environments, government settings, transnational corporations, startups, tech giants, and non-profit organizations, to name but a few.
From human behavior to regional studies to biotech, there are myriads of research spheres where a qualified individual can make a difference. Researchers utilize their skills to explore a variety of topics, and if you have your mind set on pursuing a career as a researcher, you need to understand what skill set is pivotal for success in this field.
In a nutshell, research skills are all about searching ways to resolve problems. They are knowledge, abilities and competencies that ensure you can investigate particular topics, perform critical analysis, extract and organize data, interpret results, form hypotheses, and derive data-driven conclusions.
As a researcher, you are expected to be capable of relaying your findings to other people in a compelling and digestible form and even inspire action, both in yourself and in others.
Whether you are a seasoned researcher or a novice in this field, you need to put the right skills on your resume. Below you will find a list of the most in-demand research skills in today's job market.
The Top 10 Research Skills for a Resume
Communication
Communication is a crucial aspect of a research career since you are required to share information, relay findings and spread knowledge efficiently and effectively, both orally and in writing. While communication skills certainly have a place on your resume, that doesn't mean adding "Communication" to your list of skills is enough to move on. You need to provide relevant examples verifying that you can research things as part of a team and work towards a common goal. You could add something like this to add credibility to your claim:
Recruited 7 research assistants for clinical studies by visiting clinics and sending out email invites, increasing participation by 20%.
Explained 100+ research procedures to a group of study participants in 10 days, resulting in a 0% incident rate.
Problem Solving
Being an advanced problem solver means you can consistently identify issues and find effective and efficient solutions to them. It is an extremely valuable skill when it comes to research-based activities, and 86% of employers look for workers who are capable of solving problems in the workplace according to the National Association of Colleges and Employers' Job Outlook 2022 survey. If you want to add problem-solving skills to your resume, you need to underpin them with relevant accomplishments. For instance, you could add examples like these:
Resolved course accessibility issues by creating interactive presentations for remote learners, increasing student satisfaction by 89%.
Developed and introduced a new computing environment for analysis, identifying 100% of failure patterns and improving issue detection by 75%.
Analytical Skills
Having analytical skills means you can parse data into digestible pieces, interpret them correctly and make data-based connections and conclusions. Data analysis incorporates a vast set of competencies, including technical skills like proficiency in programming languages, such as Python and R, familiarity with data visualization tools, like Tableau and Power BI, and a strong grasp of statistical analysis methods, such as hypothesis testing, regression analysis, and sample size determination. Armed with these skills, a researcher can take data to the next level and drive both innovation and profitability.
Being able to make sense of facts and figures both manually and using automated solutions will help you thrive in most roles, so recruiters would love to know that you are an analytical thinker when considering your candidacy. Your best bet here is to make sure they can find this out by examining your resume. You can add examples like the ones below to prove you can tackle complicated issues using your analytical skill set:
Collected, cleaned and analyzed first-party data from 10+ departments to identify the socio-economic impact of the COVID-19 pandemic on the company.
Performed regression analysis to determine the effects of a company-wide minimum wage increase, concluding that the hiring process was accelerated by 25% due to the wage change in question.
Qualitative Analysis
Qualitative analysis allows you to analyze a research subject using non-numerical and non-quantifiable parameters, characteristics and indicators and is based on abstract concepts. For instance, you can use qualitative attributes like human behavior or brand reputation to make business decisions or recognize investment opportunities. This skill is in demand today as it helps researchers use their observations to make conclusions, identify patterns and tackle challenges. Since you cannot quantify this area of your expertise, you need to provide relevant context to convince the reader that you are capable of analyzing non-tangible aspects of a subject. You can do that by using appropriate examples, like the following ones:
Evaluated the quality and accuracy of 200+ data sources in a month.
Performed quality control of high-volume content in a rapidly changing environment, maintaining a quality score of 99.9%.
Quantitative Analysis
Quantitative analysis is an approach that allows you to collect, study, measure, and analyze data. From statistical research to financial modeling, quantitative analysis includes a powerful toolkit that helps a researcher refine and simplify vast amounts of raw data to make better decisions and forecast trends.
Quantitative analysis has countless applications: with it, you can track metrics, measure variables and evaluate parameters in multiple fields, from finance and accounting to molecular biology and astrophysics. Therefore, it is no wonder that it is one of the most important research skills for a resume and highlighting it the right way is likely to help you move forward in the job searching process. You can prove that you know how to work with tangible data by providing relevant examples, like the following ones:
Designed a new data analysis technique, saving 30 monthly hours in parameter comparisons.
Used SQL to analyze customer data and identify areas for improvement related to customer conversions, resulting in a conversion boost by 75%.
Academic Writing
Academic writing is the ability to create complex documents containing scientific data, such as formulas, graphs, and charts. Academic writing skills help researchers prepare reports, presentations and articles for scientific journals and magazines, and if you have them, it means you know how to present technical information clearly and concisely. Recruiters from scientific fields are especially interested in candidates capable of writing academically, so submitting a resume with examples of written work is likely to help you secure a position as a researcher. Listing your publications to prove your expertise is the best option here, but since you might not have enough space to add all your papers, books and articles, you could highlight your academic writing proficiency with something like this:
Created 350+ articles on the principles of academic research for the university's database, increasing student satisfaction by 60%.
Published 30+ papers focused on structural changes in protein conformations.
Literature Review
Literature review is a methodology that implies conducting rigorous research on a particular topic. Having literature review skills means you can explore your subject area in greater depth using sources like books, journal articles, industry magazines, etc. Such competencies allow you to build upon existing knowledge and generate new ideas, accelerating your research and pushing it to its full potential. Naturally, your literature review skills are a valuable asset to your resume. We recommend you to illuminate them with appropriate examples, focusing on tangible outcomes:
Gathered and reviewed 10+ articles on Stata to extract variables from a dataset.
Performed 100+ literature reviews to implement changes in clinical practice, boosting quality of care by 70%.
Time Management
Time management is a powerful soft skill that is especially valuable in research environments. It allows you to manage your time effectively, break large tasks into manageable chunks and prioritize them properly, set up measurable, attainable, and time-bound goals, and even juggle your responsibilities. Proper time management helps you stay focused on your work, boosts your productivity and thereby leads to consistently high results and impressive outcomes. From carrying out experiments to writing reports to teaching, as a researcher, you need to apply time management strategies on a daily basis to successfully accomplish your tasks. You can show you are good at time management on your resume by showcasing your successes, like in the examples below:
Developed a database for organizing behavioral data for 100+ study participants, decreasing data processing time by 30%.
Implemented data analysis techniques in Python, increasing the amount of data analyzed per hour by 17% and accelerating project completion by 40%.
Attention to Detail
Paying attention to detail is a vital aspect of being a researcher. Having this skill helps you gather credible information, perceive meaningful connections, notice discrepancies, and deliver high-quality work based on correct evidence. Since each and every aspect of a career in research requires efficiency and trustworthiness, attention to detail is something you cannot go without – otherwise, your progress will come to a screeching halt. Naturally, you need to illuminate this skill on your resume as recruiters seek candidates who can look at details with a critical eye and minimize distractions. And the best way to do that is by providing a relevant example of success. You can use the ones below for reference:
Checked 10 + data sheets for completion and quality per day, resulting in a <1% error rate.
Supervised the maintenance and updates of the lab's database with a 99% accuracy rate.
Editing & Proofreading
Editing and proofreading skills are essential to perform successful research since they ensure it is both accurate and easy to read. While editing is more about making your text more digestible and improving the overall quality of your writing, proofreading corrects surface issues like errors in spelling, punctuation and grammar. Both require you to have a solid command of the language you use and a certain degree of focus. The devil is indeed in the details, so you need to always polish your texts before submitting them. Only this way will they be perceived by your peers and superiors as constructive and professional. And to prove you are good at editing and proofreading, you need to add appropriate examples to your resume. Here is how you can demonstrate your ability to provide high-quality texts:
Edited 11 federal grant proposals designed by my team, which generated $200+ in lab funding.
Edited a research paper co-authored with 2 postdoctoral employees regarding protein generation, which received the Best Paper Award in 2020.
How to List Research Skills on a Resume
Your resume is the best place to highlight your research experience and the value you could bring to your next role. The key here is to put your research skills in the right section so that they get noticed by the reader. You have no fewer than 7 options here:
A dedicated research section
Your work experience section
The education section
The list of your research publications
The projects section
The skills section
Your resume summary
If you have a solid research background, you may want to create a separate section on your resume and call it Research or Research Experience. This place will help you expand on your projects and their details, specify the nature of your research, and describe the specifics of your previous roles, providing relevant examples and demonstrating the most prominent accomplishments.
If your career is all things research, the work/professional experience section can incorporate your research skills and accomplishments. List your employers and your duties, along with the dates of your employment, like you would do when describing your non-research work experience.
Your education section is an appropriate place to highlight your research skills if you are a student or a recent graduate. You can put it at the top of your resume if you want to draw more attention to your research background when applying for your first job in science or academia.
If you have a whole host of published works, it could be a great idea to create a separate section for listing your publications. This will help you add credibility to your research skills and accomplishments.
Research-related accomplishments can also be highlighted as projects on your resume. This might be appropriate if your research background is not so extensive or not quite relevant to your current career aspirations.
You can list your research skills in your skills section as long as they are tangible and relevant for the job you want to land. We recommend you to avoid general skills here and focus on industry-specific expertise, illuminating it with the keywords you can find in the corresponding job listing and relevant skill levels.
Highlighting your research skills in the summary section is appropriate if you are applying for a role where a robust research background is essential. Your resume summary is just a few lines appearing at the top of the document, so make sure to add only the most important research skills there – those that you want the reader to see first and foremost.
Why Are Research Skills Important?
Research-oriented positions and most jobs in academia require you to have a solid set of research skills. Employees outside these roles can also benefit from research experience – research skills are transferable, meaning you can bring them to the table no matter your position, career field or job level. Therefore, they are a valuable addition to a resume in many cases.
Businesses and organizations are eager to employ candidates with proven research skills because they can
come up with original plans and ideas,
design innovative products and services,
improve processes,
keep up with technology,
identify customers' needs and requirements and find ways to meet them,
resolve complicated issues,
analyze competitors' strengths and weaknesses,
etc.
By adding research skills to your resume, you show recruiters that you can think outside the box, know how to work with data and technology, are capable of making well-informed decisions, and are good at solving problems. This makes you a valuable hire in today's skill-based job market
A Resume Sample to Apply for a Research Position
JOHN/JANE DOE

Research Assistant
Location ⋅ Email ⋅ Phone number

Diligent and hardworking clinical researcher seeking a position at [Name of Company] to apply academic expertise and facilitate biological research.

PROFESSIONAL EXPERIENCE

Company/Organization, Location
Dates of Employment

Research Assistant

Assisted scientists in 30+ research projects related to therapeutics for COVID-19

Conducted data-driven testing with an accuracy rate of 98%

Supervised a team of 3 junior research assistants with daily laboratory duties

Company/Organization, Location
Dates of Employment

Graduate Research Assistant

Participated in cell research projects as part of a cross-departmental team of 30 researchers.

Performed cell counts with 99% accuracy

Was engaged in developing a platform to investigate immune responses to virus-infected hepatocytes.
…
Company/Organization, Location
Dates of Employment

Research Student Assistant

Gathered and analyzed data and evidence for 10+ clinical research cases monthly.

Awarded "Research Impact Award" in recognition of consistent research excellence (only 1 student is awarded in a class of 100).
…
EDUCATION

NAME OF UNIVERSITY
Location
Degree, Major
Dates of Education

SKILLS

Molecular cloning
RNA isolation
Cell counting
Knowledge of SQL code and queries
Data analysis
Literature review
Conclusion
A career in research is an extremely exciting yet quite a demanding path. Since the competition for positions in the field is very fierce, as a researcher, you need to have high levels of determination and persistence and a powerful combination of skills. The research skills we have outlined in this article are what recruiters expect to see on your resume, so make sure to expand on them to get the job of your dream, rise to the top of your game and deliver ground-breaking research.