I don't want to work. I hate my job!
Does this sound like you? Do you want to quit a job you just started?
You wake up, drag yourself out of bed, and trudge to work. You dread being there and doing whatever you have to do to get by. Every day is a chore, and all you think about is how much longer you have before the weekend.
You hate your job but can't quit. It may be that you hate your job but need the money.
If this sounds familiar, don't worry. Hating your job doesn't mean there's something wrong with you or that you're destined for a life of misery.
This article discusses proven tips on what to do when you hate your job.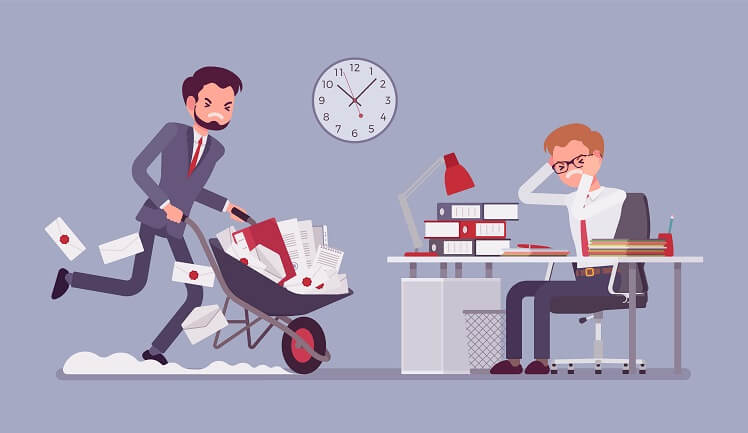 Key Reasons Why You May Hate Your Job
Before making a permanent decision, finding out why you hate your job is essential. That can help you determine if it's short- or long-term. When you do that, it can help you develop a plan for going through the issue if it's short-term or a plan for your next career.
Let's go through some of the reasons.
A Bad Manager
The negative effects of a bad manager on workers are significant. In fact, a Gallup study found that a bad manager was responsible for 70% of the positive and negative variation in employee engagement.
Low Social Interactions
The importance of social relationships to your psychological health is crucial. For example, you may have worse health and happiness outcomes if you have few friends and family. And that's more likely to lead to anxiety, stress, sadness, and burnout.
You're more likely to hate your job and eventually leave when that happens.
Colleagues and Co-Workers
We can't undermine the importance of the overall employee experience.
A study showed:
53% of workers don't like going to work because of their coworkers.
43% of workers report feeling isolated from their coworkers.
38% of workers say they don't trust their fellow employees.
If you're facing any of these issues, keep reading to find out what to do when you hate your job.
10 Proven Tips on What to Do When You Hate Your Job
Figure Out What is Not Working
You should start by identifying the issues that make you miserable at work. It's natural to experience some anxiety or uncertainty while beginning a new job. But those emotions typically fade as you get the hang of things.
On the other hand, maybe the job wasn't what the hiring manager had described or promised. One way to decide whether or not to stay at a new job is to write down everything you hate about the job.
That can help you better evaluate what's really happening before making a final decision.
Find Out If You Can Change the Situation
After identifying the specific areas you don't like about your current job, determine whether these issues are short-term or long-term, as you may hate your job for various reasons.
You may hate your job because you lack confidence in your abilities. This problem is short-term. That means you can feel more at ease and enjoy your work if you stay in the position longer.
Sometimes, the problem may be a particular task or project. If that's the case, you can complete the project and move to other projects you enjoy. But if the problem is the work, you may have to quit.
Don't Hate Your Job Outside of Work
Don't make work your main topic of conversation. It's okay to talk about it when you get home, but don't bring it up afterward. For example, if someone asks how your day was, answer briefly and then change the subject.
It's a good idea to keep your work out of your conversations with family and friends. And that's because you don't want to come across as uninterested or distracted during these conversations.
Know That You're Not Alone
You're not alone. In fact, you probably know people who have been in your shoes before. And they've likely found a way to cope with their job situation. So, you can do the same.
Your friends will be happy to hear this and may even have some advice for you if they've had similar experiences themselves. If they don't, or if there aren't any friends you trust to share your problem, reach out to your families or online.
There are several forums and communities where people can relate their problems and offer support.
Don't Bring Your Work Home
Don't bring work home with you at night either. This also brings other negative feelings into houses, like anger or frustration. Try not to let bad feelings affect your personal life or family time. Work can be rough sometimes.
But remember that there are other parts of your life outside the office that are more important than anything else. And that includes your health and relationships with others who matter most!
Try to Think About it Differently
There are a lot of benefits to having a job that you might miss.
Even if you don't love your job, there are still things about it that can make you feel good. This is necessary if you keep saying, "I hate my job but not qualified for anything else."
If you're looking for the positive, try to think:
How does my job help me make money?
What skills am I learning through this experience?
What can I use from my current job in other areas of my life?
If it still doesn't work out for you, you may have to talk to a career counselor.
Talk to a Professional Career Advisor
Talking to a career counselor can help you if you're unhappy with your job or career path. A career counselor helps you analyze your abilities, strengths, and personality qualities to help you find the career that best fits you.
These career experts can also help you find a job because they have a broad understanding of different careers. Some can even train you to acquire specific skills.
However, if you've spent years training for a specific job position you now hate, it can be challenging to change your career direction.
Remember that you have the power to change your career course. You can make the necessary changes to find a position that's right for you.
Talk to Your Boss
If you're feeling overwhelmed, it's okay to ask for help. For example, your boss may be able to switch up your duties or give you some time off so that you can catch up on work.
If nothing else, having a heart-to-heart with them will help make things better for you. And make sure that they don't think something is happening in their department that they need to know about.
Also, ask for a transfer or change in duties. If your job isn't exactly what was advertised, talk with HR and see what options are available before leaving altogether.
This way, if there is an option within the company, there won't be any unsatisfactory situation any more than necessary.
Also read: How to Call Out of Work
Re-Evaluate Your Priorities
It's necessary to re-evaluate your priorities. What do you want out of your life? How is your job helping you achieve these goals? Ask yourself these questions. If your job isn't helping you, you should consider making changes.
You should also make changes when your job takes away the things that matter most to you.
But if your job is helping you reach your goals, then use the time at work to pursue them.
Then, let all the skills and lessons learned in your 9-to-5 translate over into whatever else you love doing outside of work hours.
Make a Plan to Leave
If you've decided to leave your current job, it's time to make a plan. Don't wait until you hate your job before looking for another one or thinking about what you want to do next.
You should also consider learning new skills to help transition from your current role into something more fulfilling.
Read also: Linkedin Headlines for Job Seekers
Use Your Networks to Your Advantage
One of the best ways to find a job you love is to have good connections with people in the industry.
Give your business card to influential people you meet at conferences. But make sure the business networking is as natural as possible. So use the connections you've already made at your current job.
You may only need to send out some feelers and make new relationships if you take a more understated approach. This may come in handy when you're ready to move.
Opportunities can arise from different sources, so don't forget to contact your previous coworkers, professors, and friends.
Use LinkedIn to reconnect with old contacts before asking them to meet with you in person. This shows more respect and professionalism.
Hating Your Job is Not Something You Have to Live With
You don't have to live with your job if you hate it. You can leave, especially when you hate your job and coworkers. But when is it time to leave, and how do you deal with the entire situation?
Here's how to deal with the situation if you hate your job:
First, don't give up. It might seem like a no-brainer, but the truth is that many people who hate their jobs give up too soon. So if you really want to leave your job, don't give up until you have the plan to help get you there.
Furthermore, don't be afraid to ask for help from co-workers, friends, and family members who have been in similar situations. They may have great advice on what worked well for them as they searched for new jobs or careers.
Don't Trash the Company Publicly
Don't take your frustrations with the company online, whether you're employed or have already left. Doing so will hurt your career and professional integrity more than the company.
Employers use social media platforms to search for potential employees. And since tweets or posts are easy to access (unless hidden from public view), the company may read your comments.
That may cause severe consequences for your future career. So avoid any trash talk and keep negative comments to yourself. If you have any issues, talk to your friends, family, or anyone you trust to help you.
Also read: How to Upload Resume to LinkedIn
Final Thoughts
Remember, your job is not the center of your world. So if you hate it, there are many ways to get out of that situation and become happier.
Also, don't be afraid to change your mind about whether or not leaving this job is right for you. It's always important to listen closely and carefully when you get advice from trusted people.
That's because they may know something that could help guide your decision-making when things start feeling overwhelming at work.