How you address your cover letter is crucial because it's the first thing the hiring managers see when they open it.
When your cover letter address is well-formulated, it shows that you've done your research and paid attention to detail.
So it's always important to know:
How to address a cover letter and
who to address the cover letter to.
But who do you address a cover letter to when you don't have the hiring manager's full name, after long research? Which salutations are appropriate, even when you have a name?
This guide will show you expert tips on how to address a cover letter.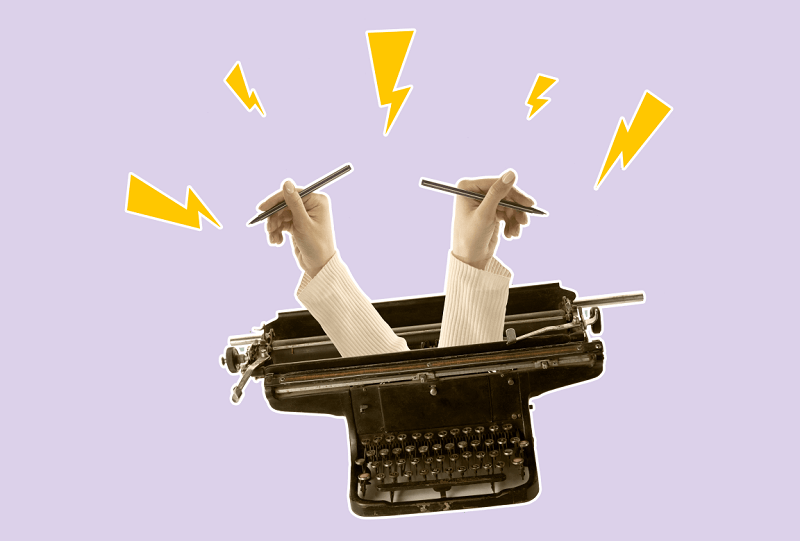 Why Is It Necessary to Address a Cover Letter?
Primarily, the cover letter address is the first thing the recipient sees when they open the cover letter. So, you're more likely to get a positive impression from the hiring manager when you address your cover letter professionally and correctly.
This can increase your chances of landing more job interviews. A cover letter address also shows that you're more detail-oriented and willing to do more research when needed. This holds true when the hiring manager's name is included in the address.
It'll also show your dedication to professionalism and help you make a good impression on the recipient. But before you learn how to address a cover letter correctly, you must know how to write a cover letter first.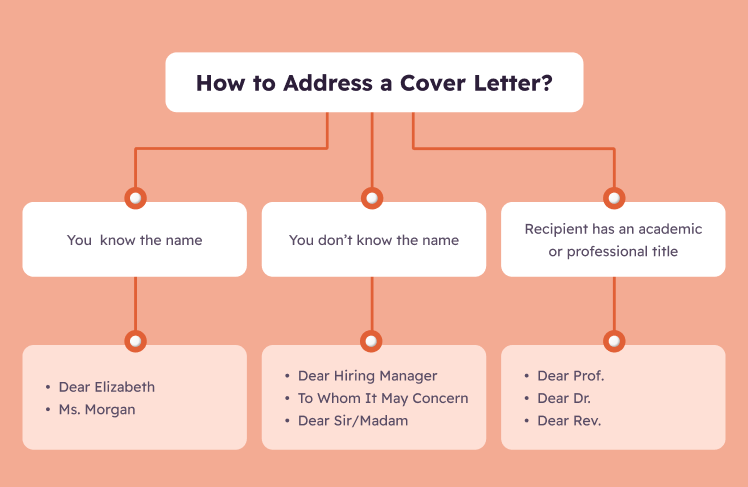 Who Do You Address a Cover Letter To?
You should address the cover letter to the individual making the final hiring decision. The person can be the company's owner, especially in a small business.
However, if the company size is from medium to big, you may address the cover letter to the department head or hiring manager. If you need to get in touch with a large, international company, you might want to try the regional or local manager first.
Address your cover letter to a specific person if you can. Your cover letter will have a higher impact on the recipient if you take the time to include this information.
Furthermore, it shows that you cared enough about the company to do some preliminary research. And that can make you seem more driven than other applicants.
How to Address a Cover Letter?
There are several ways to address cover letters, each method depending on the situation. So go through different scenarios in this section to know how and who to address the cover letter to.
When You Know the Recipient's Name
Always use the recipient's name instead of a generic address when writing a cover letter. When you do that, it establishes a personal connection with the recipient. It's also an excellent way to show that you've taken the time to learn more about them.
Do your homework and look up the recipient's name if you don't already know it. For example, if you want to work in the sales department, you may find the sales manager's name on the company website.
You should use the full name for cover letters where you don't know the recipient's gender but do know their full name. For example, a cover letter addressed to "Dear Elizabeth Morgan" is an appropriate and proper example of a professional salutation.
Use the appropriate title like 'Ms.' or 'Mr.' if you know the person's gender and want to include a title in the address. Otherwise, avoid using a title to avoid implying the recipient's marital status. For example, to address someone as "Ms. Morgan" rather than "Mrs. Morgan," you would use the former form of address.
When You Don't Know the Recipient's Name
You'd have to use a more general introduction for your cover letter if you can't find the recipient's name after several searches. It's best to play it safe with a generic salutation in a cover letter since you won't know the recipient's gender or name.
It's also the safest way to make a good impression on the hiring manager. If you don't have a contact person's name, you can use one of the following approaches to address your cover letter.
Remember that the list below is based on a survey of over 2,000 companies to find employers' preferred greetings.
Dear Hiring Manager (40%)
To Whom It May Concern (17%)
Dear Sir/Madam (27%)
Dear Human Resources Director (6%)
It's essential to ensure the right person will get your cover letter when you specify a title like "hiring manager" in the address. Use a more general greeting, like "To whom it may concern," if you aren't sure who will receive your letter.
If the Recipient Has an Academic or Professional Title
If you know the recipient's name and academic or professional title, it's ideal to use it. You can use it in place of 'Mr.' or 'Ms.'
For example, it would be more appropriate to address the recipient as "Dear Prof. Adams" rather than "Dear Ms. Adams."
Here are some professional and academic titles and their abbreviations you can use in your cover letter address:
Professor (Prof.)
Doctor (Dr.)
Revered (Rev.)
How to Address an Email Cover Letter?
Hiring managers are flooded with emails daily. So it's crucial to make it easy for them to scan your email and respond to it. You can do that through a well-written subject line and a signature with your contact information.
If you know the recipient's name, use it. This will increase the likelihood that your letter will be read.
The Email Subject Line
Never send an email without a topic. Hiring managers are likely to dismiss or delete emails without opening them if they don't contain a subject line. Instead, use a subject that makes your point immediately evident.

Make sure the recipient or hiring manager sees the job position you're applying for by specifying it in your email's subject line.
You should make it simple for them to determine the position you are applying for, especially if they're hiring for multiple positions.
Addressing A Cover Letter: Some Helpful Tips
Addressing your cover letter correctly can get the recipient's attention. It can also make your letter stand out, especially if you know the purpose of your cover letter.
Use these tips while addressing your cover letter:
Check the spelling
Ensure that you have the correct spelling by consulting with the company or looking it up online. Employers always appreciate it when candidates take the time to proofread their work for correct spelling and grammar.
In addition, it shows that you care about the smallest details, which is always a plus.
Verify the Contact Person
When making initial contact, it's not always easy to tell if the person listed is the actual one. And it's not always clear whether the contact information for an open position belongs to a recruiter or the hiring manager.
Maybe you saw the contact's name in a long-forgotten social media post, and you have no idea if they still work for the company. Get in touch with the hiring company if you have any questions.
Check Your Address for Any Mistakes
Each time you apply anywhere, you'll need to review your cover letter because its address will differ. First, verify that the date, company name, and address are all right. This ensures that your cover letter always looks professional.
Use the Correct Format and Font
Cover letters printed on paper should have 2.5-cm margins. Your address should be written in the same typeface as the remainder of your cover letter. The fonts Arial, Times New Roman, and Calibri are all excellent options.
Also, try using single spacing for your header to save valuable space.
The Best Way to Address the Recipient
You can use several different cover letter salutations to personalize your email. For example, write to Ms. or Mr. [Last Name] at the company if you have a recipient. If you aren't sure who to email, find out if you can see the email recipient's name.
If you're having trouble finding the recipient's name, you have two options:
skip the salutation altogether and jump right into the body of the letter
use a generic greeting.
Formatting the Salutation
If you're writing an email, after choosing a salutation, place a comma after it. Then press the space button before writing the first paragraph.
How to Write the Body of the Email Letter?
The body of your cover letter should explain to the employer what position you're applying for and why they should meet with you.
Carefully read the job description and highlight your skills and experience as a perfect fit for the position. Then, follow the employer's guidelines while submitting your resume and cover letter by email.
Always put the same effort into your email cover letters as you would for other documents you send.
Conclusion
Include a mention of your resume attachment in the final paragraph if you have one. Thank the hiring manager or recipient for their time and consideration at the end of your cover letter.
Specify what steps you'll take to follow up. For example, put a period at the end of the email and sign it with your name and email address.
Signature
To make it simple for hiring managers to get in touch with you, provide the following:
your full name,
phone number,
full address,
email address, and
URL to your LinkedIn profile in your email signature.
How to Find the Right Recipient For the Cover Letter Address?
You'll have to do some research if you don't know the recipient's name. Below are some ways to find the contact person's name:
Check Out the Company's Websites
Check the company's website, including its social media pages like LinkedIn, Twitter, or Reddit. You can use Google to fill in the blanks of what you know and see what it brings up.
For example, if you know the department's name, try searching for "Head of Marketing for [Department]" and see what comes up.
If you know the person's name but not their email or phone number, search for a term like "Mr. Adams, Marketing Head at [Company]." You'll find a social media page or an email address if you're lucky.
Reach Out to the Company
One of the simpler ways to find a recipient's contact is just to call the company. Explain your reason for calling and ask them about the right person to send your cover letter to.
Check on LinkedIn
LinkedIn's built-in and powerful search engine makes it an excellent resource for finding people. If you know the person's name, you can use that. Otherwise, you can expand your search by including the company, location, or both.
You can send a message to the person if you find them by clicking the "Contact info" link.
If you don't know someone's name, you can look through the company's employee directory to find out who works there.
If you can't find the right person, try contacting someone in a related department. The two of you may share a common connection and may introduce yourself.
Also read: How to Upload Resume to LinkedIn
Final Thoughts
Cover letters should always be addressed to the hiring manager of the company. Always use the hiring manager's full name to show respect, even if you're applying to a more informal workplace. Titles like "Mr." and "Ms." are acceptable. Don't use 'Mrs.' or 'Miss.'
Also, even though you can include many email addresses in your cover letter, there are some you should avoid. For example, you shouldn't use overly informal greetings like "Hi" or "Hello."
The hiring manager may form a poor impression of you if you greet them in such a casual manner. It's okay to use such a welcome in a casual email, but it's not recommended in a formal setting like a job application.