Your resume is your first real assessment for any job.
That's why its content matters.
However, your resume's format is what determines whether the recruiter will glance through its content.
Most recruiters don't waste time going through resumes as they have hundreds to thousands to sort through job opportunities attract up to 250 applications on average. So, some HR managers take about 7 seconds to determine if a resume is worth reading.
If they can't scan it with ease, they move on to the next.
As a result, how you arrange your experiences and qualifications is just as important as what they are.
Your job is to make the process of scanning your resume easy.
To do that, you must use a layout that quickly points the recruiter to the things that they need to see.
Different features and elements make a great resume format. Please keep reading to discover the best layouts that attract a recruiter's attention and get them to read your resume.
Essential Resume Layout and Format Rules: Fonts, Spacing, Margins, and More
Types of Resume Layouts
Resume Layout Examples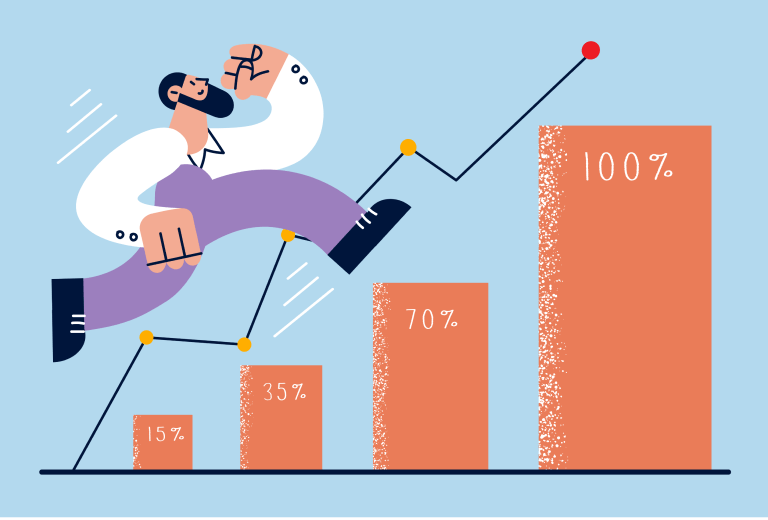 Essential Resume Layout and Format Rules: Fonts, Spacing, Margins, and More
Your fonts, margins, spacing, header, and title make up your resume format.
Cluttering the resume with too much text makes it look messy, and using too much white space makes it look empty.
Also, a poor header can confuse recruiters, and the wrong structure can mislead them.
So, you must get these elements right and arrange them properly.
Now, let's get right to business.
What's the Ideal Font Type and Size?
The font that makes up your resume, from the title to your references, must be legible.
Your font size also matters. For example, you can't use the same font size for your name and section headings.
Now, follow these pointers:
12 is the standard resume body font size. You should neatly increase the header fonts to emphasize things like your name and different resume sections. This way, recruiters can quickly scan the document to find specific details.
Use a universal font that every computer supports. For example, almost every platform supports Calibri, and it is the default font for Microsoft Word. If you want to use Serif fonts (fonts with tails), consider Georgia, Cambria, and Didot.
Use different formats, such as bold, italics, and uppercase, to emphasize specific details like section headings and your name. However, keep your font format consistent and avoid using underlined text.
Your resume font should be consistent with your cover letter font.
You can pair two different font types to make your resume more visually interesting. But make sure you use fonts that agree with each other. For example, you can use a sans-serif font for your headers and a serif font for your body.
What's the Ideal Resume Margin?
1-inch margins on four sides are the ideal resume standard.
While you can reduce your margins to create more space, anything below half an inch isn't ideal. That's because your resume will be hard to scan or even read.
Also, resist the urge to use large margins. They make your resume look empty, and the recruiter may believe you don't have much to say.
What's the Best Line Spacing Setting?
Your resume's line spacing options for sections, sentences, and headings determine whether the recruiter can scan your info.
Use a less ideal amount of space, and your resume becomes disorganized and incoherent.
Your resume spacing should be 1.15, the ideal line spacing option. In addition, you should add an extra line after each section or subheading.
Creating the Right Header
Your header section must be able to catch the recruiter's attention and usher them to the rest of the resume. So, the layout should be visually distinct and legible. It should contain your name, contact information, and profession (job title).
You should add a clickable email address and your LinkedIn profile as well.
Avoid starting the resume with the "Resume" title.
Be Creative with Bullet Points
Bullet points are effective for sections such as your experience and qualifications. They make it easy for the recruiter to skim through your achievements.
When using bullet points under your experience, make sure you're not cramming the section with text. Instead, use concise language to make the space neat and readable. Use a maximum of 6 bullet points for each job.
What's the Ideal Resume Layout Structure?
If you're thinking about what a resume should look like in 2023, here's what a standard resume outline should have:
A header, including your name, contact information, and professional title.
Career summary
Experience
Education and Qualifications
Skills
Additional sections such as projects, organizations, and hobbies.
Some of these sections may come before others, depending on the layout you want to use.
Types of Resume Layouts
Now that you understand the basic rules and elements for resume layouts, it's time to know the proper layout type for you.
We'll start by explaining the different types of resume layouts. They include:
Chronological Resume
Functional Resume
Combination Resume
Each layout type has distinct advantages and disadvantages for different job roles and professions. Before preparing your resume, you should know these pros and cons and how they apply to the job you want to land.
However, you should note that you must follow the basic principles we highlighted above regardless of which type of layout you want to use.
The Chronological Resume
This is the most common of all resume layouts. It's suitable for almost every job seeker regardless of career stage. Entry-level applicants, students, and experienced professionals can use this layout as long as they have a work history.
The chronological resume prioritizes your professional experience as it starts with your work history right after the heading. It is also called the "reverse chronological resume" because it outlines your job experience, starting with your most recent position.
Showing your career progression in a vertical manner allows recruiters to know where you are professionally. This way, they don't have to scroll through the resume looking for your last job placement.
When using this type of resume layout, highlight your roles and responsibilities clearly. Use bullet points and concise language that allows the recruiter to scan your information quickly.
Features of a Chronological Resume
The main features of a chronological resume include your experience, education, skills, and qualifications.
Your experience should come right after your career summary if you have an impressive work history. You should start the employment history with your last job.
If you only recently graduated, start with your education. Your latest certification should come first under the education section.
Should you use the chronological resume?
While it's the typical type of resume, it's not ideal for everyone. You should use it if you:
Have a rich work history
Want to showcase your career progression
Are applying for a job in your industry
Don't have significant employment gaps
You should use a different layout if you:
Have significant work history gaps
Want to change your field
Haven't had stable jobs in a while
Lack a rich employment history
Example of a Chronological Resume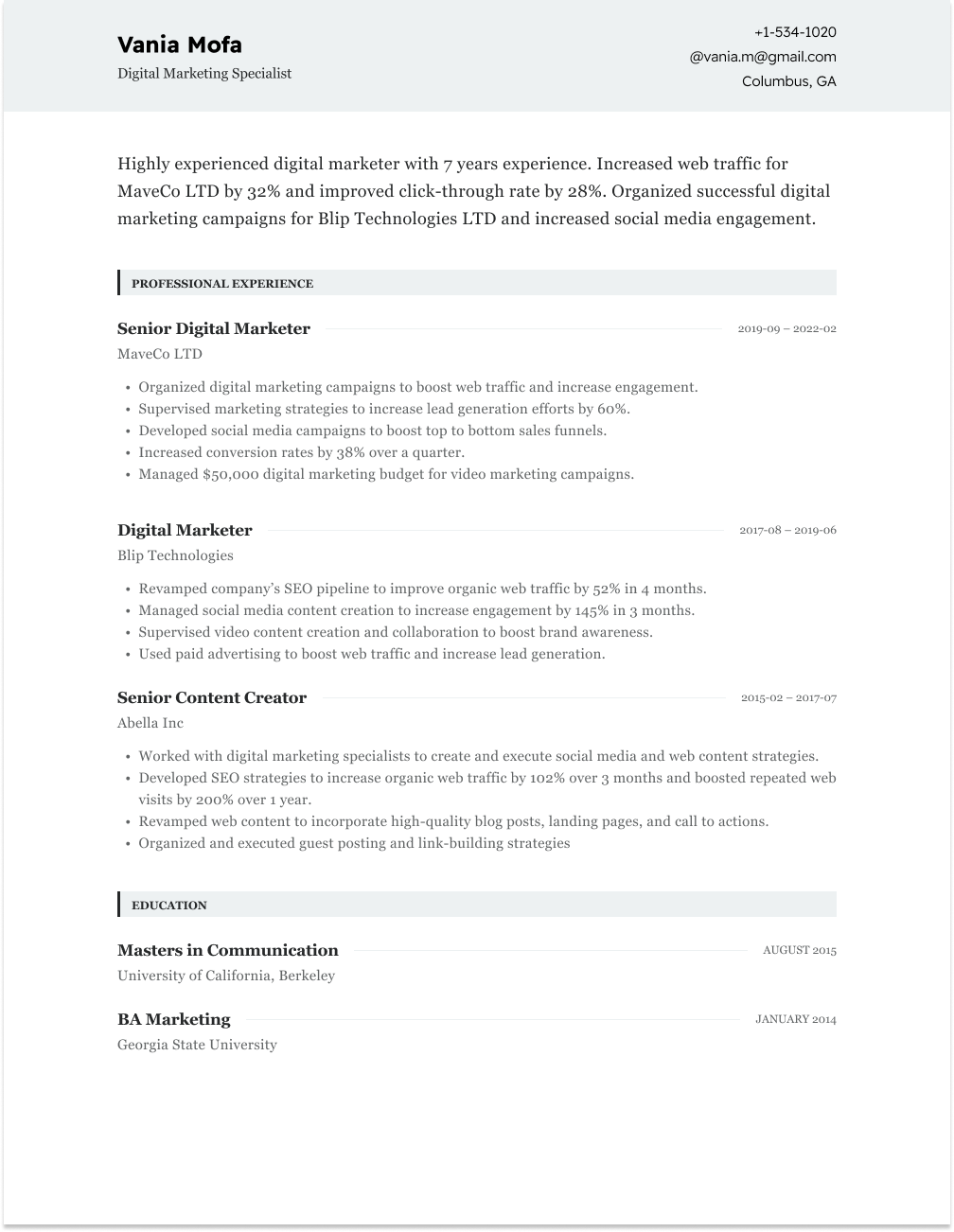 The Functional Resume
This type is ideal for recent graduates and students who don't have a rich work history. Since you're fresh out of school or still studying, you want to show your strengths and skills.
This type of resume is called skill-based because it focuses on core skills rather than experience.
It is the right fit for those with significant employment gaps who can't adequately flaunt their experience. Also, if an employer lists specific skills as part of a job requirement, you have to promote those skills using a functional resume layout. In addition, it's a suitable format to use if you're switching industries.
Features of a Functional Resume
The main components of the functional resume include skills, education, and experience. Unlike the chronological layout, you'll have to start with your skills after your professional summary.
Highlight your most vital skill set, especially those listed on the application notice.
After that, you can talk about your experience and education.
Should you use a functional resume?
You should use this layout if:
You have significant professional experience gaps
You're changing your field
You haven't had a stable job in a while
You want to showcase your skills
The employer emphasized specific hard or soft skills
You should avoid this layout if:
You want to outline your career progress
You're an entry-level applicant or student
You lack the relevant skills emphasized by the employer
Have a rich work experience history
Example of a functional resume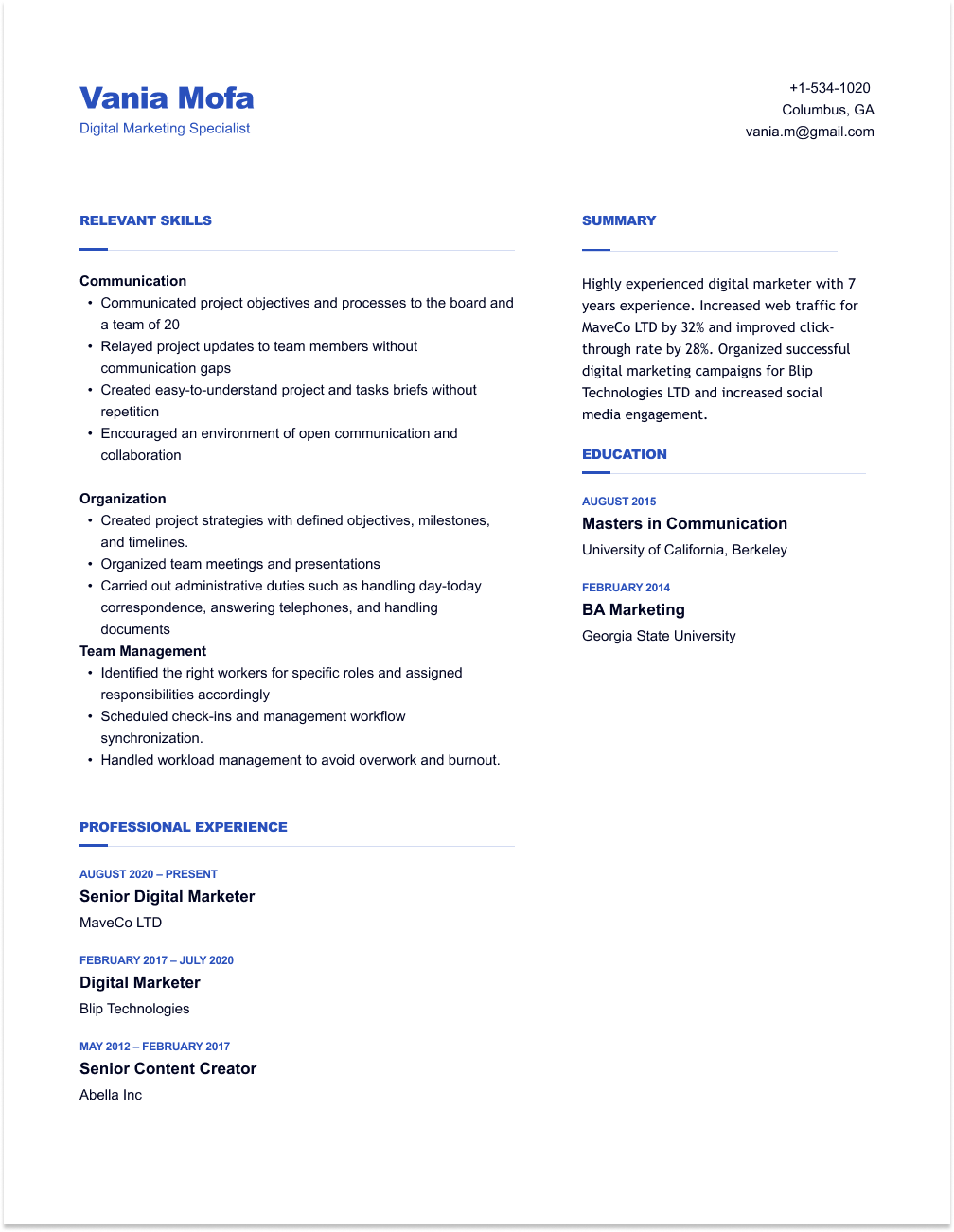 Combination Resume
The combination resume is ideal for highly-skilled professionals with rich employment histories. It's also called a hybrid resume because it combines the prominent features of the chronological and functional resume layouts.
The skills section can be grouped into different categories. You can then use bullet points to explain how you leveraged those skills at previous jobs.
The experience section starts with your most recent employment history down to your earliest.
You have to be creative about how you use a combination resume. That's because it contains more information than other resume layouts. It's the right choice for those who have gathered lots of hard and soft skills while working in a particular industry for many years.
Features of a combination resume
A combination resume places emphasis and shows details of specific skills. It also records a professional's work experience and progress.
Skills and experience come before educational background. Other qualifications, such as personal projects and certifications, can be included.
Should you use a combination resume?
You should use this resume if you:
Have a well-developed skillset
Are a highly skilled and experienced professional at the peak of their career
Want to move on to a new industry
You should avoid this layout if you:
Have little to no work experience
Are fresh out of school as a graduate
Want to showcase your educational background
Lack the relevant skillset outlined by the employer
Example of combination resume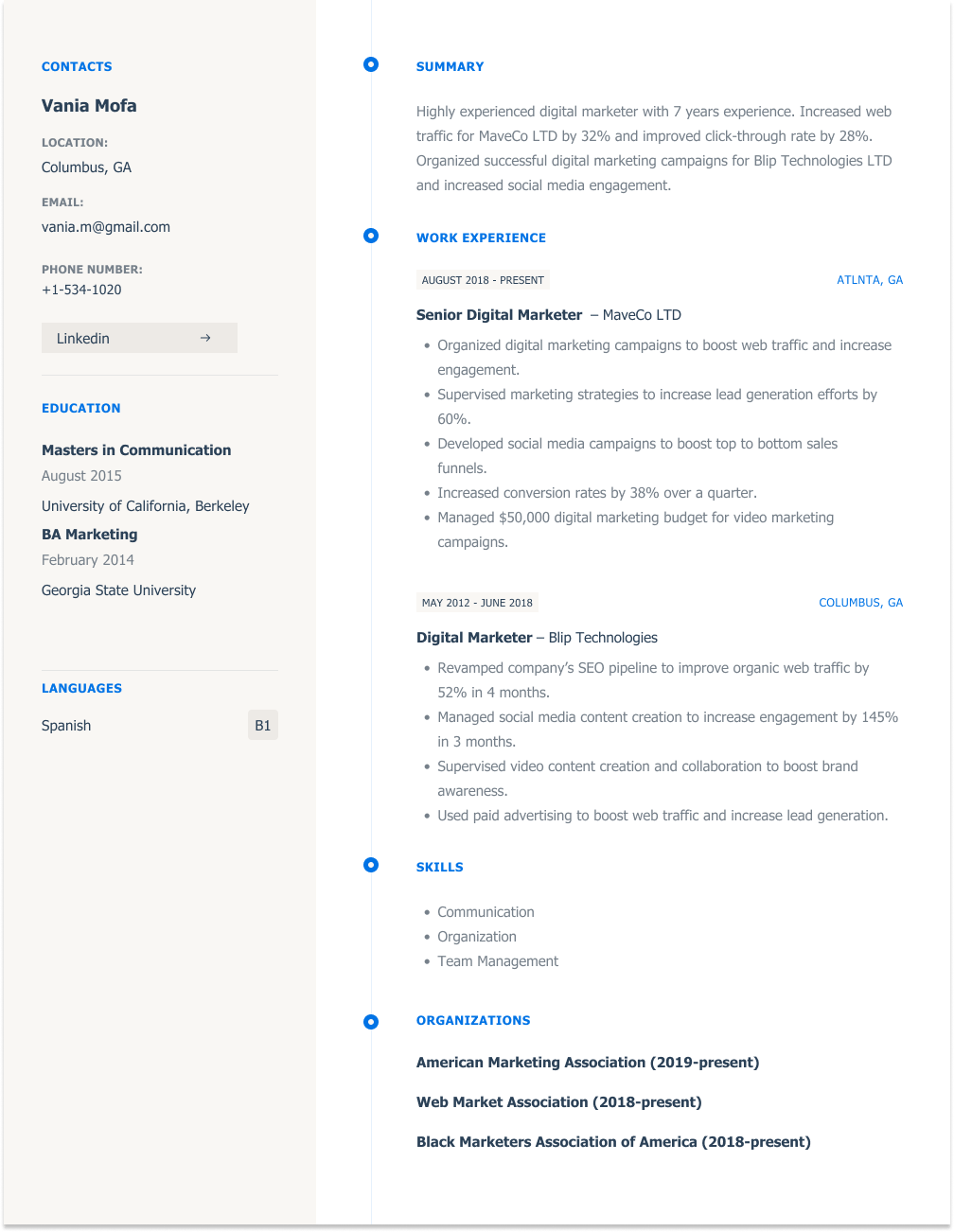 How to Choose the Best Resume Layouts
The best resume format for you depends on where you are professionally, the job you're applying for, and what the recruiter wants.
For example, if you're at the peak of your career and want to switch to a senior role in a different industry, you have to go for a combination resume.
On the other hand, you should pick the chronological resume if you're an entry-level applicant or are applying for a senior role in a similar field. The chronological resume is also the right choice to show the recruiter where you are professionally.
Lastly, you have to go for the functional or skill-based resume if you want to highlight your skills, don't have a rich employment history, or have multiple gaps in your professional experience timeline.
Conclusion
In the end, you want to make it easy for the recruiter to find what they are looking for in your resume. Make sure you follow the basic principles of creating your layout and structuring your resume. Then you can use those principles to execute the type of resume you want to use.