When it comes to adding hobbies and interests to your resume, there are two distinct schools of thought. Some people are firmly against mixing business with pleasure and believe that your resume should only include professional information. Others think that there are instances when adding hobbies and interests on a resume can actually strengthen your application.
The reasoning behind adding hobbies and interests on a resume is simple. Resumes tend to be very "dry" and adding a bit of personal information can help you show your "human" side and reveal more of who you are.
Today, we are going with the second school of thought. And if you decide to add the hobbies and interests section to your resume, here's what you should take into account.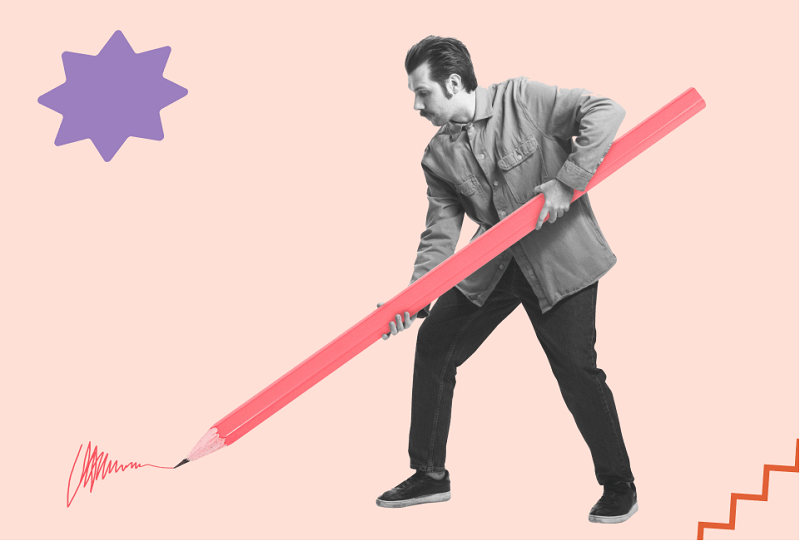 How to choose what hobbies and interests to include in a resume?
So, how do you choose the hobbies and interests that should make it on your resume?
To give the right answer to this question, we first need to establish that the hobbies and interests section on a resume is not just a space filler — it serves a purpose. Your hobbies and interests can reveal a lot about you as a job candidate. This is why it's essential to put in some thought into what you choose to include on your resume.
What you may want to include as hobbies and interests on a resume directly depends on what type of job you are applying for and what specific qualities you want to highlight. However, if you are looking for some general examples of hobbies and interests that you can add to a resume, here they are.
Here are some good interests to put on a resume:
Sports (jogging, team sports, yoga, etc.). Including sports as an interest on your resume can show that you are disciplined, goal driven and lead a healthy lifestyle.
Traveling. This can show your potential employer that you are worldly, adventurous and open-minded.
Learning foreign languages. This probably needs little explanation, but speaking a foreign language is always a plus when looking for a job.
Public speaking. This will show the hiring manager that you are a potentially good communicator and have confidence in social situations.
Blogging. This is another useful hobby to include on your resume as it speaks to your written communication skills. And most employers value writing proficiency. According to LiveAbout.com, there are actually several ways in which blogging can benefit your career.
Volunteering. If you have volunteering experience, it can often count as work experience. This means you know how to work in a team, achieve common goals, organize the working process — and that you are a proactive member of society. In fact, according to Monster.com, collaboration is one of the top skills valued by hiring managers.
Club membership. Just like volunteering, being a member of a club is a favorable thing to include on a resume. It shows that you have interests outside of work and are a team player.
List of good hobbies and interests
Here are more examples of interests and hobbies that you can include on your resume:
Team sports (show that you are a good team player and comfortable working with others):
Basketball
Football
Volleyball
Rugby
Handball
Lacrosse
Hockey
Baseball
Cricket,
Etc.
Individual sports (show that you are disciplined, independent and committed):
Marathon running/jogging
Yoga
Tennis
Martial arts
Swimming
Skiing
Surfing
Golf
Snowboarding,
Etc.
Creative hobbies (emphasize creativity, mindfulness and imagination):
Chess
Music
Writing
Reading
Drawing
Design
Photography
Blogging
Meditation,
Etc.
Social hobbies (showcase your communication and collaboration skills):
Board games
Public speaking
Language classes
Club membership
Volunteering
Dancing
Debate
Learning about other cultures,
Etc.
Related: How To Use Your People Person Skills to Land a Dream Job
Job specific hobbies and interests (these could be particularly helpful when applying for a specific position)
Gaming
Coding
Learning foreign languages
Video editing
Programming
On-going education,
Etc.
Now that we've covered what type of interests are good to include on a resume, let's take a look at what you shouldn't add to your resume hobbies section.
Here are some things you shouldn't include in your resume:
Controversial interests. Just like you should avoid certain topics at a dinner party, it's best not to mention certain interests on a resume. The biggest topics to avoid would be politics and religion.
Hobbies that are irrelevant to the job you are applying for. Once again, make sure that every interest you add to your resume "adds value" and makes you a stronger candidate in the eyes of your employer.
Interests that may interfere with your work. If you have hobbies that may be considered too risky or time-consuming, it may be best to leave them off your resume. For instance, if you are into extreme sports, your employer may think that this would cause a lot of work absences or make you less reliable.
Lies. It's not a good idea to invent hobbies and interests that might make you a more interesting candidate but are simply untrue. These things generally tend to come out — and you may end up feeling nervous and unfocused as you try to keep up the lie.
Where do I put hobbies and interests on my resume?
Hobbies and interests are an optional section on your resume. This means that you can decide whether you want to add this particular section or not. What's more, you can also edit this section of your resume depending on the job you are applying for.
Generally, the hobbies and interests section should come at the end of your resume, after the Education section. You can also put your hobbies and interests under Additional Information at the end of your resume.
Why are hobbies and interests important on a resume?
There are a number of reasons why you may want to include hobbies and interests on your resume. Your hobbies and interests section can set you apart from the competition and also let some of your personality shine through the otherwise dry and fact-based resume page. The key here would be to include personal interests that showcase your best qualities or make you a more desirable candidate for this particular job.
For instance, saying that you like to watch Netflix shows will probably provide very little additional information about you to your employer — especially if you are applying for a position of a sales manager. On the other hand, mentioning that you are into team sports can hint at your leadership and team playing abilities.
Let's see when it is generally a good idea to add hobbies and interests on a resume.
Limited work experience. If you are applying for your first job, you can use the hobbies and interests section to fill in the gaps in your resume. You can use this section to show your potential employer that you are active, curious, easy-going, resourceful and more.
Your hobbies are relevant to the role. If you have hobbies that are relevant to the position you are applying for, it's a good idea to include them on your resume. For instance, if you like to work on developing video games in your free time, this would definitely be a welcome skill in a lot of technical positions. Or, if you are a part of a public speaking club, this may look good on a teacher's resume.
You are using the functional resume format. There are three main resume formats: the reverse-chronological format, the functional format and the combination format. Learn more about each resume format here. If you go with the functional resume format, you will be focusing on the skills relevant to the position you are applying for. In this case, hobbies and interests may fit very well with your resume as they can complement your skills and abilities relevant to the job you want to get. You can also use this section to emphasize your expertise and passion for the job.
There is extra room on your resume. A resume should be between one and two pages, depending on how much experience you have. If you feel like there is a lot of empty space left in your resume, you may want to add the hobbies and interests section to have it look more complete.
Related: Detail-Oriented: What It Means and Why It Matters
Hobbies and interests on resume: key takeaways
When properly planned and well written, the hobbies and interest section on your resume can be a powerful tool. It can help you stand out as a candidate and help highlight valuable skills and experience.
The key thing to keep in mind is that each hobby and interest you include should add value to your application and highlight a useful quality that you possess.
As we've mentioned above, the best categories of hobbies to add to your resume include the following:
Team sports
Creative hobbies (writing, design, etc.)
Club membership
Volunteering, mentoring, coaching
Traveling
Programming/coding
Meditation and mindfulness
Make sure to go over the hobbies you've included in your resume and ask yourself whether each item you've added makes you a better job candidate. If it doesn't, consider removing it from your application.