No matter how impressive your career path is, you are unlikely to land a job if your resume does not let your skills shine through.
In this article, you will find tips on how many skills to put on a resume, what skills to include, and how to list them. Work your way down and learn how to make your resume stand out from the competition.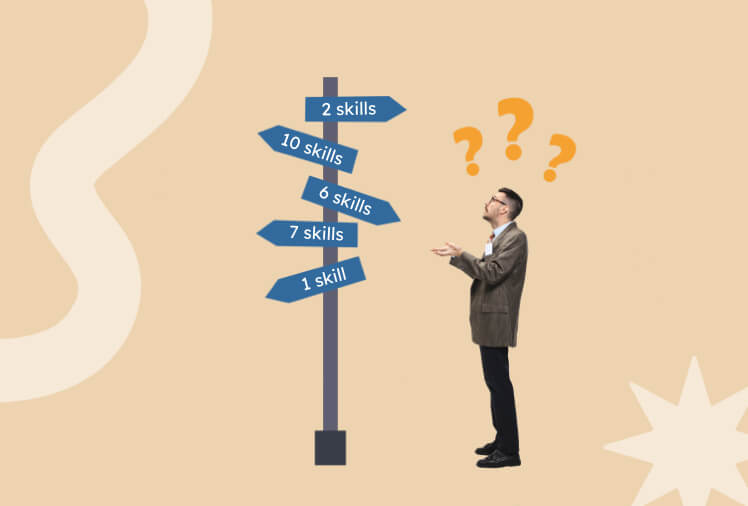 How Many Skills to List on Your Resume
Your skills are your abilities, competencies and knowledge to do something. They show that you are capable of performing certain tasks, and they go a long way towards attracting recruiters and hiring managers and helping you get interview invites and job offers. In fact, according to the University of Southern California, an employee with the right combination of hard and soft skills is exactly what employers are looking for.
Unfortunately, including skills on your resume is not a walk in the park. Your resume is an extremely impactful yet pretty concise document: for instance, Coursera states that most resumes are no longer than one full page and recommends you to stick to this rule. Unfortunately, this means there is a limited amount of space for you to demonstrate that you are a valuable hire, and if you want to write a winning resume, you need to add the right number of skills so as to stand out in a sea of candidates and avoid selling yourself short.
We recommend you to add between 5 and 10 skills when crafting the Skills section of your resume. While some applicants believe that the more the merrier, this strategy is certainly not your best bet.
Here is why you should avoid overdoing it with your Skills section:
On average, recruiters spend six to seven seconds on a resume, so a cluttered resume will most likely repel the reader and ruin your chances of getting an interview invite.
Only relevant skills should be added. Recruiters look for specific keywords in your skills, so make sure to carefully scan the description of the position you are applying for and add only those skills that show you are the best fit for the advertised job.
Your skills should be scattered across your resume, so there is no need to include them all in the Skills section. Fill it with your most important skills, and your resume introduction and work experience section can accommodate the rest.
The Top 10 Skills for a Resume
Your resume should make a compelling read, and in order to achieve this, you need to include skills that are in high demand in today's job market. Below you will find a list of the top 10 skills to put on a resume if you want to race ahead with your job search:
Computer Skills
Computer skills are knowledge and abilities that allow you to utilize computer-related technology. LinkedIn says they are the most sought-after hard skill in the market, which means that a tech-savvy candidate will benefit a lot from reflecting their computer proficiency on their resume. From software development to blockchain to cloud computing, computer skills hold much appeal to employers because they lead to tangible results, which your resume should indicate. Here are a few examples you may find useful when describing your computer skills:
Created 10 reusable components for the company's UI library, which saved 150 hours of development time.
Added 8 new features to a healthcare app with 50,000+ monthly active users, improving the customer conversion rate by 25 percent.
Communication Skills
Effective communication plays a crucial role in the workplace. For instance, LinkedIn says that teams that are proficient in communication can increase productivity by a whopping 25 percent. This is why a good communicator who can share information appropriately is a valuable asset to any team, and recruiters scan resumes for the corresponding skills and related outcomes. Naturally, if you have solid communication skills, we recommend you indicate that on your resume. Here are some examples for you:
Was a key contact for conflict resolution and customer advocacy, reducing customer complaints by 70 percent.
Organized monthly meetings with local community leaders and thereby raised funds for more than 40 city initiatives.
Teamwork
75% of employees consider teamwork and collaboration as extremely important in the workplace, so it is definitely a good idea to indicate that you are an excellent team player on your resume. Working as part of a team is all about reaching common goals and dealing with problems efficiently and effectively through collaboration with other people, so make sure to boost your resume with specific examples of teamwork success, such as the following ones:
Developed new sales tactics as part of a team, increasing bookings by 40% in two months.
Was engaged in a cross-departmental project as part of a cross-functional team building a predictive model to determine 2,000+ customers at risk of churning.
Leadership
Leaders help businesses thrive, and employers know that since 83% of them believe that leadership should be cultivated at all corporate levels. Having leadership skills means you can steer people towards common goals, oversee processes and guide projects, and showing that on your resume is a sure way to attract hiring managers, especially if you underpin your leadership talent by quantitative accomplishments. You can share something like this for your resume to look more compelling:
Supervised a team of 12+ developers to implement 10 proprietary software architectures.
Coordinated 4 departments to create innovative content strategies, boosting online engagement by 66 percent in two weeks.
Flexibility
A flexible employee finds it easy to operate and consistently reach goals in dynamic environments. This means that such a worker knows how to deal with change and adversity, manage stress and tackle all the challenges thrown at them. So, there is little wonder adaptability is a hot skill these days: according to McKinsey's research, workers who can continually adapt to new circumstances will reap the most benefits from their careers. You can demonstrate that you are a flexible candidate by using relevant examples in your resume:
Aligned my department's marketing strategy to the company's updated business goals by setting targets for more than 30 employees.
Executed 50+ successful marketing campaigns for 15 product lines in a dynamic market.
Problem Solving
To succeed in the workplace, you need to know how to overcome various kinds of obstacles and tackle challenges effectively and efficiently, and that means you are supposed to be good at solving problems. Employers value such competencies a lot: in fact, 83 percent of them want to see problem-solving skills on resumes. Thus, if you are willing to get hired quickly, make sure to provide relevant examples, which could be something like this:
Revamped the navigation menus of the company's websites, reducing the number of misdirected customer requests by 60%.
Developed a strategy to reduce return rates by 20%, which resulted in $15k monthly cost savings.
Creativity
Innovation drives our world, and it is fueled by creativity. Creative workers can skyrocket businesses by inventing things and producing original ideas, and employers know that since creativity is at the top of the list of the most sought-after skills in the world. For your resume to gain an edge on the competition, try sharing something like this to illuminate your creative talent:
Was selected among 10 other talented architects to restore 5 medieval monuments for UNESCO.
Had 30+ works published in prestigious design magazines.
Initiative
Initiative is all about being proactive both at work and in life. Since enthusiastic employees lead to 21% greater profitability, recruiters hunt for them, which is why adding examples showing that you are an engaged and committed worker can be an excellent way to strengthen your resume. Here are some examples you may find helpful:
Suggested 10 modifications to existing web designs, increasing customer satisfaction by 60%.
Identified opportunities for improvement by analyzing key metrics related to monetization and suggested a new donation campaign, which resulted in 26,000 new registrations.
Multitasking
Multitasking means you can approach more than one task at a time, and this talent is king these days: 36% of businesses look for multitasking abilities when sifting through mountains of resumes. Since juggling responsibilities is often an inevitable reality at work, showing that you can do it well via eye-catching examples on your resume could prove pretty useful when on a job hunt. Here are a few examples how you can do that:
Answered 90+ calls and greeted 50+ visitors daily in a busy lobby.
Simultaneously supervised four marketing projects at various stages of completion, ensuring all the targets were met in time.
Data Analysis
Our world runs on data, and many jobs require you to know your way around it. With lucrative industries like banking, telecom and insurance relying heavily on data-driven decision-making, Python, SQL or Excel proficiency can significantly increase your chances of getting hired. If you want to fly high above the competition when searching for a new job, consider adding your data analysis skills to your resume. Below you will find a few relevant examples:
Designed a regression model to help the SEO department make a data-driven decision on what keywords to target, which resulted in a 70% lift in website visitors.
Evaluated trends in sales performance and suggested a marketing mix model leading to a lift in ROI in 7 basis points.
Hard Skills Vs Soft Skills
To prepare a convincing resume, you need to distinguish between hard and soft skills. While both are extremely important, they are different in nature and are approached differently by both job seekers and employers.
From programming to accounting to copywriting, hard skills are industry-specific knowledge and capabilities that you acquire through learning and on-the-job experience, so it will take you a certain amount of time and effort to master them. Hard skills are quantifiable, which means you can prove you have them using numbers and data. Here is how hard skills can be described on a resume:
Redesigned delivery routes for long distances, resulting in a 7% decrease in travel time.
Developed 30+ new features for the company's Android mobile app, increasing the user base by 30% in 3 weeks.
While hard skills describe specific things you can do, soft skills are more about how you perform tasks. They are your personal traits and behaviors that define how you get things done. Soft skills are not job-specific and can be inherent, yet in most cases, you can develop important soft skills through learning and practice. For instance, you can become better at time management, critical thinking and communication by attending webinars, taking courses and gaining field experience.
While soft skills are generally more difficult to measure due to their behavioral nature, you still need to focus on their tangible outcomeu6s when crafting a resume. You can do that by providing examples like the ones below:
Engaged with clients to provide customized, customer-centered visits, which resulted in a 10% increase in revenue.
Handled 200+ email and phone complaints per day.
According to Forbes, in today's job market, soft skills are rapidly gaining traction among employers. Coursera supports this claim by saying that soft skills are a crucial factor in hiring decisions. LinkedIn adds that 89% of recruiters say that lack of soft skills is a typical trait of bad hires, which, by the way, cost companies $15,000 per hire on average.
All in all, soft skills are of utmost importance these days, yet you should not forget that hard skills are what lets companies and organizations understand that you are competent in your field. No matter how brilliant at time management or conflict resolution you are, you won't be able to secure a position with a company if your resume fails to highlight job-related knowledge, so when it comes to the hard-vs-soft-skills dilemma, you need to choose both and strike the right balance. Depending on your particular area of expertise and professional experience, you could add somewhere between 5-7 hard skills and 3-4 relevant soft skills to your resume.
What Are Transferable Skills?
Some skills can be effectively applied across industries, work environments, and career levels, which is why they are called "transferable" or "portable". You can seamlessly transfer them from one position to another, and they will remain relevant even after a radical career switch.
Transferable skills are usually soft skills, and individuals mostly develop them during the course of work or outside the workplace – at university, via community projects or through volunteering experience. Teamwork, networking, attention to detail, and problem solving are good examples here, and your resume is expected to showcase skills like these since their absence will cast doubt on your ability to adapt to new circumstances. You could share examples like the ones below in your resume to convince recruiters that you can bring your expertise to any table:
Planned 100+ events, securing over 500 investor relationships.
Supervised a team of 6 full-time employees and 11 contractors.
How to List Skills on Your Resume
While it is essential to list the right mix of skills on your resume, how you do that also matters when it comes to a competitive job search. Below you will find a few valuable tips on how to make your skill set shine:
Tailor your resume to each job description
Although some individuals prefer universal solutions, a one-size-fits-all resume is a no-go when searching for a job in 2023. The thing is, today initial resume reviews are usually done by dedicated programs called applicant tracking systems (ATS) before hiring managers get involved in the process, so if the skills in your resume do not match the skills in a specific job listing, chances are the corresponding ATS will leave your job application out. To avoid this kind of drama, make sure to carefully check job descriptions before submitting your resume. They have all the keywords you need to describe your abilities and talents so that your resume reaches the right person.
Describe your skills' impact
When reading your resume, recruiters want to see results and progress. To impress them, your resume should scream value, and you need to focus on connecting all the dots and presenting yourself as a great asset to your potential team. You can easily do that by matching your skills with your achievements. This way, you can show that your successes are directly related to your skill set, which adds weight to it in employers' eyes. Add numbers, include data and stats, mention direct outcomes, and list relevant credentials and promotions to make your resume as compelling as possible.
Place your skills properly
In general, there are three sections where you can put your skills on a resume:
Skills
Work experience
Summary
The first option is where your most relevant skills should appear. The best strategy is to focus more on your hard skills here as your soft skills can easily integrate into other parts of your resume. We suggest a ratio of 2:1 here, with your hard skills prevailing.
The work experience section is also an excellent place to highlight your skills. You can list your main accomplishments here, and they should reflect how both your hard and soft skills help you reach goals and even go above and beyond.
The summary is an important section where your top skills should shine. It is no longer than a few lines, but it is the first thing the reader sees, so use this space wisely as it can make or break your job hunt.
Skills to Keep Off Your Resume (And Why)
When it comes to resume building, you should focus on quality rather than quantity. An ideal resume is just between 475 to 600 words, so there is literally no room for wordiness or ambiguity. Unfortunately, certain types of skills seem less impressive to companies than you might think, and while you might disagree with some of our picks, it would be wise not to risk repelling potential employers with inappropriate skill mentions:
Basic computer skills, like Gmail, Google Chrome or Microsoft Word (since everyone expects you to be capable of word processing, sending emails, browsing, etc.)
A language you only have basic understanding of
Unprofessional social media use (like being capable of posting photos on Instagram), especially if it's unrelated to the position you are trying to secure
Exaggerations and lies (since any recruiter will easily catch you red-handed and prevent you from moving forward in the hiring process)
Outdated tech and competencies (like old versions of software programs, coding languages no longer in use, etc.)
Skills you cannot prove with relevant examples, accomplishments or certifications
Irrelevant skills or joke skills (since recruiters don't like to waste their time on information that is not related to the hiring process)
Some of the skills above are a must-have these days and should not be listed separately, while others add no value to your candidacy. Since they will only eat into your resume's space, they should be left on the cutting room floor.
Frequently Asked Questions
What Skills Should I List If I Have No Work Experience?
Writing your first resume is an important step in your career. There is no need to worry if you have no previous work experience: you can land your first job by showcasing skills, both hard and soft, that you obtained while at school or university, through volunteering or in personal life.
Should I List All Skills on My Resume?
You should focus on your most prominent skills. Your resume is a concise document, so there is no space for listing all your skills. Besides, you should add only those skills that are relevant to the position you are applying for. If you are wondering how many skills to put on a resume, we recommend you to list no more than 10 skills in the Skills section.
What Are the 7 Elements of a Skills Resume?
A skills-based resume is a resume that focuses on your skills rather than your work experience. Also known as a functional resume, it is an excellent option for career switchers and entry-level candidates and when making unusual career moves.
While each career situation is unique and may require specific resume adjustments, there are 7 key elements of a skills-based resume, and you can use them to demonstrate your skill set:
Personal information
Resume objective
Skills
Employment history
Education
Additional skills and volunteering experience
Awards and certifications
Conclusion
When it comes to adding skills to a resume, some candidates prefer the "throw spaghetti against the wall and see what sticks" approach. This tactic is a recipe for disaster as hiring managers hate being bombarded with irrelevant skills when navigating a resume. Besides, you have quite a small space to cram your skills into. We hope that after reading this guide, you won't fall into this trap and will succeed in creating a job-winning resume. Remember, all you need is to select your most prominent skills, add the right combination of them based on the corresponding job description, and provide compelling examples supporting your claims.