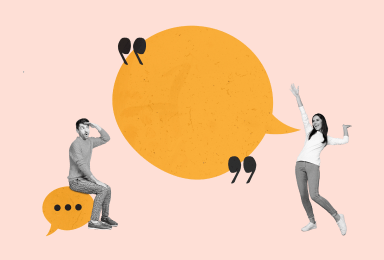 A professional background section on your resume can be a powerful tool to reel in the hiring team. If written right, it will highlight your key skills and achievements and leave the hiring manager wanting more.
Below, we look into some best practices for writing a professional summary on your resume.
What is a professional background on a resume?
A professional background is a short summary of your experience at previous companies that is usually placed at the top of your resume. The purpose of the professional background section on a resume is to show your potential employer that you are the best candidate for the job because your previous experience matches the demands of the new position.
How Far Back Should a Resume Go in 2022?
Why should I include professional background on my resume?
We strongly suggest that you include a professional background in your resume. Here's why.
Hiring managers in big companies have to go through hundreds of resumes. This means that they rarely have the time to go over each application in detail. A professional background section at the tip of your resume will make the hiring manager's job much easier and will gain your points.
It can also be a great eye catcher. A professional background is basically the gist of what makes you good for the job. Having it at the top of your resume is a great way to get the hiring manager to notice your application among others and go over it in more detail.
It's also a way to show your employer that you are organized, are good at presenting information and explaining your value.
What should I include in a professional background?
The main purpose of a professional background on your resume is to explain what makes you the best candidate for the job. You can showcase your competency by talking about the responsibilities you had previously and the skills you've acquired in the process. Make sure that the information you include here is relevant to the position you are applying for.
A good trick here is to go back to the job offer and pick out the keywords that are emphasized in the job description. You can then use these same keywords when writing your professional background.
This trick will also work if the hiring manager of the company you are applying to is using an applicant tracking system, or ATS. These tools are designed to scan applicant resumes for specific keywords, set by the hiring manager.
Here are the details one would generally include the professional background section: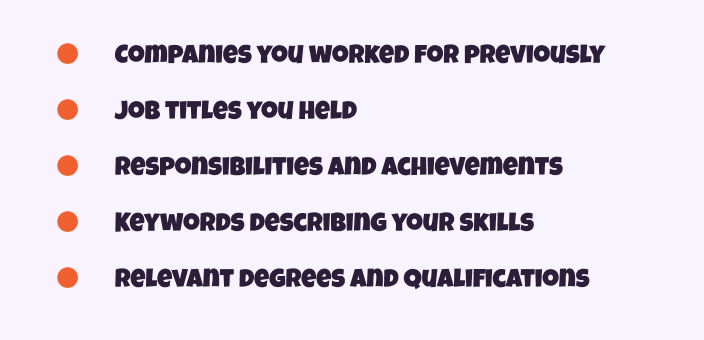 Where should I put professional background on my resume?
The best place to put your professional background would be at the top of your resume. This is where the hiring manager will see it first. This will give them a good introduction to the rest of your resume and, hopefully, get them interested in going over your application in detail.
Another great place to have your professional background is your LinkedIn account. Most recruiters will check your LinkedIn page if they are interested in your application. You can add the information on your professional background into the About section on your LinkedIn. If you have a professional website, it's also a good place for your professional background.
How to structure my professional background section?
Here are a few quick pointers for composing your professional background section:
Start with a draft
First, prepare a draft where you list your most notable professional experience. Consider your responsibilities, accomplishments, the skills you have gained along the way and more. If you can, add quantifiable evidence of your professional success — the number of projects you have completed, client accounts you've won, positive feedback you've received, etc.
Highlight key details
Now that you have your most significant work history in front of you, trim it all down to only those details that will show your employer that you are the best choice for this job. Make sure the experience and skills you list are relevant to the job you hope to get.
What Is Relevant Experience? Definition and Efficient Examples.
Keep it brief
Focus on the relevance and quality of the information you include instead of quantity. It's best if your professional background summary contains two to three lines of truly relevant experience rather than ten lines of general work history for the hiring manager to sift through.
Tell a story
It's best if the professional background section on your resume isn't just a collection of facts — but rather tells a story of your professional growth that has led you to apply for this position. Think about the best way to arrange the information in this section: it may be chronological (where you started and where you are now), skill-based (your journey of developing the necessary qualifications in your field), accomplishment-based (highlighting your key achievements at work) — and so on. If your professional description tells a story, it will do a much better job of presenting your value as an employee.
Professional background examples
Here are some professional background summaries examples. Go over them to get some ideas for writing your own professional summary.
Sales clerk
Determined sales professional with over 5 years of experience. Eager to help XYZ Corp in boosting its sales figures via outstanding customer loyalty-building and people skills. Brought in over 20 new accounts in my previous sales position i creasing annual sales volume by 20%.
Engineer
Detail-oriented industrial engineer and project manager with over 7 years of experience and a passion for finding solutions to complex product designs problems. Seeking to use my skills and proven project am whenever ability to improve the quality, cost and metrics of new product launches.
Teacher
Dedicated English language teacher with over 6 years of experience in creating tailored curriculum for corporate language courses. Prepared over 100 students for international language courses and achieved a 98% success rate.

Eager to join Smart Consulting and use my extensive ESL experience and unique teaching methodology to design and deliver effective language training courses.
How to Write a Professional Background for a Resume: summary
So, let's sum up.
You should include a professional background section in your resume to give the hiring manager a good idea of who you are professionally and pique their interest.
Keep your professional background short and to the point. Include only skills and experience that are most relevant to the job you are applying for.
Try to include keywords from the job description when describing your professional background. This will not only catch the eye of the hiring manager but will also place your resume on the good side of ATS (applicant tracking systems)
Learn more about crafting an efficient job application: How to List Educational Background on a Resume in 2022