"Sell me this pen" is a question that is commonly asked during interviews, especially for sales positions. When asked, too many of us immediately assume that the interviewer is up to no good. "Maybe they already have a candidate and just want to get rid of everybody else?" No. This is rarely the case.
Sell Me This Pen is a valid (and by now, a classic) question that interviewers enjoy asking. For one, interviewers are always in the market to learn funny responses to the question. But more importantly, how you answer the question says a lot about you. So, instead of the interviewer banking on your words about your soft skills, unmatched intelligence, and longer-than-the-Nile list of past achievements, they simply ask you to sell them a pen.
The question became a sales classic because of the movie, Wolf of Wall Street. In the movie, Jordan Belfort (played by Leonardo DiCaprio) asks his friend to sell him a pen.
The friend goes, "Write your name down on that napkin."
Belfort responds, "I don't have a pen." To which the friend says, "Exactly, supply and demand."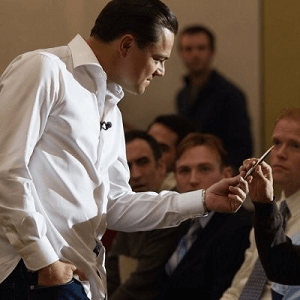 No, giving "Supply and demand" as the reason to buy a pen will not win you any good points in your sales interview. What will?
In this article, we will first examine the tips on the best reactions to the question. Next, we will touch on what you can say to your interviewer to level the playing field. Then, we will highlight what NOT to say, unless you want to destroy the playing field. Lastly, we will point out tips on how to win the interview for sure.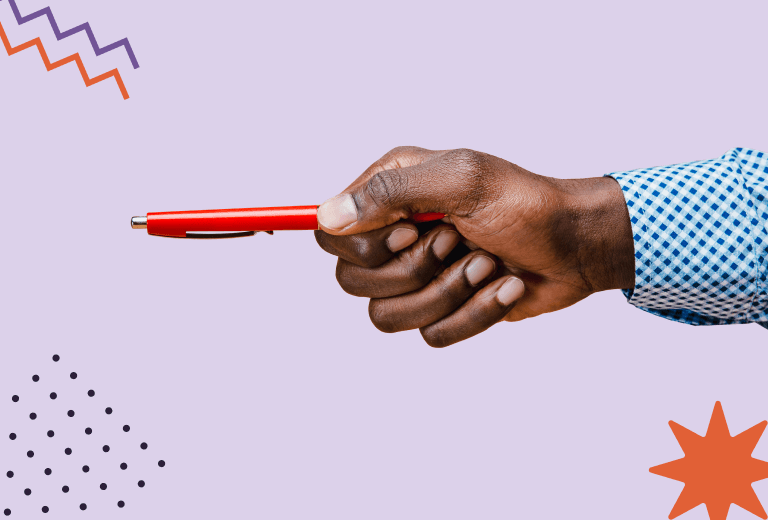 Tips on How to React to the "Sell me this pen" Question
1. Say Something
Over the years, different people have reacted to Sell me this pen differently. One of the more common of these reactions is confusion followed by an awkward silence. Then comes the clumsy attempt to describe the pen. This is not a good first impression anywhere, let alone during an interview. You can use silence to win good points during interviews, but not like this.
The first thing (you might say the only thing) to do is respond. Looking confused or scratching your head is not a good look. Even if you are mulling the question, say something.
Alright. Okay. Give me a few seconds to organize my thoughts.
That tells the interviewer that you have a strong mind that can bear the real-life pressures of unexpected questions.
2. Embrace the Question Confidently
Having said something in response to your interviewer, the next thing you need to do is embrace the question. Unless you knew about the question beforehand, you would likely be thinking, "This is bad. Do people still use pens? What has a pen got to do with an advertising position?" This is one extreme. Another extreme is jumping up and pointing to the interviewer, "Aha! I got you now." Do not do that.
When an interviewer asks you to sell them a pen, look at them, smile, and say something like:
Oh, got it. At least I don't have to sell lottery tickets, so this is good news.
This is what it means to embrace the question confidently. Then you can ask them questions.
3. Ask Your Own Questions
A good sales deal benefits both sides. You need to find out what the interviewer needs before making any sales offer. So, ask them questions to establish the fact that they need a pen. This helps you establish a foundation upon which you can build your sale.
4. Make the Offer Based on Client Needs
Your offer has to be based on the expressed needs of your interviewer. Do they use pens regularly? Say that the pen is durable. Do they like fancy pens? Say that your pen is elegant.
Present the pen as something other than a must-buy product but as a valuable commodity that fits the interviewer's preferences.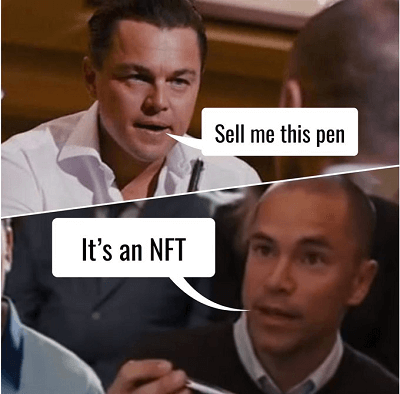 5. In Case of Refusal, Take a Step Back
If the interviewer refuses to play, take a step back. Make an offer that they cannot refuse. Offer to loan them the pen for a week or something along this line. Again, remain confident and attentive to your interviewer.
6. In Case of Success, Close the Deal
If you manage to convince your interviewer to buy the pen, don't forget to close the deal. Suggest available methods of payment and give them a number to call in case of complaints.
What to Say to the 'Sell me this pen' Interview Question
Let us delve a bit deeper into what exactly to consider and say in response to the Sell Me This Pen question.
1. So, How Often Do You Use a Pen? (Time Consideration)
When you ask how often the interviewer uses a pen, you are effectively showing care for their perspectives. Let clients understand that you care about their preferences, not that you want to sell a pen by force.
2. Is a Pen an Essential Requirement for Your Daily Life and Work? (Value Point)
Similar to the question about frequency, this question also suggests that you have the interviewer's best interests at heart. But the main goal of the question is to find out how valuable a pen is to them.
Their answer will help you determine the best price to sell the pen for. All of this is hypothetical, but your interviewer may ask why you asked the question later.
So, this point about exhibiting care for potential customers and teasing out their budget range will do.
3. What Kind of Pens Do You Like? (Feature Consideration)
When you ask this question, be specific. Use the phrase "What about…" for size, color, ink color, weight, etc.
4. Budget Consideration
What is your budget for a pen? Would you consider a durable, plain/stylish pen that is customized to your preferences?
From here, you can rattle out the traditional responses, but tie them to the questions you asked. "This brand of pens are very durable, lasting 18 months on average. So, you won't need to replace them after a few signatures. Moreover, the colors of the pens do not wear off, and look complimentary when pegged on a suit."
What NOT to Say to the 'Sell me this pen' Interview Question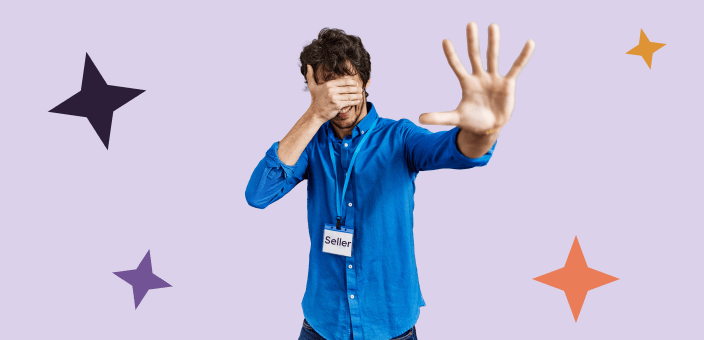 Here are the kinds of responses you must never give to the Sell me this pen question.
Actually, there is no one way to sell a pen. I watched a YouTube video about interview questions like this, and they said… This is wrong on so many levels. The interviewer does not want you to prattle about unnecessary details. It is even better that you flop while selling the pen to them than if that you argue about the many ways one can sell a pen during interviews.
I would pull out a gun and ask you (the interviewer) to buy this pen or die. Clever but also creepy.
Write your name on a napkin. You can't, can you? And that's why you need to buy this pen. Any interviewer that asks you to sell them a pen has probably seen The Wolf of Wall Street. So, if there is a list of unimpressive responses to "Sell me this pen," this will be number one.
I have never seen a better pen than this. You can use it to poke the moon and write "'Dear diary" on the surface of the sun. If the interviewer does not feel disgusted and compelled to throw you out, they deserve a Nobel Peace Prize.
Um, this pen, um… No. Again, having and showing confidence is a very important requirement for winning interviews. If you are not sure how to answer, ask the interviewer to let you organize your thoughts for a few moments.
From "Sell me this pen" to "You Got the Job"
As we noted earlier, the Sell Me This Pen question is one of the most common interview questions. Others include questions about your interest in the job, your future, suitability, or your strengths and weaknesses. How you answer these questions tells the interviewer what they need to know about you. Whatever else they ask you is just icing on the cake. Therefore, you have a chance to get the job on the spot after providing the best Sell me this pen answer.
Here are a few extra tips for winning interviews where you are asked to sell a pen:
Realize the Reasons for the Sales Interview Questions: Understand that interviewers are not paid to trip you and prevent you from getting the job. So, find the reason for the question and relate your responses appropriately.
Respond Confidently.
Take a Bit of Time to Organize Your Thoughts.
If Necessary, Follow All Leads: When the interviewer insists, for example, that someone else buys their pens, ask for permission to speak with the person.
Sell Yourself Even Better: Ultimately, you are selling yourself to the interviewer while you attempt to sell them the pen. So, be deliberate about your questions and responses.
Conclusion
"Sell me this pen" is a common question that appears tricky. But it is not. As long as you tailor your presentation to the needs of the interviewer, they will buy the pen. Even more, you will get the job.