Did you know that 77% of restaurant patrons consider staff friendliness as the most crucial aspect a restaurant should offer, according to a survey by PYMNTS?
As a server, possessing essential skills is key to delivering unforgettable dining experiences. Highlighting these abilities on your resume can significantly boost your chances of landing your dream job in the vibrant hospitality industry.
Let's explore the must-have server skills that will set you apart and leave a lasting impression on customers and employers alike.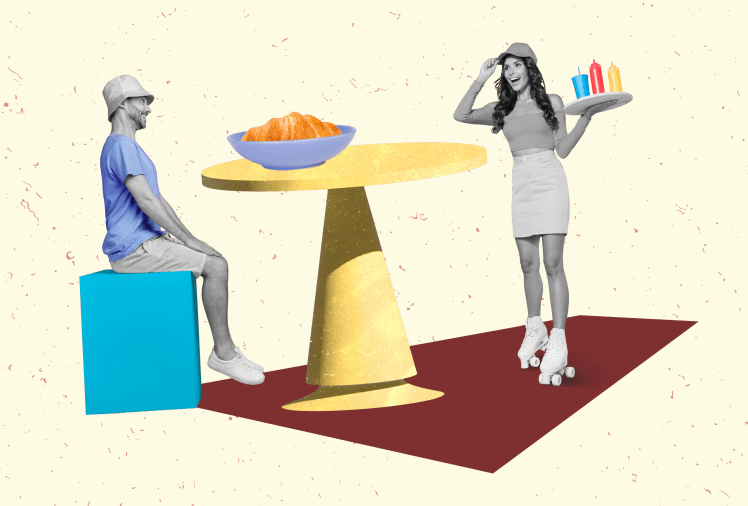 What Are Server Skills?
Server skills are the abilities restaurant servers have that would help them deliver great customer service. These skills include communication, multitasking, menu knowledge, and being friendly and attentive to customers. Servers with strong skills create a positive dining experience and help ensure customer satisfaction.
Jobs That Require Server Skills
The global food service market is projected to grow to $5,423.59 billion by 2030. This will also, most likely, translate into more job opportunities for those in the field. Here are just a few examples of professions where server skills can come in handy:
Restaurant Servers
Banquet Servers
Catering Staff
Flight Attendants
Hotel Staff
Cruise Ship Staff
Event Staff
Cafeteria Servers
Baristas
Food Truck Servers
Top Server Skills for a Resume
(Hard Skills)
1. Menu Knowledge
In-depth understanding of the menu is essential for offering recommendations, answering questions, and upselling additional items.
Demonstrated comprehensive knowledge of the menu, effectively guiding guests through options and promoting daily specials, resulting in increased upselling revenue.
2. POS System Operation
Most food establishments require servers to be proficient in using Point of Sale (POS) systems to process orders, handle payments, and generate receipts.
Proficient in using Aloha POS to process orders, handle payments, and generate receipts accurately and efficiently.
3. Food Safety and Hygiene
Servers must be knowledgeable in food safety protocols and proper handling of food to ensure customer health and safety.
Certified in ServSafe with a thorough understanding of food safety protocols and proper food handling to ensure customer health and satisfaction.
4. Table Setting and Service
Servers must be skilled in setting tables, providing attentive service, and clearing dishes efficiently.
Skillfully set tables with polished silverware, folded napkins, and attractive centerpieces, while providing attentive and courteous service throughout the meal.
5. Beverage Knowledge
Familiarity with various beverages, including wine, cocktails, and specialty drinks enables servers to offer recommendations and serve accurately.
Knowledgeable in a wide range of beverages, including wine varietals, craft beers, and signature cocktails, offering expert recommendations to guests.
6. Cash Handling
You should have experience in handling cash transactions, giving change, and reconciling cash drawers.
Experienced in handling cash transactions, making accurate change, and diligently reconciling cash drawers at the end of each shift.
7. Languages
Fluency in multiple languages can be advantageous to servers, especially in restaurants with diverse international clientele.
Fluent in Spanish and able to engage with Spanish-speaking customers, enhancing the restaurant's appeal to diverse clientele.
8. Special Dietary Knowledge
You should be familiar with handling and accommodating special dietary requirements, such as gluten-free, vegan, or allergy-specific dishes, ensuring a safe and satisfying dining experience for guests with unique dietary needs.
Well-versed in handling special dietary requirements, such as gluten-free, vegan, or allergy-specific dishes, to accommodate diverse guest needs and preferences.
(Soft Skills)
1. Effective Communication
Servers must be capable of articulate and engaging communication with customers and team members to ensure smooth service flow and customer satisfaction.
Interacted with guests warmly and attentively, accurately conveying menu information and specials, resulting in positive customer feedback.
2. Customer Service
Servers must know how to provide exceptional service by anticipating customer needs, resolving issues, and ensuring a pleasant dining experience.
Delivered personalized service to a diverse customer base, receiving consistent praise for attentiveness and prompt problem resolution.
3. Multitasking
Servers often need to efficiently manage multiple tables and tasks while maintaining attention to detail and quality service.
Effectively handled a high volume of tables, prioritizing customer needs and ensuring timely food and beverage delivery during busy shifts.
4. Attention to Detail
Ensuring accuracy in order-taking, serving, and fulfilling customer requests is an essential server skill.
Meticulously recorded and delivered complex orders, resulting in a 98% accuracy rate and positive customer feedback.
5. Teamwork
Servers collaborate with colleagues to deliver seamless service and support each other during busy periods.
Worked cohesively with team members to maintain a smooth service flow, reducing waiting times and ensuring a pleasant dining experience for guests.
6. Problem-Solving
Servers may find themselves in situations when they need to effectively address customer concerns and resolve issues to maintain a positive atmosphere.
"Swiftly resolved customer complaints with empathy and resourcefulness, turning negative experiences into positive ones and receiving commendations from management."
7. Positive Attitude
Throughout the workday, servers must maintain a friendly and approachable demeanor to create a welcoming ambiance for guests.
Greeted guests with a warm smile and positive attitude, setting a welcoming tone and contributing to the restaurant's friendly atmosphere.
8. Time Management
Servers must know how to organize tables and time themselves to optimize service flow and meet customer expectations.
Managed seating rotation and waitlist efficiently, reducing customer wait times by 15% and maximizing table turnover during peak hours.
Including these top server skills with descriptive examples on your resume showcases your ability to excel in the hospitality industry and deliver exceptional customer service.
Where to Put Server Skills on a Resume
Server skills should be prominently featured on your resume to highlight your qualifications for the role. Consider incorporating them in the following sections:
Summary/Objective: Include a brief statement showcasing key server skills to grab the recruiter's attention from the start.
Detail-oriented and customer-focused server with strong communication and multitasking skills, dedicated to delivering exceptional dining experiences.
Work Experience: Integrate server skills within the descriptions of your previous roles to demonstrate how you applied them in a practical setting.
Provided attentive customer service, utilizing effective communication skills to handle diverse customer inquiries and resolve issues promptly.
Demonstrated menu knowledge, recommending daily specials and upselling beverages, contributing to a 15% increase in overall revenue.
Skills Section: Create a dedicated section listing server skills to ensure they catch the eye of hiring managers.
Skills:

Upselling

Table setting

Wine knowledge

POS System Operation

Customer Service
Example of a Server Resume
John Smith

Address: 123 Main Street, City, State ZIP Code

Phone: (555) 555-5555

Email: john.smith@email.com

Skills:

Upselling

Table setting

Wine knowledge

POS System Operation

Customer Service

Summary:

Dedicated and personable server with three years of experience in providing exceptional customer service in fast-paced restaurant settings. Skilled in effective communication, multitasking, and upselling to enhance the overall dining experience. Committed to delivering top-notch service and building strong customer relationships.

Work Experience:

Restaurant XYZ, City, State

Server | May 2020 – Present

– Greet and seat guests, present menus, and take orders accurately and efficiently.

– Demonstrate extensive menu knowledge, providing recommendations and describing daily specials.

– Upsell appetizers, desserts, and specialty drinks, resulting in a 20% increase in upselling revenue.

– Ensure prompt delivery of orders and address customer inquiries and concerns with professionalism.

– Collaborate with the kitchen team to ensure order accuracy and timely food delivery.

– Manage cash transactions and reconcile cash drawers with zero discrepancies on a daily basis.

Café ABC, City, State

Server Assistant | August 2018 – April 2020

– Assisted servers in delivering food and beverages to customers in a high-volume café setting.

– Set and cleared tables promptly, maintaining a clean and organized dining area.

– Ensured smooth communication between the kitchen and serving staff to optimize service flow.

Education

City University, New York, NY

Bachelor of Arts in Hospitality Management | May 2018

Certifications:

ServSafe Food Handler Certification

POS System Operation Training

Languages:

Spanish (Intermediate Proficiency)
How to Improve Server Skills
To enhance your performance in the hospitality industry, consider the following steps:
Stay updated on menu items, daily specials, and beverage offerings. Attend staff training sessions to enhance your knowledge and expertise.
Practice active listening and effective communication with customers to better understand their needs and provide personalized service.
Familiarize yourself with upselling strategies to confidently recommend additional items and increase revenue.
Develop efficient time management skills to prioritize tasks and ensure timely service to customers.
Hone your problem-solving abilities to handle customer complaints or special requests with poise and professionalism.
Collaborate with colleagues to create a cohesive work environment and provide seamless service to guests.
Embrace flexibility and adaptability to handle different customer personalities and adjust to varying service demands.
Welcome customer feedback and use it constructively to improve your service skills.
Conclusion
Including these essential server skills on your resume enhances your chances of standing out in the competitive hospitality industry. Showcase your expertise in communication, customer service, and menu knowledge to demonstrate your value to potential employers. Embrace these skills and embark on a rewarding career.
FAQ
What Should a Server Say on a Resume?
On a server resume, highlight essential details, such as:
Contact Information: Include your name, address, phone number, and email.
Summary/Objective: Showcase your key strengths and experience as a server in a brief statement.
Work Experience: List previous roles, including the name of the restaurant, dates of employment, and specific responsibilities.
Skills: Mention soft skills like communication, customer service, multitasking, menu knowledge, and upselling.
Education: Add relevant educational background and certifications, such as food handling or POS system training.
Languages: Include language proficiency if applicable, especially in multilingual environments.
What to List in the Skills Section of a Resume for a Server?
In the Skills section of a server resume, highlight the following: communication, customer service, multitasking, teamwork, upselling, problem solving, food safety and hygiene, etc.