Here's the thing. As a job seeker, the more your resume stands out, the better your chances of landing the job. And, as research shows, 92 percent of recruiters regard previous work experience as the leading hiring factor. That's why listing your qualifications and work experience in reverse chronological order is the recruiter's favorite approach to resume writing.
Want to know more about what a reverse chronological order resume is and when to use it? Keep reading, and you'll find out.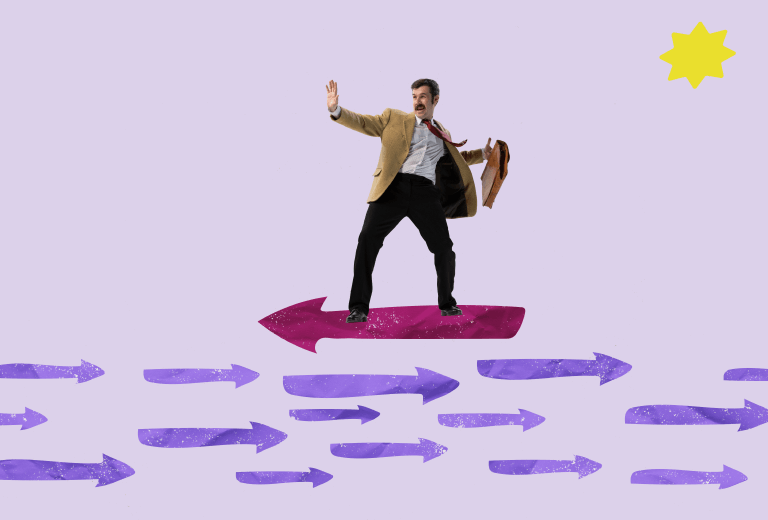 What Is Reverse Chronological Order?
Reverse chronological order describes events starting with the most recent and moves backwards in time. For resumes, it means highlighting your most recent job and qualifications first and listing your first job last.
The same goes for education, where the highest education level comes first followed by other schooling details.
Just like with other resume formats, a reverse chronological order resume follows certain rules. For starters, you must quantify your qualifications and list key achievements. Moreover, you need to be concise and use the best font for a resume for faster readability.
This resume format focuses on your work history and professional achievements and is the standard expected by most employers.
The reverse chronological order resume has three key parts:
Relevancy: The format emphasizes to recruiters the relevance of your experience and job titles to determine if you're a good fit for the advertised position.
Recency: Since it lists your most recent job first, recruiters can easily see what experiences you've gained in the last five years.
Longevity: The format makes it easy for employers to see how long you held previous positions. It shows your ability to commit and stay loyal to a company.
Reverse Chronological Resume Example
Here's a sample resume written in reverse chronological order: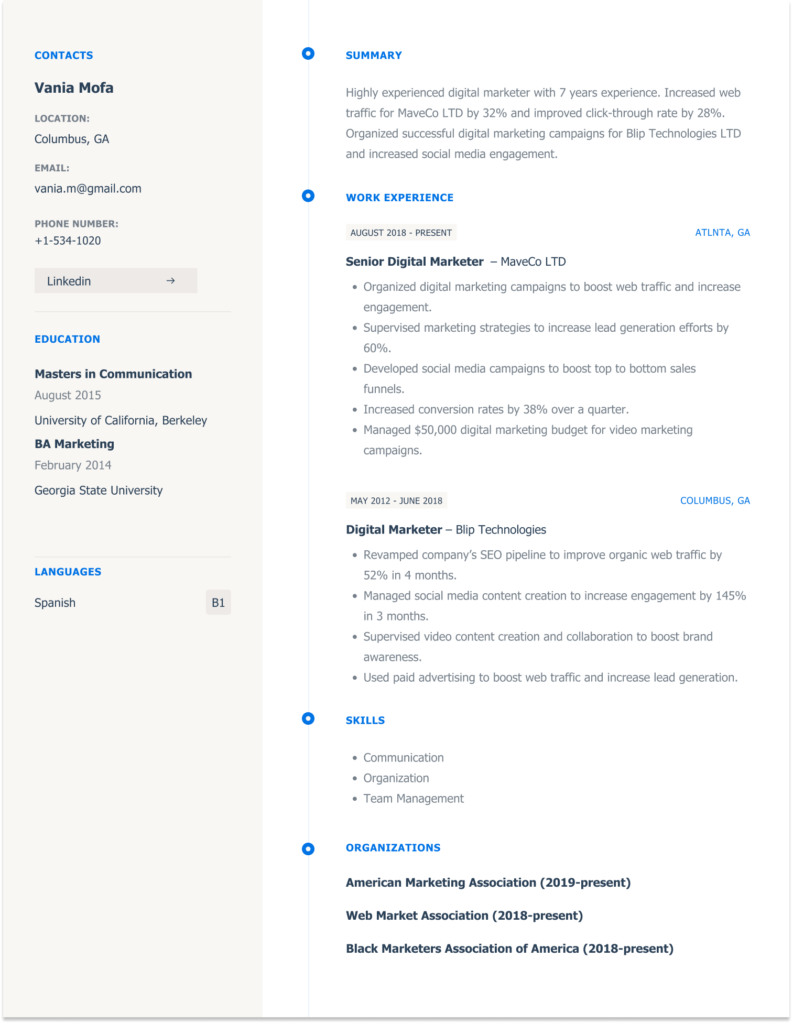 Why Is Reverse Chronological Order the Most Popular Resume Format?
This ordering system is considered the traditional resume format in all industries and professions. For that reason, recruiters and employers are more familiar with it, which makes it easier for them to analyze.
In addition, it seems logical to scan an applicant's details starting with the current or recent job position and education history. For job seekers, the format makes it easy for them to highlight a consistent career path.
This can prove useful for those applying for a similar position as their previous job.
It Underscores Continuity
One of the top advantages of using reverse chronological order is that it links all your employment dates. A recruiter can immediately see a clear view of your career path, neatly organized in succession.
It also provides an effective way for job seekers to demonstrate their professional growth to potential employers.
Easy to Skim
A reverse chronological order requires that you format your resume in a certain order. You must start with your most recent job, followed by the one before it, and so on.
Additionally, you must provide your position, the company's name, and the dates worked for each entry list. It's this order that makes it easy to skim.
Easy for ATSs to Scan
Did you know that over 98 percent of Fortune 500 companies use Applicant Tracking Systems (ATS) in their hiring process? Normally, when there's a corporate job opening, hundreds of applicants submit their resumes to try their luck.
This would make the work of recruiters an uphill task trying to sort through all those applications. ATS scans and scores these resumes to make it easier for recruiters to find those that meet the most important criteria defined in the job offer.
In other words, an applicant who uses this format stands a better chance of being picked compared to those who use a different format.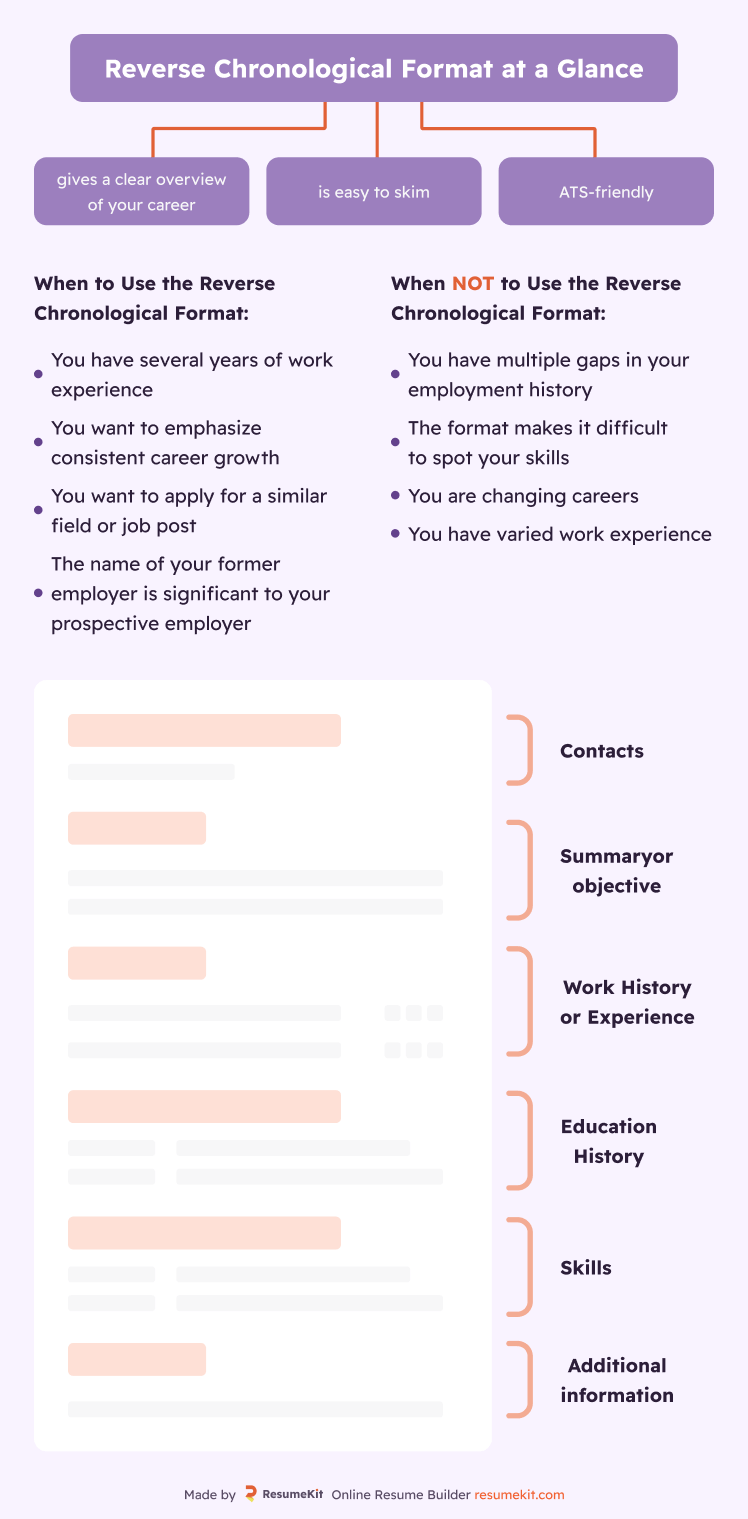 The Best Time to Use a Reverse Chronological Order Resume
The reverse chronological resume is ideal for job seekers who want recruiters to see the most relevant and important details about their work history. On top of that, this resume can be useful when:
You have several years of work experience.
You want to emphasize a consistent career growth and development, preferably in one industry, and each role you've held was more senior than the last.
You want to apply for a similar field or job post to most of your work history.
The name of your former employer is significant to your prospective employer.
When You Shouldn't Use a Reverse Chronological Resume
With that in mind, there are times when a reverse chronological resume isn't the best format to use. Here are instances when its wisest to consider a different type of resume:
If you have multiple gaps in your employment history, the format calls attention to these interludes. Unless you have valid explanations, it's wise to consider either the functional or combined resume formats.
This format makes it difficult to spot your skills unless you've listed them in your most recent job.
The format won't favor you if you want to change careers. The employer will not see the relevance of your qualifications if you're targeting a different position.
Likewise, you'd want to consider other resume formats if you have heavily varied work experience.
Reverse Chronological Resume Writing Tips and Example
Now that you have a clear understanding of what a reverse chronological resume is, when to use it and when to avoid it, what's next?
The juicy part – how to write your resume in reverse chronological order.
First things first: the layout
According to research by The Ladders, recruiters are most likely to notice resumes with the following characters:
Clear and simple logical layouts
Layouts that have bold job titles supported by bulleted lists of achievements
An overview at the top
Clear, eligible fonts
Typically, the reverse chronological resume comprises the following main sections
Name, job title, and contact information
Resume objective/summary
Work history or experience
Education history
Skills and strengths
Additional sections
Let's take a detailed look at how you can make each section of your reverse chronological resume shine:
Name, Job Title, and Contact Information
This section might seem like a no-brainer, but you must be careful how you approach it. This is the header of your resume and will be the first thing employers see. So, you'd want to make sure it's crafted correctly.
The details of this section include:
Your name
Your job title
Your location
Your email address
Links to your portfolio, blog, or social media profiles
Here's a good example:
Gladys Dawson

Nurse in Atlanta, GA

(123) 456-899 | gdawson@gmail.com

www.linkedin.com/in/gladys-dawson
Pro tip: Gmail may be your best option when creating a professional email since it gives you access to the Google suite of networking tools. Plus, most companies use Google Workspace.
Resume Objective/Summary
This is the first section of your resume that captures, in summary, what you can offer if hired. It focuses on previous experience (relevant to the position) and applies to candidates who have worked for at least two years.
Use this section to highlight your skills and strengths.
Work History or Experience
In this section, you want to be as precise and accurate as possible. False or erroneous information is something employers don't tolerate. This is just one of many resume mistakes that can be instant deal breakers for employers.
Here are tips to make the most of your professional experience in a resume:
Start with the most recent position at the top and follow it up with the previous one. After all, you're following a reverse chronological order.
Indicate the dates worked, the company's name, and the job title for each position listed. If necessary, add the company's location.
Make your work scannable by including at least three bullet points. They should be short and simple sentences describing your responsibilities and any quantifiable achievements. Start each bullet point with strong action words, such as achieved, boosted, delegated, etc.
Create a special subsection for key achievements.
Demonstrate only the experience that's relevant to the position you're applying for.
Read more about how to write good resume bullet points.
Education History
If you don't have much experience for the job position but have the qualifications to show for it, you can start with the education section. Follow this up with the work experience section.
Otherwise, the reverse chronological resume favors the experience section more than any other element. If you have years of work experience and want to highlight all of them, the education section doesn't have to be extensive.
With this format, you only need to include five key pieces of information. These are:
University, College, or School
Your highest level of education
Year of graduation
The school's location
Area of specialization (study)
You can include any relevant academic achievements or experiences that you feel are beneficial to the job position.
Skills
Employers will be interested to see the skills you're good at. Consider listing around six skills, making them short and simple. More importantly, the skills should be relevant to the position you're applying for.
You should list both hard and soft skills. Hard skills comprise those that require technical or job-related knowledge, for example, coding and analytical skills.
Soft skills can be personal qualities or traits that help you get along with others. They are commonly known as "people skills."
A CareerBuilder survey shows that 62 percent of job descriptions list management and leadership as desired soft skills. Others include interpersonal skills and innovation and creativity skills.
Additional Sections
There's nothing wrong with wanting to earn extra points from a potential employer. The additional sections of a resume allow you to emphasize other relevant facts that make you stand out from the crowd.
Just remember to be mindful of the formatting. You don't want to draw attention away from the work experience section. Another thing to keep in mind is to only add parts that will boost your chances of employment.
Here are some ideas:
Certifications or extra training, such as dropshipping or digital marketing courses
Unpaid experiences, like volunteer work
Awards and achievements, e.g., Employee of the Month Award
Languages. List languages you can write and speak proficiently
Interests and hobbies
Avoid cramming too much information into this section. You want to ensure a good visual flow of information that's scannable.
Pro tip: 24 percent of hiring managers spend less than 30 seconds looking at resumes. So, you'd want yours to be as attention-grabbing as possible.
What Are the Top Resume Formats?
Applying for jobs is no mean easy. To come out on top, you must be creative and pick the right resume format based on the job you're applying for.
Generally, there are three main resume formats:
Reverse-chronological: As we mentioned earlier, the reverse chronological resume format is the most popular. It lists your work history in reverse order, starting with your current or most recent job at the top.
Functional (Skill-based): This format focuses more on relevant skills than work experience. It highlights what you're good at (skills and abilities) and takes the pressure off of your employment history. It's ideal for graduates who have the skills necessary for the job but not much work experience.
Combination (Hybrid): This format blends the resume elements of a chronological and functional resume. It emphasizes both skills and work history.
Key Takeaways
Armed with these fundamental principles of creating a reverse chronological resume, you shouldn't have a problem writing one yourself. Remember, stick to simple fonts, use bold text to show prominence, focus on your achievements, and do not lie or mislead recruiters.