While hiring managers do want to see accomplishments and recognition on your resume, showcasing awards can make it or break it when it comes to a competitive job search. The point is, whatever you list on your resume should add value to it and appeal to your future boss.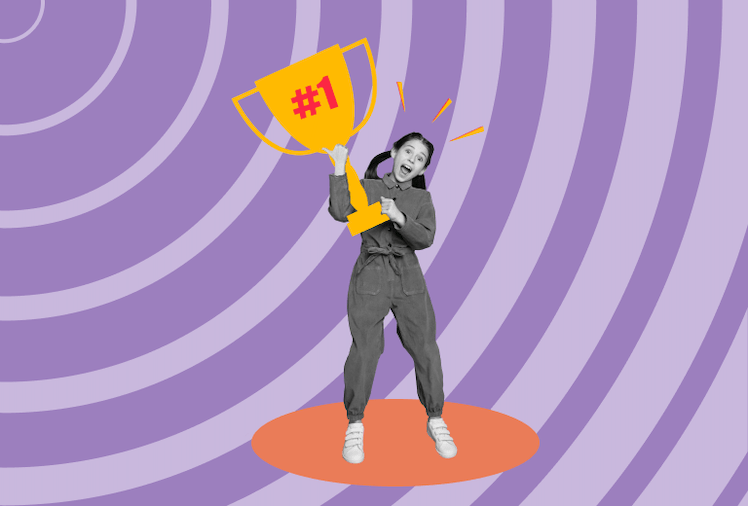 How to Describe an Award on Your Resume
No matter your area of expertise, there are details that you should include when listing an award on your resume:
The actual title of the award
The name of the presenting organization
The date you received the award
For your award to stick in the reader's mind, try quantifying the achievements that helped you earn it. Therefore, consider writing an informative statement explaining your accomplishments.
Here are a couple of examples of awards on a resume:
The Annual Arts Award Winner
Committee for Arts
2021
Recognized with the award for partnering with economic groups and organizations to introduce art into communities and creating mobile art galleries. Chosen from a select group of 50 candidates.
Small Business Award Winner
Small Business Council
2020
Recognized for standing out as the most influential small enterprise in the community. Opened three locations in just seven months to expand my business.
Where to Place Awards on a Resume
A good resume is full of accomplishments and achievements, so there are several places where your awards can be a good fit:
A dedicated resume awards section
If you have acquired a significant number of high-profile awards over the course of your career, you can impress hiring managers with a separate awards section on your resume. This approach is also recommended if your awards are so important that they demand their own space.
The education section of your resume should list only your academic awards. Keep in mind that only relevant and important education awards are suitable. Remember not to include your general academic results in this section.
The work experience section
Dedicating some space for awards in your work experience section is a convenient way to add credibility to your career path. An important point here is to add only work-related achievements and focus on your most recent accomplishments. This will help hiring managers see the current stage of your professional development.
If you have an award that showcases your uniqueness or reveals that you have top expertise in the industry, you might want to place it in your resume summary. These few lines are reserved for the most impressive career information, and if your award is prestigious and widely recognized in your field, including it in the summary will immediately hook the reader.
Awards to Put On a Resume
Academic Awards
Adding educational awards is a great way to highlight your qualifications in a specific career field. They are especially useful for entry-level resumes as they help candidates without extensive job experience to demonstrate their skills.
Here are a few high school awards that you can include on your resume:
High GPA
Exceptional exam results
Perfect attendance record
Honor roll
The AP Scholar Awards
Winning a student council election
These college & graduate awards are also worth including on your resume:
Scholarships and grants
Fellowships
Academic distinctions and achievements
Honor roll
Dean's list
Honor society membership
College awards
Departmental awards
Educational achievements are usually added as bullet points to the education section of your resume. Here are a few examples of how you can introduce them:
Outstanding Senior, 2020: Awarded by the University's Honors and Awards Commission to one graduating senior student for academic excellence and major achievements in research, leadership and service to the University's community
Performance Scholarship, [Name of University], 2018-2020: Offered to three top-performing students who demonstrate academic achievements and solid research skills
Environmental Scholarship, [Name of University], 2017: I was awarded this environmental scholarship for my sustainability research and writing, high academic promise (4.0 GPA) and strong environmental advocacy
Professional Awards
From exceptional performance to outstanding leadership qualities, professional awards celebrate all kinds of work-related achievements and are awarded to valuable employees and experts that take consistent steps towards career growth.
Employers who establish (meaningful service award programs) also benefit from increased productivity and improved bottom-line results, as engaged and motivated employees tend to perform better and remain with the organization longer.
You can add the following work awards to your resume:
Employee of the month/the year
Top performer recognition awards
Certifications
Qualifications
KPI-related achievements
Innovation awards
Industry awards are worthy of inclusion as well:
Organization awards
Association or academy awards
Trade publications
You can list professional awards as bullet points in the work experience section of your resume:
Received Outstanding Sales Management Award (2021), awarded to top-performing sales managers who demonstrate dedication and commitment to directing the organization's sales team and consistently achieve and exceed sales targets
Placed 1st in the organization's sales leadership competition three years in a row (2018-2020)
Volunteer Awards
Your volunteer awards may not be directly related to your career path, yet they provide valuable insight into your personality, show that you use your free time productively, and portray you as an enthusiastic and passionate individual with a strong desire to make a difference. That is why hiring professionals find volunteering experience on resumes so attractive.
Here is how you can highlight your volunteer award on your resume:
Volunteer of the Year, [Name of Organization], 2021
Awarded statewide to one volunteer out of 10,000 for hard work, dedication, achievements, and outstanding commitment to the organization
Volunteered for over [X hours] per week
[Details and specifics]
Depending on the nature of your volunteer work, you can place your awards in the resume awards section or, if directly relevant to your career, in the professional experience section.
Community Awards
Winning or receiving nominations in community awards means you have made a great contribution to your community and seek to make the lives of other people better. These are great awards to put on a resume as your potential employer will see that you are responsible and proactive. You can describe your community activism in the same way as your volunteer experience and place them together in a dedicated resume awards section or under your professional achievements as bullet points.
Here is an example of a community award on a resume:
[Name of Organization] Community Award, 2021
Awarded to a community member who has been able to raise significant amounts to community-related valuable causes. I was selected from a pool of 70 for raising 10k for local causes.
Sports Awards
You can add your sports awards to your resume if they are relevant to your career or if you don't have much work experience. If you are a sports person, place them in the work experience section. Or you can list sports awards in your resume awards section if they are unrelated to your professional field but highlight your soft skills, such as teamwork, leadership or communication capabilities.
Here is an example of how you can list a sports award on your resume:
[Name of University] [Name of Sports] Tournament, 2022
I was awarded for being the captain of the university's team and leading us to win our division in the university series. In my captain position, I developed strong leadership and communication skills.
Arts and Culture Awards
Arts and culture awards are perfect for a creative resume, so if they highlight your relevant experience and qualifications, listing them in your resume's work experience or awards section can give your job search a fantastic boost. You can add your artistic awards using the following template:
[Name of Award], First/Second/Third Place (if applicable), [Name of Foundation], location, year
[Details and specifics]
Military Awards
If you have years of military experience behind your back, you can benefit from reflecting it on your resume. There are different kinds of military awards given to individuals who demonstrate bravery, leadership, dedication, and advanced technical knowledge, and these skills are valuable and impactful in many jobs and industries. Therefore, whether you are applying for a civilian vacancy or searching for a military position, your potential employer will appreciate your expertise if it is relevant to the job.
Here is a list of military awards to put on a resume:
Personal decorations
Service awards
Training awards
Military academy awards
Unit awards
Campaign medals
Service medals
Marksmanship awards
Honorary civilian awards
Here is an example of a military award on a resume:
Good Conduct Medal, US Army, 2019
Awarded for completing 3 years of honorable service. Organized training of over 200 soldiers and managed military equipment valued at $800,000.
Where to list your military award depends on your current career goals. You can add it to the professional experience section or place it separately in a dedicated section. The point is, its location should be relevant to the requirements of the job you want to land.
How to List Awards on a Resume
Irrelevant, incorrect or improper award lists can repel the reader and reduce your chances of getting hired – which is, obviously, undesirable. For the best outcome, make sure to follow the tips below:
Make it a point to adapt your resume to each position you apply for. This includes adding only those awards that are relevant for the job you want. However impressive and informative your awards might be, if unrelated to your current career aspirations, they will only make matters worse. Recruiters don't like generic resumes sent out for every position – they want to see what makes you a great candidate for a particular role and are not interested in wasting their time on something that has nothing to do with their organizations' needs. Therefore, before reflecting an award on your resume, consider what your potential employer might think about it.
We are in no doubt that your awards make you special since you have acquired them in recognition of your outstanding work. However, you may need to add some relevant details for your success to get appreciated by a seasoned recruiter trying to quickly fill a competitive vacancy. You need to explain why the awards you have received are meaningful. You can achieve that by quantifying them. For instance, you can let the reader know that you were selected from a huge pool of applicants. Or you can stress that you successfully passed several rounds of assessment.
Action verbs are impressive and likable because they convey doing and explain achievements. You can use words like "achieved", "accomplished", "attained", or "awarded" to describe your awards. This way, they will look more dynamic and create a powerful portrayal of your career.
The hiring professional who is reading your resume wants to see what you can bring to the table, which is why it is important that you highlight the influence your actions had. For instance, if you launched a charity project and received an award, make sure to explain how the money was used and how the society benefited from your actions.
List your awards in reverse-chronological order
It is essential that your awards are listed from most recent to least recent. This is the most common structure these days as it allows the reader to see your most relevant experience first. Besides, your newest awards show that you are up to date with the latest trends in your industry.
Why You Should Include Awards on Your Resume
To conduct a successful job search, you need a winning resume that can attract recruiters and help you get interview invites. You can instantly boost your resume so it gets noticed by showcasing the merits of your career. Chances are you have accumulated various awards over the course of your professional path, so what better way to show that you are a valuable hire than to let them shine through?
Here are a few reasons why awards are worth including on your resume:
Awards highlight your expertise in a particular area
On average, hiring managers spend six to seven seconds on a resume before switching to the next one, so you need to embed a powerful hook to catch the eye of a potential employer right off the bat. Including awards on your resume is an excellent way to achieve that since they reflect relevant experience and qualifications in a concise yet compelling way. Some awards speak volumes and will do a fantastic job of showing you are the right candidate.
Awards show off valuable soft skills
HR experts believe that soft skills are no less important than hard skills when it comes to the hiring process, so you need to tick all the boxes as a candidate to thrive in today's job market. If your awards demonstrate that you have mastered certain transferable skills, such as creativity, teamwork, or problem-solving abilities, they are worthy of inclusion on your resume.
Awards display your ability to achieve goals
Awards show that you are eager to grow in your job and are capable of going over and above the call of duty. By listing them on your resume, you will let hiring managers know that you are a high performer.
Awards help entry-level candidates prove their skills
Awards are an excellent addition to your resume if you lack relevant professional experience. If you are new to your career field, make sure to list all the relevant awards you have acquired so that recruiters can see you have enough knowledge to do things properly.
Resume Award FAQs
What is the difference between awards, achievements, and accomplishments?
An achievement is a goal that you have reached. Gaining a qualification or increasing sales can be described as your achievement.
An accomplishment is any work that you have completed. Finishing a project, task, or job can be your accomplishment.
An award is given by a company or an organization in recognition of your professional value. It is third-party validation that you can deliver results and perform beyond expectations.
What to do if I don't have any awards?
Your resume is expected to radiate success – recruiters and employers avoid mediocrity and discouragement. Therefore, you need to prove that you are a high achiever. If you happen to have no awards to display at the moment, there is no need to worry. Here is what to put instead of awards on a resume to impress the reader:
Achievements
Accomplishments
Personal successes
Volunteering experience
Community work
Anecdotal evidence
The key point here is to provide context and explain how you can deliver positive results.
Can I put fake awards on my resume?
If you are googling fake awards to put on a resume, we recommend that you stop wasting your time. Awards are easily verifiable, so recruiters can easily spot fake ones. If a potential employer sees that you are not honest about your achievements, that will destroy all your chances of getting hired. We are sure that you have accumulated a wide range of achievements. Expanding on them when crafting your resume will surely boost your chances of employment.
Conclusion
Awards are third-party proof that you can get things done in the best possible way. Reflecting them on your resume can give you the edge you need to land the job you want.